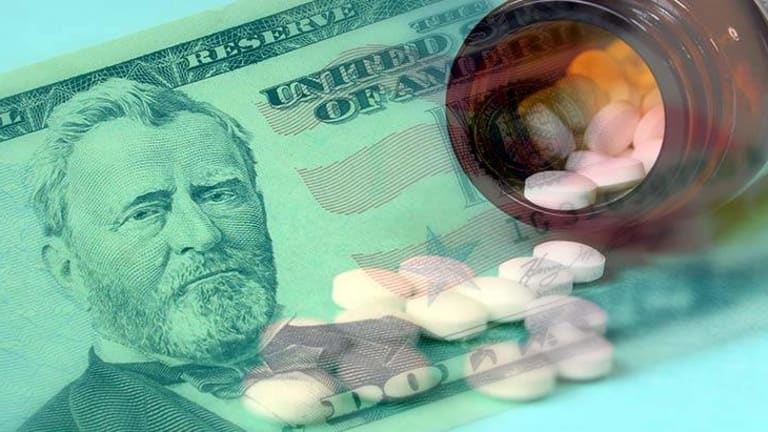 Here's How Big Pharma CEO's Can Get Away With Raising Life Saving Drug Prices 5,000%
Pharmaceutical CEO calls $750 per pill life-saving drug "under-priced" even though the cost to the company per pill is just one dollar. How can he do this?
The head of Turing Pharmaceuticals, Martin Shkreli, claims that even after raising the price of one pill of Daraprim to $750, the drug "is still under priced relative to its peers."
The cost of making one pill of the drug is one dollar.
Shkreli, a former hedge fund manager, founded Turing Pharmaceutical after being ousted by his first biotech company Retrophin amid accusations of stock impropriety.
This is not the first time Shkreli has attempted to gouge medical consumers. In September 2014, Retrophin acquired the rights to Thiola, a drug used to treat the rare disease cystinuria. Shkreli, as CEO of Retrophin, introduced a 20-fold price increase for Thiola despite zero additional research and development costs incurred by obtaining these rights.
As we previously reported, last month Turing Pharmaceuticals acquired the rights to Daraprim, a 62-year-old drug that has been traditionally used to treat Toxoplasmosis; a parasitic disease which can potentially cause brain infection and blindness.
After purchasing the rights to a drug that prevents infections in people with weakened immune systems, including AIDS patients and cancer survivors undergoing chemotherapy, the pharmaceutical company raised the price of the drug by 5,500%. Instead of paying $13.50 per pill, patients with life-threatening illnesses are now forced to pay $750 per pill.
Ironically, Pyrimethamine is listed in the WHO Model List of Essential Medicines, a list of the most important medications needed in a basic health system.
Since news of Shkreli's decision to drastically hike the price of the life-saving drugs became public, there has been swift pushback against the price gouging by numerous health groups, as well as the general public.
In a joint letter from the Infectious Diseases Society of America and the HIV Medicine Association, the two groups called the price hike "unjustifiable for the medically vulnerable patient population" and "unsustainable for the health care system."
In the most ridiculous of assertions, Turing Pharmaceuticals sent out a press release stating "that some healthcare facilities have encountered challenges securing DARAPRIM® (pyrimethamine) for patients diagnosed with toxoplasmosis."
"Our number one priority is to ensure that all patients diagnosed with toxoplasmosis have an efficient and affordable means to access Daraprim," wrote Turing's Chief Commercial Officer, Nancy Retzlaff.

"As soon as we learned that some hospitals and clinics were having trouble accessing the product, we developed an immediate corrective plan to ensure quick, efficient access for patients in need."
Judging from the press release, it seems the company somehow thinks that raising the price of one 30-pill bottle of Daraprim from $405 to $22,500 will ensure quicker and more efficient access to the drug by patients in need.
The entire healthcare industry suffers from similar pricing problem to a lesser degree, as current patent and intellectual property law allows for the retardation and monopolization of medicine and it's pricing.
According to a report by TechDirt:
In this case, any research and marketing costs have long since been recouped (or at least amortized). The patents behind the drug -- all granted between 1951 and 1954 -- should be dead. Conveniently for Turing (and other rights holders before it), no company is offering a generic version.

This sort of thing isn't exclusive to Turing. It's standard MO for all pharmaceutical companies. Rather than engage in meaningful competition, these companies are awarded lengthy monopolies on drugs and treatments by the US government. Turing is no different than Amedra -- part of the holding company acquired by Turing along with the Daraprim rights. But when Amedraacquired the rights from GlaxoSmithKline, it somehow managed to keep its price hike to a couple of dollars, rather than several hundred.

This huge price jump has more to do with the man running Turing, Martin Shkreli. Shkreli doesn't have a background in pharmaceuticals, but he does know how to run a hedge fund. And he's used this expertise to become highly-unpopular very quickly.
As the only legal producer of the drug, Turing Pharmaceuticals is gouging consumers for every last cent they can squeeze out of them. The patent on the drug actually prevents the real market price from ever being discovered. Thus, people are forced to pay the "prohibition" rate as it stands.
While Shkreli contends that consumers will pay almost nothing for this drug, the reality is that everyone ends up paying the cost of this drug. The buck is passed onto the government and insurance companies, which in turn raises rates on their consumers. All the while consumers are left either holding the buck or dying - not very appealing choices.
There is an ongoing trend of life-saving drugs being acquired rapidly by companies who immediately jack the price so high that it becomes unaffordable to those who need it most. If anyone wonders why the price of health care is so out of control in the U.S., this is a prime example.
Jay Syrmopoulos is an investigative journalist, free thinker, researcher, and ardent opponent of authoritarianism. He is currently a graduate student at University of Denver pursuing a masters in Global Affairs. Jay's work has been published on Ben Swann's Truth in Media, Truth-Out, AlterNet, InfoWars, MintPressNews and many other sites. You can follow him on Twitter @sirmetropolis, on Facebook at Sir Metropolis and now on tsu