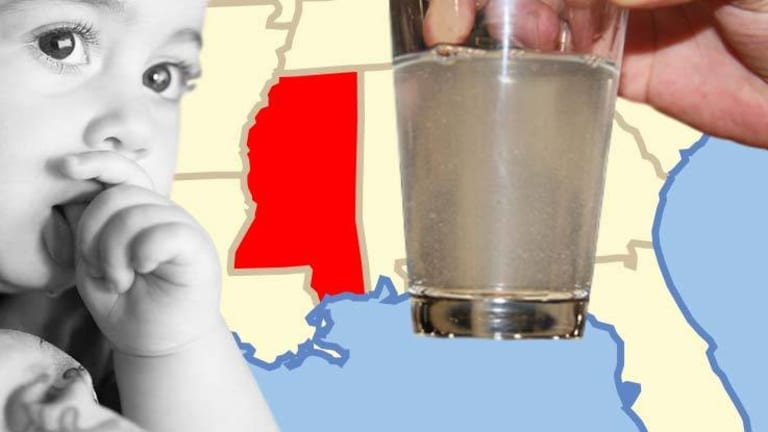 Flint Was the Tip of the Iceberg -- Mississippi Tap Water is Toxic -- Govt Warns Not to Use It
In addition to Flint, officials in Mississippi are urging pregnant women and children to stop using the contaminated water.
Jackson, MS – With residents at risk from lead poisoning, state officials recently released a public statement warning pregnant women and young children to avoid drinking, bathing, or cooking with city tap water. Although the Mississippi State Department of Health (MSDH) had tested homes back in June 2015, Jackson residents did not receive any notice until this week.
While testing homes for lead exposure in June 2015, the MSDH discovered 22 percent had tested positive for lead above the recommended level. At least 13 residences had lead levels as high as 128 parts per billion (ppb), or more than eight times the federal action level of 15 ppb. Instead of immediately analyzing the results or informing city officials in Jackson, the MSDH waited until January to retest the homes.
"Nobody flagged it," Health Department spokeswoman Liz Sharlot told NBC News.
Last month, another 100 residences, including the 13 that initially tested positive for actionable levels of lead exposure, were tested. Although the MSDH found that 11 percent of the homes were still exposed to actionable levels, the agency decided to release a statement this week urging pregnant women and children under the age of six to stop using the city's tap water.
While advising pregnant women and young children to begin using filtered or bottled water, the MSDH warned households to never use hot tap water for drinking or cooking. Although the city of Flint had issued several boil advisories to kill the bacteria in their drinking water, the CDC found that heating or boiling water only increases the lead concentration. Besides recommending the use of baby formula with only bottled or filtered water, the MSDH also advised parents with children under the age of six to contact their child's pediatrician or primary care provider to ensure adequate lead screening and blood testing.
In addition to the MSDH's public statement this week, the Jackson Water System will mail a health notice to customers along with their water bills this month. Although Jackson Mayor Tony Yarber declared a state of emergency for the city's infrastructure, including the city's corrosive water system, nearly a year ago, no steps have been taken to conduct further studies or remove the unsafe levels of lead from the water.
"This conversation is a national one that Jackson, Mississippi, is right in the middle of, specifically as it relates to what's happening with urban centers," Yarber stated. "The issues that we're talking about today are happening in more frequency in areas that are urban, in areas where there's been disinvestment, in areas where there's been flight, in a lot of cases, and in areas where the particular city is blue in the middle of a red state. We really need to look at the politics that are affecting our ability to make safety a priority for our citizens."
Unlike city officials in Flint, Michigan, Yarber asserted he was unaware of the contaminated water until the MSDH informed his office last month. Despite the fact that Michigan state officials knew the water supply had been exposed to lead poisoning, the government repeatedly lied to the public regarding the water's safety. Through a FOIA request, a series of emails released last month revealed that Flint officials knew about the poisoned water and began purchasing clean water solely for themselves.
Even though Flint city officials knew the water supply was poisoned, nearly 100,000 residents along with hundreds of inmates at Genesee County Jail were forced to drink, shower, and eat food cooked in contaminated water for nearly two years. Because the Genesee County Sheriff falsely claimed the water was safe, numerous incarcerated pregnant women inadvertently exposed their unborn children to lead poisoning and other detrimental toxins.
It's no secret that our drinking water has been exposed to a wide variety of contaminants for decades. As the pipes supplying our water continue to corrode, more children and pregnant women will be at risk of unsafe levels of chemical exposure throughout every major city in the country. Although Jackson city officials have swor not to make the same mistakes as Flint, the MSHD waited six months before taking any action.
In the immortal words of the late, great comedian ">George Carlin, "I ask that question everywhere I go. Everywhere I go, I say, 'How's the water?'
"Haven't gotten a positive answer yet. Not one! Last year, I was in 40 states, 100 cities, not one audience was able to say to me, 'Yes! Enjoy some of our fine local water. It is pure and it is good.'
"Of course I know a lot of people don't talk that way anymore, but nobody trusts the local water supply. Nobody!"
Andrew Emett is a Los Angeles-based reporter exposing political and corporate corruption. His interests include national security, corporate abuse, and holding government officials accountable. Andrew's work has appeared on Raw Story, Alternet, Activist Post, and many other sites. You can follow him on Twitter @AndrewEmett and on Facebook at Andrew Emett.