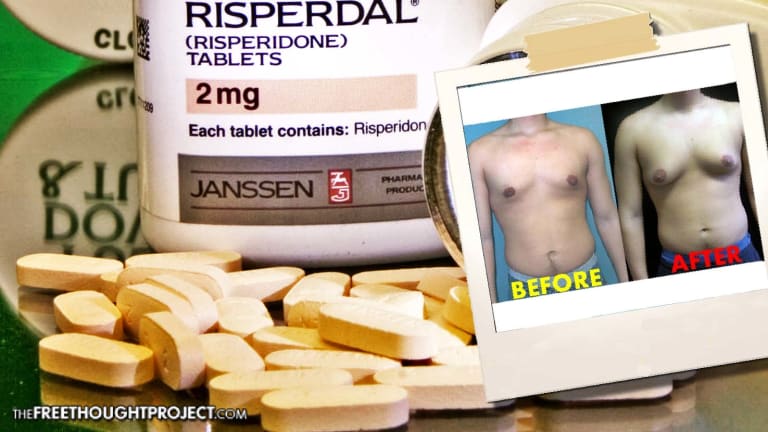 18,000 Men and Boys Suing Johnson & Johnson for Popular Drug That Gave them Breasts
The number of lawsuits against Johnson & Johnson has surged to over 100,000 in 2017; many from their popular drug Risperdal.
Lawsuits against Johnson & Johnson have markedly increased in 2017, more than 100,000, due to cases of considerable breast enlargement in male patients after taking a potent antipsychotic medicine manufactured by the pharmaceutical giant.
The medicine rooted in these lawsuits is Risperdal, which is an antipsychotic drug most often prescribed for schizophrenia. Since 1994, Risperdal has also been prescribed for issues including bipolar disorder, ADHD and irritability related to autism; the drug was periodically prescribed for children as well.
The list of side effects of Risperdal is extensive, and the most common include vision problems, restlessness, sinus infections, and symptoms of Parkinsons, among others. Less common but more severe effects include high blood sugar, low blood pressure, blood clots, weight gain, and diabetes. One side effect in particular, and the core of these lawsuits against J&J, is enlarged breasts, or gynecomastia.
Gynecomastia is listed as a "less severe" side effect of taking Risperdal. For the tens of thousands of men who have come forward to allege this side effect due to the drug, this condition has had a tremendously negative impact on their lives.
Eddie Bible is among those who have pursued legal action against J&J after taking Risperdal. Bible was prescribed the medication in the early 2000's at age 13 to treat anxiety and bipolar disorder. Bible said that his abnormal breast growth outweighed any benefits to be seen, and that he now feels that he was "an experiment."
"If I knew what the side effects would be of the medication, I would have never taken it," Bible said in 2016.
In July 2016, an unprecedented settlement of $70 million was awarded to the parents of a 5-year-old child who experienced gynecomastia. In that case, a Pennsylvania jury found that J&J failed to sufficiently advise the patient that this side effect may occur. A smaller settlement of $2.5 million was awarded to a man in 2015 after his breasts enlarged to size 46DD. That case was the first in which J&J was found guilty in a case accusing the company of willfully concealing the possibility of gynecomastia as a side effect to avoid a decrease in prescriptions.
In 2013, J&J was ordered to pay $2.2 billion "to settle investigations into its marketing" of Risperdal and a handful of other drugs that were marketed for conditions that were not approved. The company didn't list gynecomastia as a side effect until 2006, more than a decade after the drug's release. Janssen, a subsidiary of J&J, was accused of marketing the Risperdal "for use in children and people with mental disabilities, despite knowing the health risks, and said it was even one of the company's base business goals."
"To resolve allegations stemming from the improper promotion of Risperdal, Janssen Pharmaceuticals will plead guilty to misbranding Risperdal – and has agreed to pay $400 million in criminal fines and forfeitures. Johnson & Johnson and Janssen Pharmaceuticals have further agreed to pay over $1.2 billion to resolve their civil liability under the False Claims Act," said then-Attorney General Eric Holder in a statement following the settlement announcement.
Despite payments reaching hundreds of millions of dollars four years ago, lawsuits against J&J to compensate for male breast enlargement show no signs of slowing. An International Business Times report revealed that over 18,000 men claim to have suffered from gynecomastia due to taking Risperdal, and that the number of lawsuits has grown from less than 30,000 to over 100,000 between 2016 and 2017.