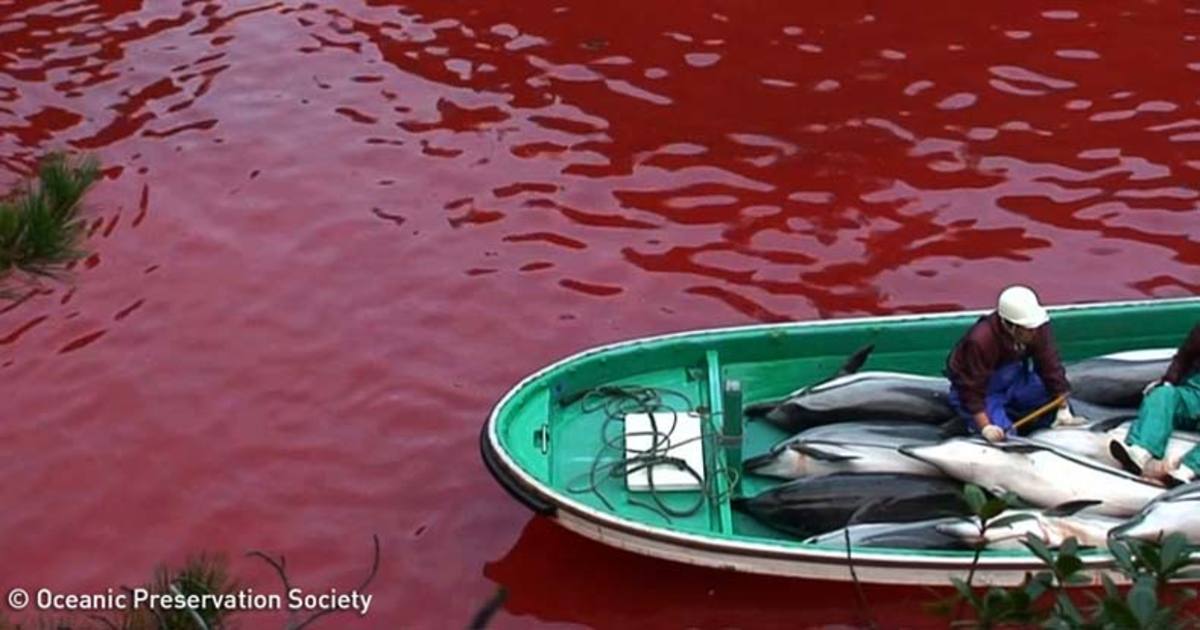 Taiji, Japan – In an annual display of absolute barbarism, the infamous dolphin slaughter in Taiji, Japan kicked off its yearly massacre of dolphins over the weekend. The beginning of the cove's infamous annual dolphin hunt was marked by twenty dolphins being slaughtered on Friday in the southwestern Japanese town of Taiji, local media group, Agence France-Presse reports.
"For several days the hunters have been pursuing pods offshore, who were able to escape capture," said Ric O'Barry, the founder of the Dolphin Project, in an email. "This pod of Risso's dolphins was not so lucky. The senseless slaughter of the adult dolphins, while forcing the young to fend for themselves in the open sea, should serve as a call to action for everyone."
The Taiji hunt lasts for six months, killing or capturing up to a quota of 1,820 animals this season alone. The annual slaughter continues to cause international outrage from animal rights advocates.
Additionally, dolphin trainers will be allowed to choose about 150 live bottlenose dolphins, which have been pre-sold to marine parks around the world. Also, many more dolphins are likely injured or killed than what is officially reported, according to the Dolphin Project.
In an effort to put pressure on the Japanese government to end the hunts, in 2010 conservation organization Sea Shepherd began sending "Cove Guardians" to document and record the slaughter.
According to a report by The Dodo:
Each year, 20,000 dolphins are slaughtered in Japan, hundreds of them in the Taiji hunt alone. The few who survive the blood-red waters are sold into captivity, fated to spend the rest of their lives cut off from family and performing at zoos and marine parks.
Activists hope the glare of the international spotlight of the 2020 Olympics will encourage the Japanese government to ban the dolphin hunts.
"We are urging the Japanese government to consider the global spotlight on Japan for the 2020 Tokyo Olympics and end the dolphin hunts and their whaling activity," said Mark Palmer, the associate director of the marine mammal's project at the nonprofit Earth Island Institute.
While some have attempted to justify the wanton brutality by claiming cultural heritage and tradition, the mass killing, using dolphin drives, have only in recent times, become a common occurrence. The reality of the Taiji hunt is not an overarching cultural tradition, but rather a small group of local men generating large amounts of revenue from the murder of these extremely intelligent and self-aware beings.
Please share this story to help bring awareness to this cause in hopes of forcing Japan to stop the slaughter of these extremely intelligent creatures!
Sponsored Content:
Or, if you would like to help us by subscribing to our sponsor, Legalshield — and have an attorney in your pocket 24 hours a day for just $24.99 a month — you
can click here for details.
🔥 Fuel Our Work:
https://bit.ly/TFTPSub
👕 TFTP T-Shirts:
https://bit.ly/TFTPStore
🎙 TFTP Podcast:
https://bit.ly/TFTPPodcast
📥 TFTP Newsletter:
https://bit.ly/TFTPNews
🌎 TFTP on MeWe:
https://bit.ly/TFTPMewe
🧠 TFTP on Minds:
https://bit.ly/TFTPMinds
🐦 TFTP on Twitter:
https://bit.ly/TFTPTwitter
⚡️ TFTP on Telegram:
https://t.me/TFTPofficial
📲 Need A Lawyer?:
https://bit.ly/TFTPLegalShield