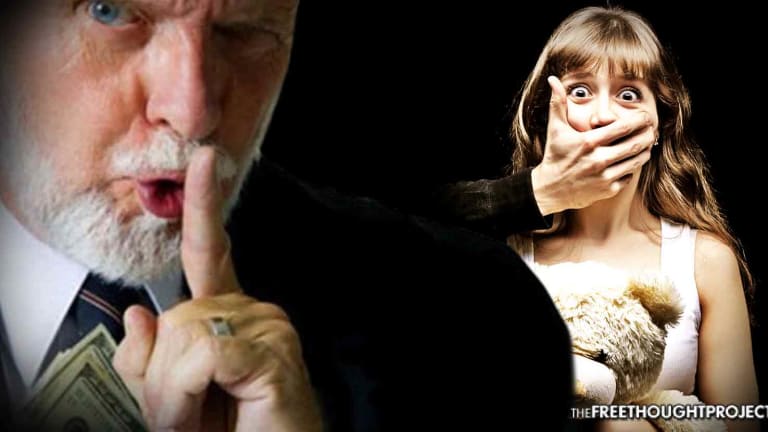 Rescued 'Sex Slave' Reveals How She Was Sold to Up and Coming Political Elite as a Child
A victim of sex trafficking is speaking out and exposing how the up and coming political elite horrifically abused her as a child.
Adult and child sex trafficking is an unfortunate and horrifying reality that plagues countries around the world. As TFTP has reported, people have been arrested recently attempting to purchase children as young as three-months-old to abuse them. Now, one of these former child sex slaves has come forward to tell her story and provides insight into the elite sickos who have the money and resources to deal in the lives of children.
As the Free Thought Project previously reported, according to a London top cop, Britain's capital is a hotspot for forced labor and sex slavery.
Currently, there are an estimated 13,000 victims of forced labor, sexual exploitation and domestic servitude in Britain, according to Government data and the police have no idea how to handle it.
The number of child trafficking victims has risen to a record high, according to data obtained by the UK's National Referral Mechanism.
Sadly, the government has admitted it has no way of stopping it. And, as the following victim's testimony reveals, this has been the case for a long time leading many to believe this failure to stop it may be deliberate.
A woman and former child sex slave, whose name was not publicly released because her abusers are all likely still alive, well, and very powerful, detailed her horrifying story to Cambridge News. At only 14-years-old she was forced into sex slavery and sold to Britain's elite.
According to Cambridge News, she was inducted into an underground world of sex slavery in the city, enduring violence and coercion as she was sold to men, including undergraduates.
"I was the youngest one there. A lot of the men were people who wanted to be quite violent. There were men who had a lot of money and would pay for a long time.
"Some of it was Cambridge students. A lot of them were rich students who you could tell were training to be politicians and saw themselves as very privileged people. The way they treated us was as if they could do what they liked with us."
She noted that she and other children were kept at a local bar and were given drugs and alcohol before their elite abusers would pick them up and bring them places to hurt them.
As a 14-year-old girl, she explained that violence and coercion were used to keep all the victims in line and make sure they never escaped.
"I think sex slavery is something you do that you have no choice about," she said. "There was violence involved and it was really hard to get out of it," she explained.
While some will try to dismiss her claims of slavery by saying a child can somehow consent to sex with adults, this victim explains that is not the case at all. They were, by all means, held captive.
"There is mental abuse as well as violence, and you are made to feel as if you are not really human. The most important thing for me is it was not work. It was done without a choice."
She was beaten so badly during one night of abuse that she ended up in the hospital where she was able to escape.
"I thought I should either kill myself or run away. I went to Manchester and it kind of changed my life. I realized I deserved more out of life. I needed to get away from Cambridge to live. I didn't feel safe," she explained.
As the Free Thought Project has previously reported, the problem of child sex trafficking goes all the way to the top in the UK. Sir Edward Heath, the former Prime Minister of the United Kingdom found by the police chief to be an alleged pedophile. His vile crimes against children were allegedly 'covered up by the establishment.'
Unfortunately, pedophilia and human trafficking, as the Free Thought Project has exposed, is all too common among those in power. Sadly, however, those who attempt to draw attention to this problem are labeled as conspiracy nuts or perpetrators of fake news.
As more cases, like the thousands of slaves in London, the child abuse in Hollywood, and the rampant problem of sex abuse in Washington D.C. come to light, those who attempt to keep pushing this issue to the fringe expose themselves as being complicit in covering it up.