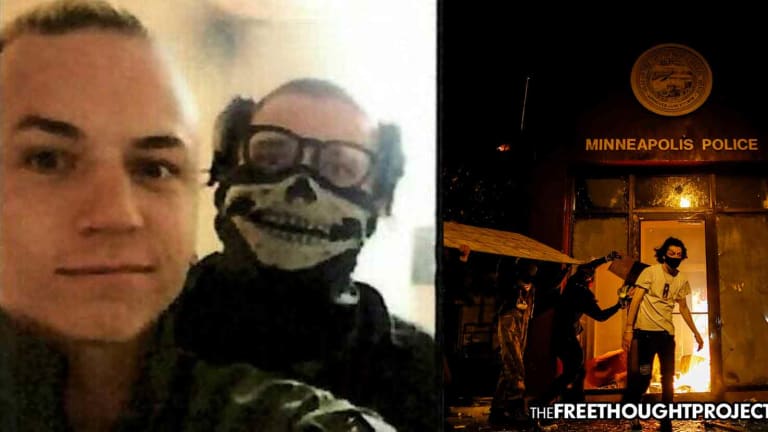 Boogaloo Bois Arrested for Shooting at Cops, Setting Fires, While Yelling 'Justice for George Floyd'
In an attempt to kick off a new American civil war, self proclaimed Boogaloo Bois shot at cops, started fires, and looted, pretending to be part of the protest.
As TFTP reported back in May. dozens of businesses and other buildings in Minneapolis, near the police department's third precinct, were hit hard with vandalism, with some of them being completely burned to the ground. There was undoubtedly some organic intent behind this destruction. However, several videos of highly suspicious acts were posted online raising suspicions that some of the violence, at least in part, was from outside instigators. Now, according to a federal complaint made public on Friday, that appears to be the case.
Ivan Harrison Hunter, a 26-year-old from Boerne, Texas is accused of driving from the lone star state all the way to Minneapolis, Minn. to enact violence and blame it on peaceful protesters in an attempt to kick off a civil war.
According to charges, Hunter, wearing a skull mask and tactical gear, shot 13 rounds at the south Minneapolis police headquarters while people were inside. He also looted and helped set the building ablaze, according to the complaint, which was filed Monday under seal, the Star Tribune reports.
Hunter claims to be a member of the "Boogaloo Bois" which is known for anti-government sentiment. According to the documents the group was attempting to set off a new American civil war.
As the Star Tribune reports:
As police clashed with protesters, Hunter and other members of the Boogaloo Bois discussed in private Facebook messages their plans to travel to Minneapolis and rally at the Cub Foods across from the third precinct, according to federal court documents. One of the people Hunter coordinated with posted publicly to social media: "Lock and load boys. Boog flags are in the air, and the national network is going off," the complaint states.

Two hours after the police precinct was set on fire, Hunter texted with another Boogaloo member in California, a man named Steven Carrillo.
"Go for police buildings," Hunter told Carrillo, according to charging documents.
"I did better lol," Carrillo replied bragging about the alleged murder of a cop in California he'd carried out just hours before.
Carrillo, 32, faces a federal murder charge in the May 29 drive-by shooting of David Patrick Underwood, a federal protective services officer, in Oakland, California. This attack, like Hunter's, took place during a police brutality protest. Carrillo was an active-duty staff sergeant stationed at Travis Air Force Base at the time of the shooting and is also the suspect in the June 6 death of a Santa Cruz sheriff's deputy.
After these alleged false flag attacks to be blamed on protesters, police stopped Hunter days later in Austin, Texas, apparently on his way to sew more false flag unrest. However, he was stopped by authorities carrying a small arsenal. Police confiscated his guns but did not arrest him.
After investigating Hunter, police found that he had publicly bragged on Facebook about his role in the Minneapolis riots, saying, "I helped the community burn down that police station" and "I didn't' protest peacefully Dude ... Want something to change? Start risking felonies for what is good."
"The BLM protesters in Minneapolis loved me [sic] fireteam and I," he wrote on June 11. According to the complaint, "fire team" is a reference to a group he started with Carrillo "that responds with violence if the police try to take their guns away."
"Hunter also referred to himself as a 'terrorist,' " the complaint states.
Obviously, this was all the authorities needed to open their investigation and this week, he was arrested in San Antonio, Texas. Though he promised to "go down shooting" if police ever closed in on him, he did not.
Whether or not he is tied to any other acts of terror at police protests is unknown but not exactly far fetched.
As TFTP reported at the time, some of this Boog bois activity was informally communicated to us in the form of now-deleted screen shots, after "umbrella man" was seen provoking looting and rioting by smashing up an Autozone across from the police station.
TFTP has reported on multiple instances of provocateurs being caught in the act, including cops. We even reported on one in which a cop disguised as a protester, was beaten and kidnapped by fellow cops who did not know he was undercover.
As TFTP's John Vibes previously pointed out, in most cases — like Hunter and Carrillo — political protesters are mostly nonviolent and do everything they possibly can to avoid clashes with the police. Demonstrators are well aware that they are outmatched and are only assembling in groups and taking to the streets as a way of promoting their political ideas - this is the essence of free speech.
This is an extremely powerful political freedom, which is why it is met with such hostility from the establishment. Almost every single time there is a public protest, the authorities are unsympathetic and use heavy force to discourage protests from taking place in the future. However, they don't attack the mob with guns blazing because they know it will further expose their oppressive nature and add credibility to the revolutionary movement.
So agent provocateurs — whether cops or those hell bent on causing conflict like these two — instigate physical altercations between activists and authorities. While undercover, these agents commit acts of violence and vandalism to give the police a pretense to use force against the demonstrators. Once the agent smashes one window — like was done at Autozone — or throws one rock on behalf of the group they have infiltrated, the authorities are able to send in the cavalry and turn the demonstration into a war zone.
Proving this point is the fact that the National Guard was requested after Hunter began shooting in Minneapolis.
After the provocation is complete, any legitimate peaceful protest intentions are smeared into oblivion as the rest of the world looks at the protesters like they're violent criminals. See how that works?