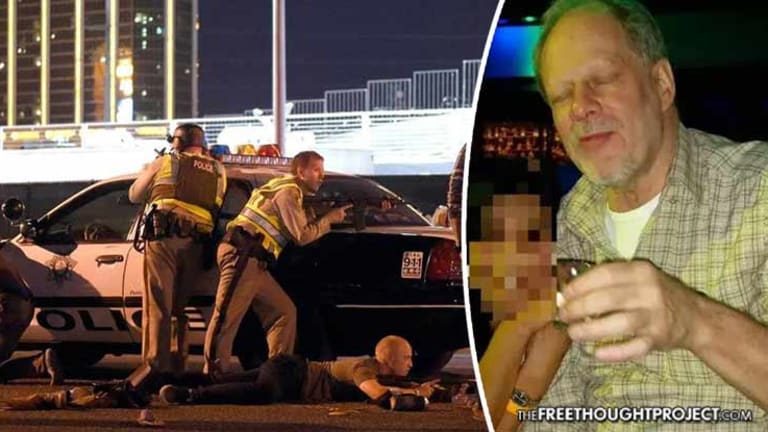 5 Fast Facts You Need To Know About The Massacre in Las Vegas
Here are 5 fast facts on the reports surrounding the deadliest mass shooting in recent United States history, which has left 50 dead and over 400 injured.
A shooting in Las Vegas Sunday night has resulted in reports that indicate the deadliest mass shooting in United States history, with 50 dead and over 400 injured. There have been a number of reports in the hours since the massacre. Here are 5 fast facts:
1.The gunman has been identified as Stephen Craig Paddock, a 64-year-old white male
The Las Vegas Metropolitan Police Department released a statement early Monday claiming that "the lone suspect involved in the late night mass shooting on the Las Vegas Strip as 64-year-old, Stephen Craig Paddock, a white male from Mesquite, Nevada."
According to a spokesperson for the department, police in the area have had no previous contact with Paddock, and the only thing on his record was a minor traffic violation.
2.Initial reports claimed police shot and killed Paddock—but then changed to claim Paddock was found dead
When reports first surfaced about this shooting, they claimed the gunman was shot and
What we know now:

-- More than 50 dead in the deadliest mass shooting in modern American history
-- Gunman, who was killed by police, identified as Stephen Paddock, 64
-- Concertgoers dove for cover as shots came from above, in the Mandalay Bay Hotelhttps://t.co/TY9vL38l8K
— Washington Post (@washingtonpost) October 2, 2017
" target="_blank" rel="noopener">killed by police. They then changed to claim that he was
#LasVegas latest

• At least 50 dead
• Over 400 injured
• Lone gunman, Stephen Paddock, found dead in hotel room

https://t.co/riGzMAKqizpic.twitter.com/zjktApe1nB
— BBC Breaking News (@BBCBreaking) October 2, 2017
" target="_blank" rel="noopener">found dead in his hotel room.

Eric Paddock, the brother of Stephen Paddock, told Fox 35 that he was shocked to learn about the shooting, and would never have expected anything like it from his brother. He said Stephen was not affiliated with any groups or religions that would have inspired such an act. "This really just fell on us," the suspected gunman's brother said. "We had absolutely no idea whatsoever. We have no idea why he did this, and that's what you're going to find out… I can't imagine. What you guys find out about why this happened—let us know."

3.There were also conflicting reports on the number of gunmen involved in the shooting
The shooting occurred in an open area where around 22,000 people were attending the Route 91 Harvest Festival concert, and because the shooter was reportedly located on the 32nd floor of a nearby hotel, it created a chaotic situation on the ground.
It should be noted that some individuals on Twitter who claimed they were present during the shooting, also insisted that there were multiple shooters.
While police have confirmed that they have found the lone gunman suspect they were looking for, daylight has shown that at least two windows on the 32nd floor of the Mandalay Bay Hotel were destroyed. If Stephen Paddock was the only one responsible for the shooting, it shows the scope of time and access he had, while carrying out the shooting. The Free Thought Project spoke to a nurse currently working in a hospital in Las Vegas, who called the situation "a bloodbath."

4.Nevada has some of the most relaxed gun laws in the country—which will inevitably come under scrutiny
Stephen Paddock was reportedly found "in possession of more than 10 rifles" in his hotel room. While most mass shootings typically result in a number of politicians calling for stricter gun laws, the state of Nevada is unique in that it has some of the most relaxed gun laws in the country. Nevada allows open carry, does not require the registration of firearms, and has no magazine capacity restriction. Initial reports from witnesses claimed the shooting sounded like it was being carried out with a machine gun. While that has not been confirmed by police, the National Rifle Association noted that in the state, "it is lawful to possess, purchase or sell a machine gun or silencer that is legally registered and possessed in compliance with all federal laws and regulations."

5.The media has been hesitant to label this shooting for what it is—terrorism
The suspected gunman has been identified as a "local individual" by police after he took to the 32nd floor of the Mandalay Bay hotel and began firing a barrage of shots outside out of a hotel room window. However, reports have claimed that police are not calling the shooting an act of terrorism "at this point."
When President Trump addressed the shooting, he referred to it as "an act of pure evil," but refrained from calling it "terrorism."
This is in spite of the recent statement from ISIS claiming responsibility for the attack. 
A statement published by the group's Amaq propaganda agency claimed the attacker was a "soldier of the Islamic State".

"The Las Vegas attacker is a soldier of the Islamic State in response to calls to target coalition countries," it said.

In a second statement, Isis claimed the gunman "converted to Islam several months ago".