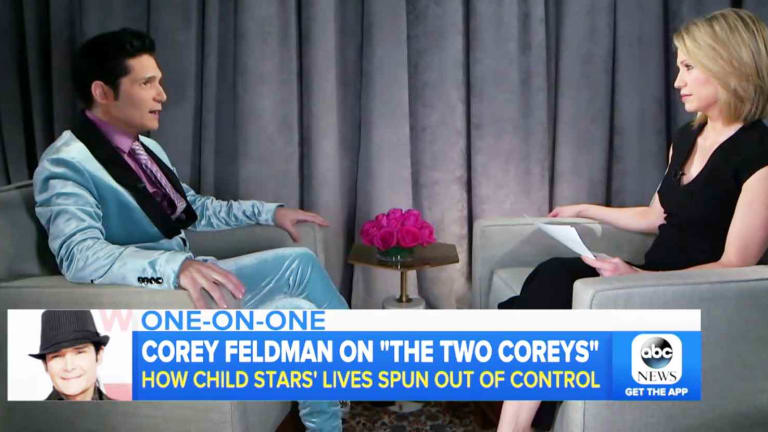 WATCH: Corporate Media Proves Loyalty to Abusers, Belittles Corey Feldman AFTER He's Vindicated
Even after Corey Feldman's claims about seeking help from police when he was sexually assaulted were proven true, the media is still trying to discredit him.
The year 2017 will be remembered by some as the year actor Corey Feldman's claim that Hollywood is run by pedophile predators was proven true. Not only have dozens of actors come forward to claim they were victimized as children in Hollywood, but dozens more have revealed the predatory nature of show business.
Feldman's film will be released on Saturday. It is a G-rated version of an X-rated experience he said he lived. But even after all of his claims have been proven true, he is still being grilled by the very mainstream media, which has refused to fully investigate the pedophile culture at work in Hollywood.
"I never tried a drug until my molester gave it to me," Feldman told GMA. "The bottom line, I'm a victim, not an accuser." 
As The Free Thought Project has consistently reported, the mainstream media has been pushing back against Feldman's claim he was raped as a child by Hollywood elite ever since he first sat down with hosts from The View. During that first interview, Barbara Walters accused Feldman of trying to take down the film industry. "You're damaging an entire industry," she said.
https://m.youtube.com/watch?v=dsCM7NeFu5w
"A Tale of Two Corey's" will air this Saturday on Lifetime. Feldman directed and produced the film, which goes into detail of the sexual abuse he experienced from his Hollywood handlers. GMA's Amy Robach asked how and why his story of abuse was being portrayed as a "watered down" version of his abuse.
"It's very watered down. It does vary from the truth," Feldman claimed, noting that lawyers made him water down his and his best friend's stories of sexual abuse.
"That person who did that to him and did that damage to him needs to be exposed," he said after explaining how he would be sued and possibly arrested for coming out with such explosive allegations. Feldman claimed his motivation for making the film is to fulfill a promise he made to Haim. Lifetime's film is the first in a multi-step exposé of his abusers in what he calls his "Truth Campaign."
"We're in totally new waters now. When you say something, you're believed now in a way that you weren't before," GMA's Robach said. Her aggressive tone did not go unnoticed. It was as if the mainstream media talking head was disturbed by the notion any leader in Hollywood could be abusing children and getting away with it, and that Feldman's credibility is growing.
"I'm making the movie to expose the truth," Feldman said, defending himself and his motives. He also promised to reveal all that happened to him and who did it to him if he can raise $1 million in crowd funding sources.
The network reporter questioned why Feldman had a security team around him for the interview and asked why he should be believed over his skeptics. Feldman said many of the latest Hollywood accusers have been paid to keep quiet and that he has not been paid. He also said he deserves to be paid for his movie's production, as he is an actor in his own right—but he added that some of the proceeds will go to his charity.
Robach also questioned Feldman's motives by saying if he would just name the rest of the pedophiles he would be saving other child actors from the same kind of abuse he experienced.
"So, when the lawyers come after me, and they start arresting me, are you going to be there to defend me?"Feldman fired back. "I am making the movie to expose my truth. I am not just going to throw it out there and be slain down... If I hadn't been put with a molester, I would never have done drugs... and we would be having a very different conversation today."
The recording where Feldman went to the Los Angeles Police in 1993, which critics doubted ever existed, was found in December. Feldman hopes a new investigation will be opened now that the recording has mysteriously been found, but many doubt anything will ever happen to the incredibly rich and powerful figures who rule Hollywood.
Without a doubt, Feldman is attempting to capitalize on his abuse. He believes, as do many, that if he simply reveals who his abusers are, the 'blame the victim' campaign will commence and end with Feldman possibly never acting again. Acting, something we assume he loves, and now directing, something he is just beginning, also happen to be the modes with which he has chosen to quite possibly torment his abusers. Assuming they know who they are, the thought must be ever-present in their minds that 'today will be the day Feldman outs me.'
But it seems Feldman is in no hurry to reveal his abusers. It is quite possible his business plan for success is hinged around the $1 million he needs to make the blockbuster movie he said he needs to fully expose who they are. At any rate, the hostility Feldman continues to receive by members of the mainstream media may in fact hint at just how explosive those accusations are.
The truth is Feldman is not the only one who knows who his abusers are and it seems the mainstream media talking heads are covering for the abusers by further attempting to further intimidate the child star from fully disclosing his abuse. Feldman does not appear to be fazed, and instead, he is picking apart his abusers in what may be the most brilliant display of modern-day vengeance Hollywood has ever seen.
https://m.youtube.com/watch?v=2T1GLm8uBxQ