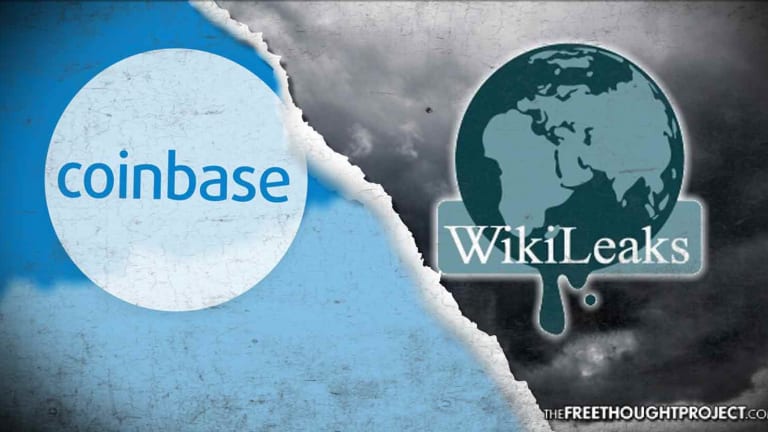 WikiLeaks Tells Supporters to Boycott Coinbase for Joining US Extra Judicial Financial Embargo
Coinbase has reportedly refused to specify why it suspended the WikiLeaks Shop's account, and in response, WikiLeaks is calling for a "global blockade" of the platform.
San Francisco, CA – WikiLeaks has called for a "global blockade" against Coinbase, the largest bitcoin brokerage of cryptocurrency in the world, after they effectively suspended the WikiLeaks Shop's account for allegedly being in violation of the platform's terms of agreements—although Coinbase has refused to specify what took place to prompt the suspension.
"To protect the privacy of our customers, we do not comment on individual accounts," a Coinbase spokesperson told The Independent.
After the suspension, the WikiLeaks Shop published a screenshot of a message received from Coinbase.
"Upon careful review, we believe your account has engaged in prohibited use in violation of our Terms of Service and we regret to inform you that we can no longer provide you with access to our service," the message states. "We respectfully request that you follow the on-screen instructions presented when you log into your Coinbase account to send any remaining balance offsite to an external address."
In response to Coinbase banning WikiLeaks' online store from using its service, the organization has called for a "global blockade" of the cryptocurrency brokerage. Additionally, WikiLeaks highlighted the fact that there was "concealed influence" behind the suspension, as the transparency organization's finances have continually been targeted by the U.S.

Ironically, the reason WikiLeaks first began accepting cryptocurrency donations in 2010 was due to a previous concealed influence operation that saw the U.S. government push Visa, MasterCard, and PayPal to engage in an extrajudicial financial embargo by cutting off all avenues of financial support for WikiLeaks.
A report by Fortune reveals how the recent move by Coinbase sounds eerily similar to that undertaken by Visa and MasterCard in 2010:
Neither Visa or MasterCard has revealed any political pressure behind their move to cut off WikiLeaks. But the two firms no doubt felt that pressure from both sides of the political aisle, as Attorney General Eric Holder has promised to explore all legal options against WikiLeaks and Senate Minority Leader Mitch McConnell and others have branded him a "terrorist." 
Despite the financial blockade, WikiLeaks' early adoption of bitcoin allowed the whistleblowing organization to continue to fund operations, with the bitcoin address used to accept donations having received more than 4,000 bitcoins to date, which today is worth more than $36 million.
WikiLeaks has accused Coinbase of essentially joining the financial blockade against the transparency organization at the behest of the U.S. government—and the lack of any reasonable explanation by Coinbase seems to clearly bolster that position.
While Coinbase has refused to provide any rationale for its decision to suspend the WikiLeaks Shop, a hint as to the "concealed influence" being applied by the U.S. government is the statement regarding honoring "regulatory compliance mechanisms" set forth by the Financial Crimes Enforcement Network, under which the platform is regulated.
The timing of these events is interesting, as the suspension of the WikiLeaks Store comes only one week after the New York Attorney General Schneiderman launched an investigation into Coinbase and 12 other major cryptocurrency exchanges.
While the New York AG's investigation is almost certain to be a precursor to increased financial regulation of cryptocurrency exchanges, under the auspices of increased protection and security of customers, the reality is likely that jettisoning the major funding mechanism for WikiLeaks is part of some quid pro quo by Coinbase in hopes of keeping tighter regulation at bay.
"With cryptocurrency on the rise, consumers in New York and across the country have a right to transparency and accountability when they invest their money," Attorney General Schneiderman said. "Yet too often, consumers don't have the basic facts they need to assess the fairness, integrity, and security of these trading platforms. Our Virtual Markets Integrity Initiative sets out to change that, promoting the accountability and transparency in the virtual currency marketplace that investors and consumers deserve."
The Guardian reported that in 2010, "US financial institutions including Visa, Bank of America, Mastercard, PayPal and Western Union, stopped accepting or handling payments intended for WikiLeaks in December 2010, after the site began leaking US diplomatic cables from a cache of nearly 250,000 it had acquired."
At the time, both MasterCard and Visa said that they were cutting the links because WikiLeaks was "engaging in or facilitating" illegal activity, while a PayPal vice president actually admitted that he had come under pressure from the US State Department to cut payment links with the site.
While there is currently no evidence to directly suggest that Coinbase is capitulating to government overlords pressing the company to compliance under threat of investigation, regulation and/or prosecution—given the facts surrounding how events have transpired regarding the vast effort to sway financial companies to sever providing services to WikiLeaks—it is certainly not out of the question, and in fact, quite likely to be going on.