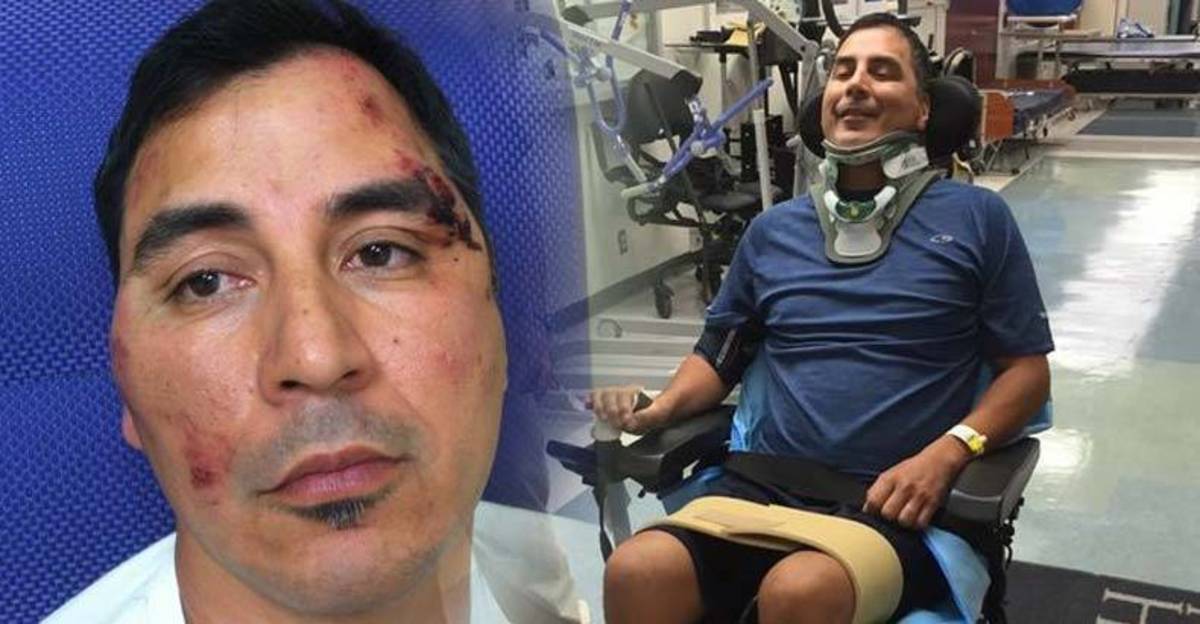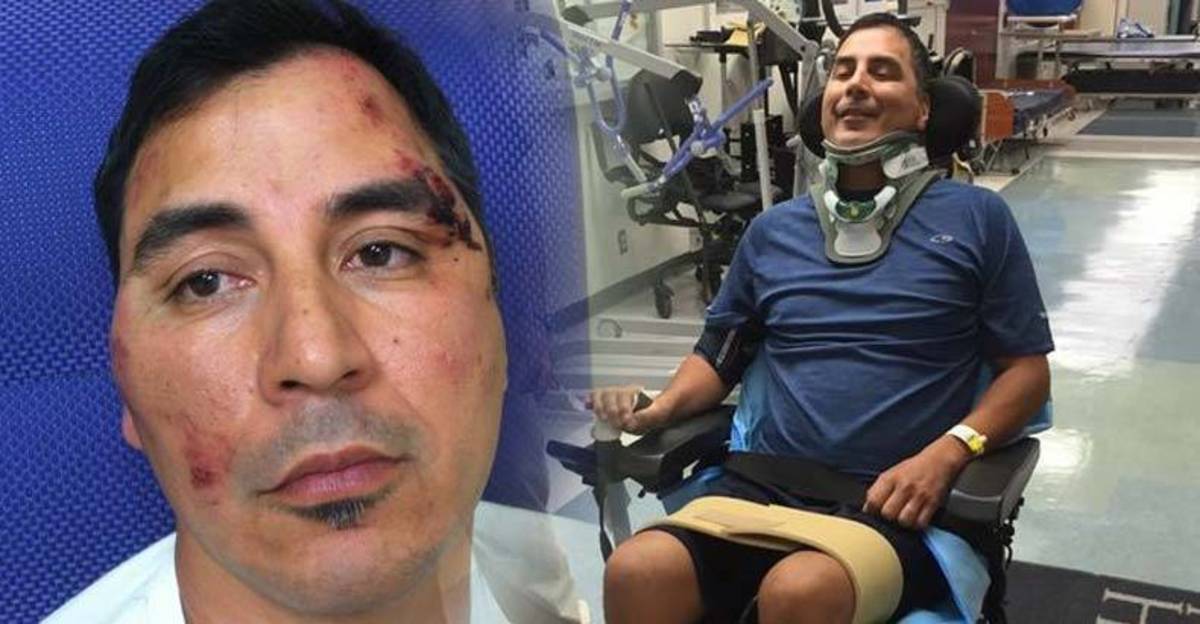 San Antonio, TX — Assaulted by two SWAT team members and an undercover cop in a case of mistaken identity, an innocent father of three was left paralyzed from the chest down due to complications from a recent surgery to repair his spine. Although the officers attacked an innocent man and caused his paralysis, the police chief stated that nothing "out of order happened."
Around 2:20 p.m. on May 20, 2014, Roger Carlos, 43, was taking photos of a building while scouting a location for his wife's medical practice. Suddenly, an undercover drug task force officer pulled up, exited his truck, and ordered Carlos to the ground. Before Carlos had time to comply, the undercover cop began beating him in the face with a weapon.
Although Carlos complied with the officer's orders and did not fight back, two SWAT team members arrived to assist the undercover cop in assaulting the innocent man. The officers justified the vicious beating by claiming that they could not see Carlos' hands during portions of the violent beatdown. Carlos asserts the three officers hit him at least 50 times with their fists, weapons, and elbows before they finally decided to cuff the unarmed man.
"I could understand taking somebody down hard," Carlos, who has no criminal history, told RawStory. "I can understand the need for that and securing them, but that's not what happened. I got on the ground, I was no threat to anybody, I was fully compliant."
Wanted on drug and weapon charges, Josue Rodriguez, 27, fled from police before ditching his car in a parking lot near Carlos. Unlike the suspect, Carlos is roughly 16 years older and does not have neck or facial tattoos. Unable to tell the difference between a career criminal and an innocuous father of three, SWAT officers Carlos Chavez, Virgilo Gonzalez, and the unidentified undercover cop brutalized an innocent man due to their own incompetence.
While cuffed and bleeding from open wounds, Carlos recalled seeing a fourth officer approach them and inform the inept cops that the suspect had already been apprehended. Suffering from neck injuries, a broken tooth, a large gash above his eye, and swelling of his skull, Carlos also endured a brain aneurysm as a result of the beating. After undergoing multiple surgeries on his neck and spine to relieve pain and pressure from herniated discs caused by the police beating, Carlos awoke paralyzed from the chest down after a recent surgery to repair his spine.
On November 3, a piece of bone reportedly broke off and compressed against Carlos' spinal cord during surgery. Paralyzed from the chest down, Carlos has begun to lose movement in his wrists and could develop problems breathing on his own.
"It's physically disabled him. It's mentally disabled him. He still hasn't since that day been able to get over this incident," Carlos' wife Ronnie told KENS5.
Although a police discipline board recommended 15-day suspensions for the three negligent officers, San Antonio Police Chief William McManus shortened their suspensions to five days. Instead of serving their suspensions, all three cops used their accrued leave time.
"Clearly it was a case of mistaken identity," Chief McManus stated after the incident. "From the report that I've read, from the photo that I saw and from your description, I've not seen anything at this point that would indicate to me that anything out of order happened."
Within that context, McManus could very well be correct. McManus' cops assaulted an innocent man in the wrong place at the wrong time, based on the color of his skin. In August, Bexar County sheriff's deputies Greg Vasquez and Robert Sanchez were caught on video killing an unarmed man with his hands in the air. Apparently in Texas, neither incident is considered "out of order."
DASH cryptocurrency and The Free Thought Project have formed a partnership that will continue to spread the ideas of peace and freedom while simultaneously teaching people how to operate outside of the establishment systems of control like using cryptocurrency instead of dollars. Winning this battle is as simple as choosing to abstain from the violent corrupt old system and participating in the new and peaceful system that hands the power back to the people. DASH is this system.
DASH digital cash takes the control the banking elite has over money and gives it back to the people. It is the ultimate weapon in the battle against the money changers and information controllers.
If you'd like to start your own DASH wallet and be a part of this change and battle for peace and freedom, you can start right here. DASH is already accepted by vendors all across the world so you can begin using it immediately.