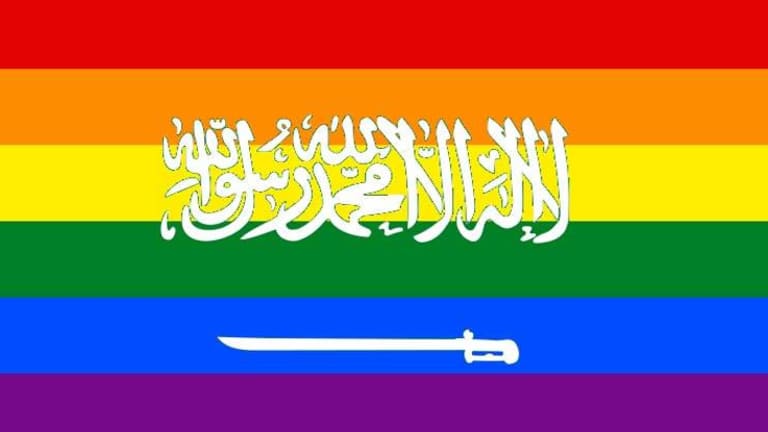 US Ally, Saudi Arabia Will Start Exterminating People for Being Gay, Blames Gayness on Facebook
Saudi Arabia, already an established human rights abuser, now wants to execute people for being homosexual — a growing problem, they say, because social media is making people gay.
Jeddah, Saudi Arabia — Saudi Arabian prosecutors would like to impose the death penalty for homosexuality — because, apparently, Facebook and other social media are turning people gay.
According to Okaz, a daily newspaper located in Jeddah, dozens of men have been prosecuted for cross-dressing, sodomy, and various other "crimes." One doctor was arrested for the act of raising an LGBT pride flag over his house, though he claimed he was unaware of its meaning and his children thought the flag was "pretty."
Such behavior, even acts between consenting adults of the same sex, is considered by Saudi Arabia to be legally similar to pedophilia or rape.
In a phone interview, a gay Saudi man told the Washington Blade that the extreme sentences being proposed by prosecutors in Jeddah would apply to cases anywhere in Saudi Arabia. He also said the proposal has sparked fear in the country's LGBT community for obvious reasons.
"We continue to gather more information," Chanan Weissman, spokesperson for the State Department's Bureau of Democracy, Human Rights and Labor, told the Blade. He also added the U.S. is "aware of these reports, but cannot verify their accuracy."
Saudi authorities are convinced the rise in homosexual behaviors has corresponded to the spike in internet usage, and particularly, social media like Twitter and Facebook. Those who come out online risk being targeted by agents of the notorious Committee for the Promotion of Virtue and the Prevention of Vice — sometimes referred to as Saudi Arabia's "religious police."
A man who operates a Twitter account, which posts LGBT-specific and other news items, told the Blade that undercover agents from the Committee "use people they arrest as 'bait' to entrap LGBT people who are online."
"It's happened so many times," said the man, who wished to remain anonymous out of concern for his safety. Social media and the internet, he explained, are essentially the only platforms for LGBT individuals to meet.
"It's their only outlet," he told the Blade. "There's no other actual safe space for LGBT people to meet outside the internet."
A second unnamed source inside Saudi Arabia told the Blade the proposal to execute people for coming out online shows "the horrific reality of the situation" in the country.
"We can't do a thing about it, but try to make some noise so activists from other countries would hear about it and talk to their politicians to pressure Saudi [sic] to change its policies," he explained. "The internet is the only safe haven to LGBT individuals in the Middle East. If this is taken from us, we won't have anywhere else to go."
Sadly, the relationship between the governments of Saudi Arabia and the United States remains cozy enough that admonishments to end it by respected human rights groups don't spur U.S. officials into action. Various statements by U.S. authorities criticizing impossibly strict Saudi policies and established human rights abuses amount to so much hot air.
Weissman re-emphasized to the Blade the State Department's stance that "LGBTI rights are human rights."
"No one should be harmed or have their basic human rights denied because of their sexual orientation," he said. "The United States will continue to raise the plight of targeted LGBT individuals around the world and work to protect their basic human rights."
Such statements sound good, but when not backed by tangible action, are simply hollow ghosts. Journalist Raif Badawi, who was sentenced to 1,000 brutal lashes and ten years in prison for allegedly criticizing Islam, is just one example of how the U.S. remains willfully blind to Saudi oppression and abuse. After countless organizations and advocates around the world condemned his punishment, the U.S. government failed to cool its relationship with the kingdom in any way.
"The United States works every day, both here in Washington and at our embassies and consulates around the world, to ensure that all persons can exercise their human rights, regardless of their sexual orientation or gender identity," Weissman boasted.
Perhaps instating the death penalty simply for being gay will be the knife the U.S. needs to sever ties with Saudi Arabia to force the kingdom out of such horrifically draconian policies. Given what the U.S. already excuses, however, that's doubtful.