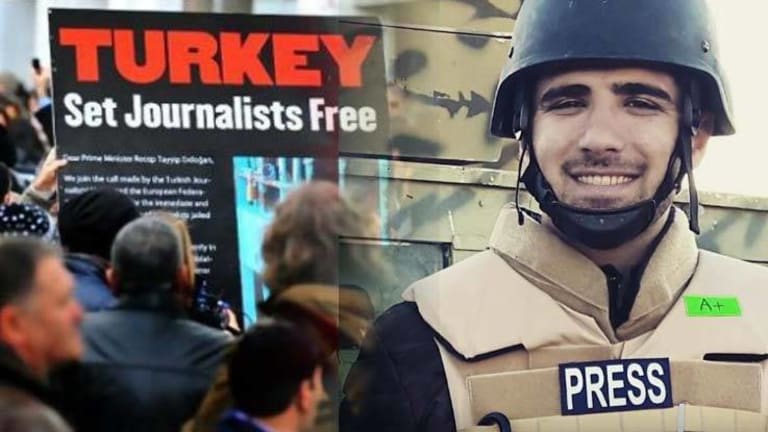 Justice - Turkey Finally Caved to the Pressure, Release VICE News Journalist from Prison
The Turkish government has shown it will do just about anything to silence journalists trying to expose the truth.
This August, VICE News journalist Mohammed Ismael Rasool was arrested in Turkey while documenting the ongoing conflict between the country's government and the Kurdish revolutionary group known as the PKK. While researching his story, Rasool was arrested by Turkish security forced and charged with "aiding a terrorist organization." However, there was no proof to substantiate the claims against Rasool, and he was clearly just a journalist who was documenting a very controversial aspect of Turkish politics and culture.
At the time of the arrest, Kevin Sutcliffe, Vice's head of news programming in Europe pointed out that the Turkish government was attempting to silence Rasool.
"Today the Turkish government has levelled baseless and alarmingly false charges of 'working on behalf of a terrorist organisation' against three Vice News reporters, in an attempt to intimidate and censor their coverage. Prior to being unjustly detained, these journalists were reporting and documenting the situation in the south-eastern Turkish province of Diyarbakir. Vice News condemns in the strongest possible terms the Turkish government's attempts to silence our reporters who have been providing vital coverage from the region," Sutcliffe said.
Meanwhile, the Turkish government has been exposed working with ISIS on numerous occasions in the past several months.
After human rights and freedom of expression organizations around the world demanded it, Rasool was finally released this week after four months in a Turkish prison.
According to a statement released by Vice News this week:
VICE News journalist Mohammed Ismael Rasool has been released on bail in Turkey after spending more than four months behind bars on terrorism charges. Rasool was detained alongside two VICE News colleagues on August 27 and sent to a maximum security prison. A document issued by a court in Diyarbakir stated that no bail payment was made, that Rasool was detained "as a protective measure," and he cannot leave the country. He must also report twice a week to a police station near where he lives.

Rasool, Jake Hanrahan, and Philip Pendlebury were reporting on clashes between police and youth members of the outlawed Kurdistan Workers Party (PKK) in southeastern Turkey when they were apprehended by Turkish authorities and accused of "working on behalf of a terrorist organization." Human rights and freedom of expression organizations around the world demanded the trio's release. Following an appeal, British journalists Hanrahan and Pendlebury were released on September 3, but Rasool, an Iraqi, was kept prisoner.
Sadly, 2015 was one of the most dangerous years in recent memory for journalists. According to Reporters Without Borders, a total of 110 journalists were killed around the world in the past year, and many of them died under suspicious circumstances.
"The majority aren't journalists in the wrong place at the wrong time during a bombing raid, they're journalists who are murdered to stop them from doing their jobs," Reporters Without Borders Secretary-General Christophe Deloire said.
The resistance of the Kurds is currently one of the most sensitive issues for the Turkish government, which has been struggling to prevent a full-scale revolution for the past two years. To understand the political implications of the Kurdish resistance, it is important to know the history of the region, and understand how the land in the Middle East was divided following World War 2.
Prior to World War 2, most of the land in the Middle East was considered to be a part of the Ottoman Empire, but within that empire, there were a variety of different ethnic and cultural groups that maintained their specific geographical areas. After World War 1, western governments divided the Middle East into various countries according to their own desires and failed to consider the existing ethnic and cultural dynamics of the area.
To make matters worse, western nations installed puppet dictators in many of these areas, which actually prevented the existing cultural groups from developing any independence or self-governance. One of these groups that were separated and thrown under the rulership of various different countries is the Kurds. The cultural area of Kurdistan stretches through southeastern Turkey, northern Syria, northern Iraq, and northwestern Iran. For generations, the people of this culture have been fighting for an independent Kurdistan under self-governance. This delicate geopolitical situation is compounded by the fact that the philosophy of the Kurdish people is very anti-authoritarian and egalitarian, which has contributed to them being branded as terrorists and extremists. The fight for an independent Kurdistan is one of the most important and under-reported struggles taking place in the Middle East.
John Vibes is an author and researcher who organizes a number of large events including the Free Your Mind Conference. He also has a publishing company where he offers a censorship free platform for both fiction and non-fiction writers. You can contact him and stay connected to his work at his Facebook page. You can purchase his books, or get your own book published at his website www.JohnVibes.com.