Hebron, Palestine — (RT) Footage shot in Hebron in occupied Palestinian territory shows Israeli soldiers routinely harassing teachers and schoolchildren on a number of occasions. Rights activists say it is part of a state policy aimed at forcing Palestinians to leave the city.
The incidents shown in the video were recorded in October and November by activists attached to B'Tselem, an Israel-based human rights group, near the Ziad Hamuda Jaber Elementary School for Boys, where some 300 pupils are educated. The facility is located in the Wadi al-Nasarah neighborhood of Hebron. Around 50 meters from the neighborhood is a road leading to the Jewish settlement of Kiryat Arba – the first that was established in Hebron after the city was occupied by Israel.
A metal gate has been installed some 30 meters from the school, which has to be passed by teachers and pupils. Occasionally, IDF soldiers are deployed at the gate and have been seen to conduct random searches, harass or arrest the Palestinian teachers and schoolchildren, B'Tselem reported.
One part of the video shows a pair of soldiers pushing a student against a wall, who appears to be in his early teens. On another occasion, a soldier confronts a B'Tselem activist who is filming him on camera, trying to physically stop her, and telling her to go stand "behind the dumpster with all the garbage." In another part, a soldier confronts a young man, approaching him aggressively before being warned by another soldier that he is being filmed.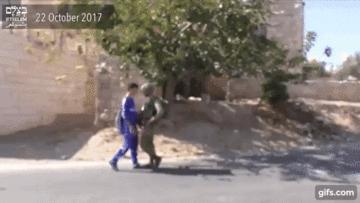 The footage also shows the school on November 9, when it was planning to mark the anniversary of the death of Yasser Arafat. Early in the morning, dozens of Israeli soldiers showed up and prevented anyone from passing through the gate, eyewitnesses told the rights group. The memorial service was eventually cancelled by the school management.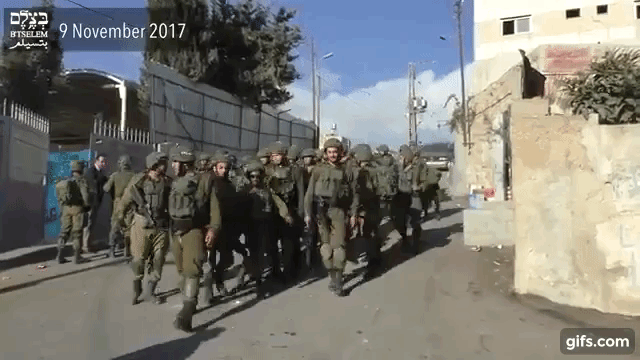 "These incidents illustrate the casual manner in which Israeli soldiers stationed in the West Bank can threaten and intimidate dozens of Palestinian school students and several teachers, disrupting routine studies," B'Tselem said. "These are not isolated or exceptional incidents, but an integral part of life in Hebron… The constant harassment of Palestinian residents by security forces and settlers, deny residents the chance to maintain a routine and make their lives intolerable."
Responding to B'Tselem, the IDF told RT that it was working hard to maintain peace and security in the occupied Palestinian territories. "Students of the Ziad Hamuda Elementary School for Boys frequently hurl stones towards civilians. In these cases, security forces intervene at the scene in order to cease the hurling and to prevent injuries," an emailed statement from the Israeli military said.
Indeed, the footage published by the rights group shows the soldiers angrily questioning boys about stone-throwing, which is a common occurrence among Palestinian youths protesting against the presence of Israeli troops. Witnesses told B'Tselem that soldiers stop school students and inspect their hands, apparently looking for those covered with dirt.
Sponsored Content:
Or, if you would like to help us by subscribing to our sponsor, Legalshield — and have an attorney in your pocket 24 hours a day for just $24.99 a month — you
can click here for details.