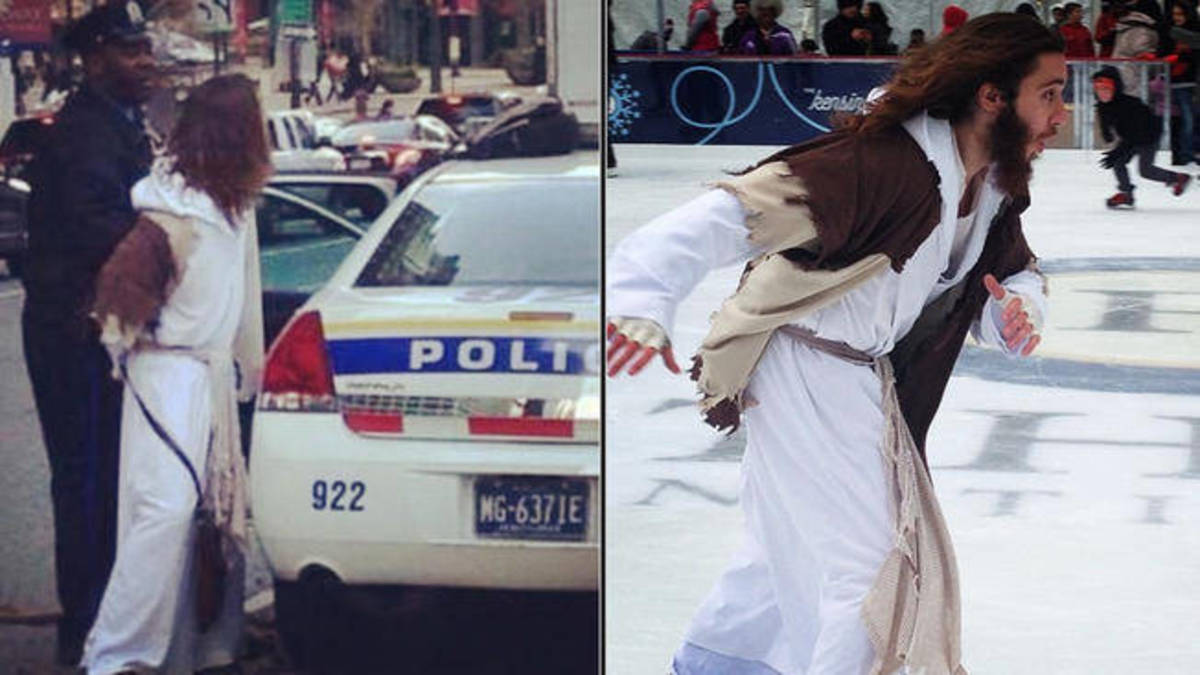 "To have our local government try and crucify a guy who's standing in LOVE Park and spreading a message of hope and peace is reminiscent of what happened 2,000 years ago – and still patently disturbing"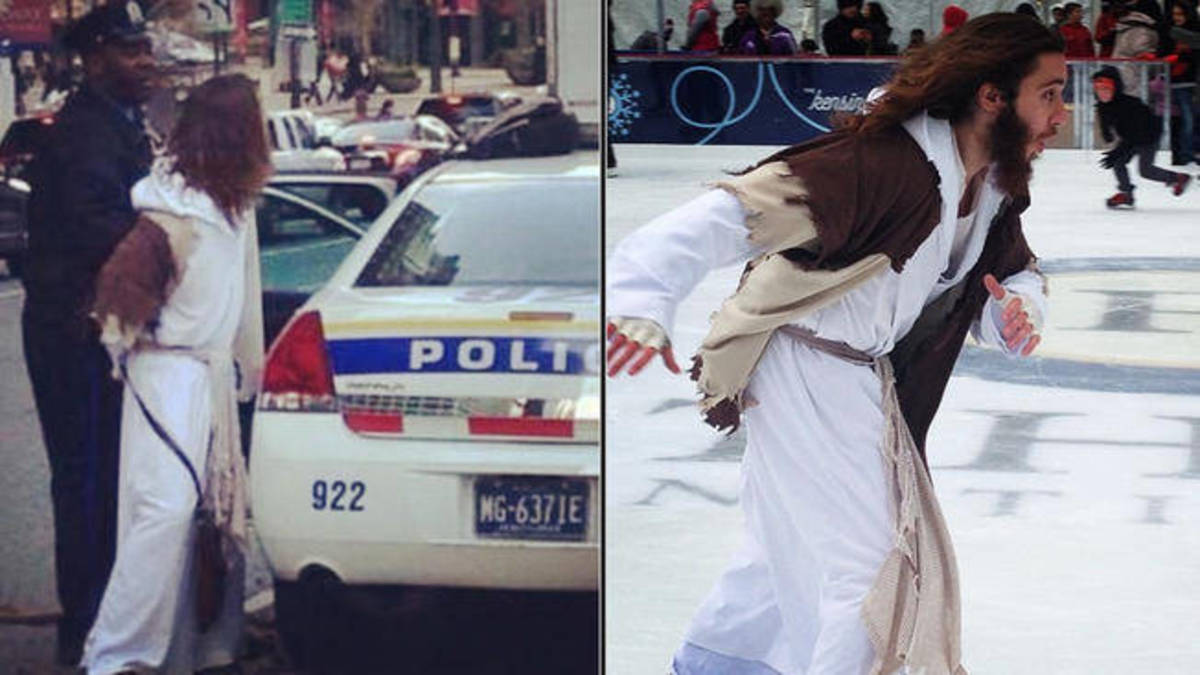 Philadelphia – A skate around the ice in the new Dilworth Plaza rink, led to officers handcuffing and arresting Philly Jesus, aka Michael Grant in LOVE park.
Grant, who strolls around the Center City dressed in full Jesus attire, sporting robes, as well as long beard and hair, can often be found sharing scripture and has even been know to baptize people.
"I bring the story of Jesus, the same way they bring it to the movies I bring it to the street,"
Grant told NBC 10.
After skating, for free, but having taken up a voluntary donation for the skate, Grant was harassed by Philadelphia police after being accused of accepting money for photos, he was subsequently arrested.
Officially, court records state he was arrested for disorderly conduct and failure to disperse.
"Those are charges that, in my experience, the government uses when you don't do whatever the government wants you to do, or that the police officer wants you to do,"
said Charles M. Gibbs, the lawyer Grant retained Saturday morning to represent him, according to Philly.com.
While in custody Grant tweeted: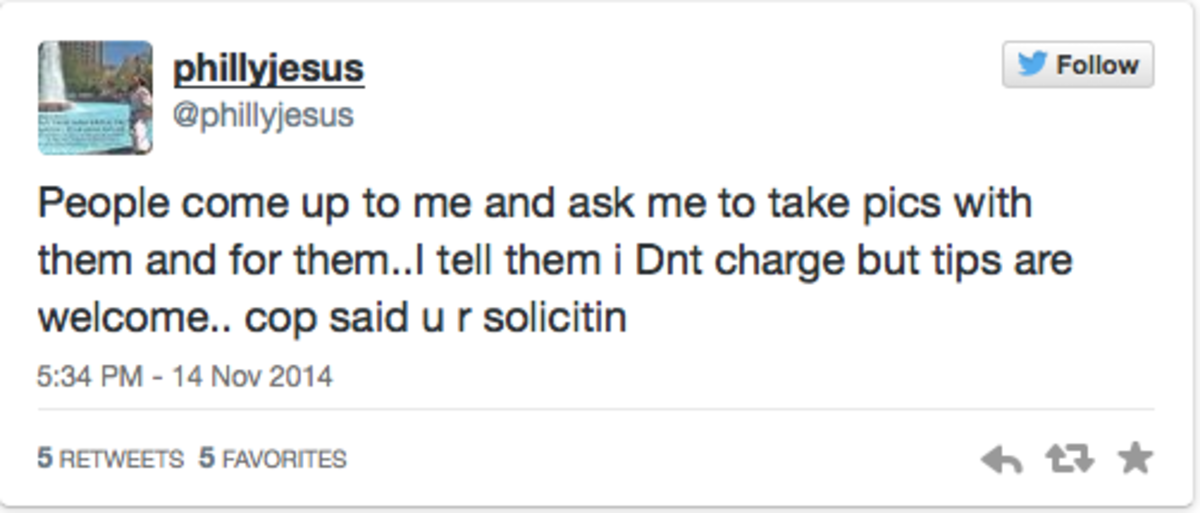 In an interview earlier this year with NBC 10, Grant, a recovering addict, discussed his recovery in an interview with Alison Burdo and talked about his path to sobriety saying,
"I considered myself completely healed and cured when I surrendered my heart to Jesus Christ."
Grant says he thinks the officer that arrested him recognized him from his using days, when he was homeless, addicted to drugs, and would panhandle in Suburban Station, Gibbs said, according to Philly.com.
Gibbs said Grant has been sober and drug free for over a year.
The officer told Grant to vacate the area, but Grant refused, Gibbs said, because it was "an unlawful order to leave a public park." Gibbs added that Grant was simply talking to people and taking photographs with them, something he has been doing for months in the LOVE Park, Center City area.
According to Grant,
"I tell people I do not charge but tips and donations are always welcome."
It seems that in "City of Brotherly Love," and "Birthplace of Liberty," even a guy dressed as Jesus that ice skates, share scripture and baptizes people for tips/donations, falls victim to the authoritarian and repressive police state.
As a recovering addict and victim of the drug war, Philly Jesus, rather than being harassed by law enforcement, should be saluted for finding a new way to live and giving people hope.
"To have our local government try and crucify a guy who's standing in LOVE Park and spreading a message of hope and peace is reminiscent of what happened 2,000 years ago – and still patently disturbing," Gibbs said.
---
Jay Syrmopoulos is an investigative journalist, freethinker, researcher, and ardent opponent of authoritarianism. He is currently a graduate student at University of Denver pursuing a masters in Global Affairs. Jay's work has previously been published on BenSwann.com and WeAreChange.org. You can follow him on Twitter @sirmetropolis, on Facebook at Sir Metropolis and now on tsu.
DASH cryptocurrency and The Free Thought Project have formed a partnership that will continue to spread the ideas of peace and freedom while simultaneously teaching people how to operate outside of the establishment systems of control like using cryptocurrency instead of dollars. Winning this battle is as simple as choosing to abstain from the violent corrupt old system and participating in the new and peaceful system that hands the power back to the people. DASH is this system.
DASH digital cash takes the control the banking elite has over money and gives it back to the people. It is the ultimate weapon in the battle against the money changers and information controllers.
If you'd like to start your own DASH wallet and be a part of this change and battle for peace and freedom, you can start right here. DASH is already accepted by vendors all across the world so you can begin using it immediately.