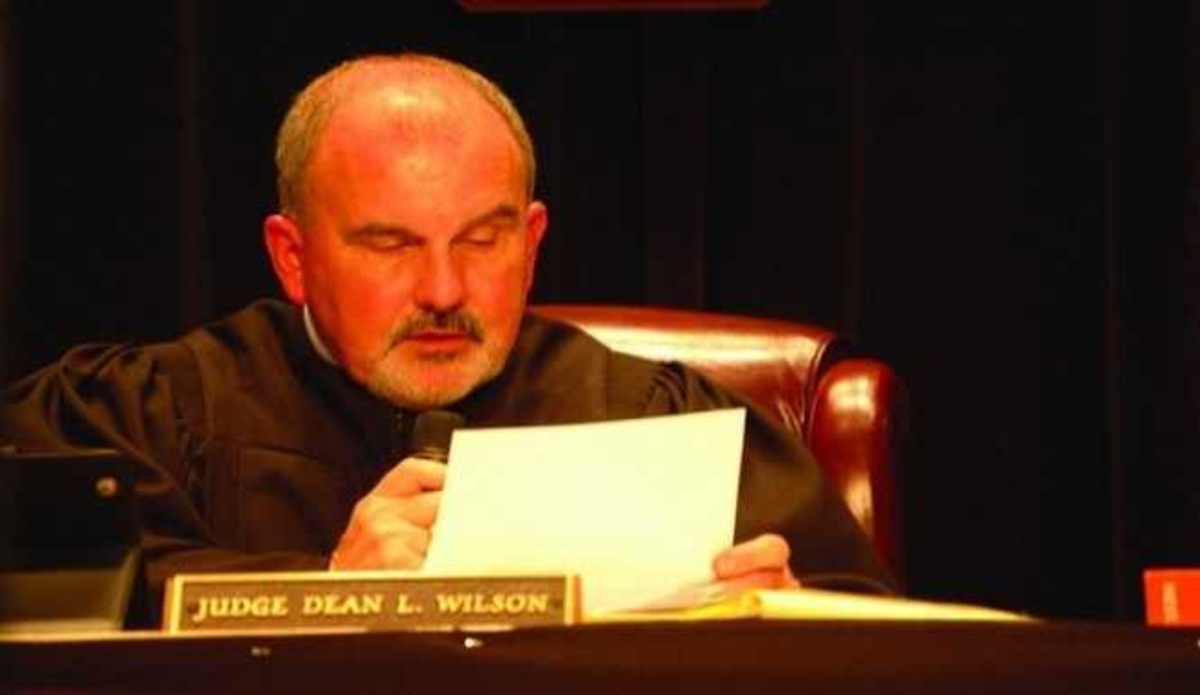 He engaged in a high speed chase with police, which eventually ended with a police helicopter following him and tracking his vehicle down.
Judge Dean L. Wilson of Perry County, Ohio got in a car accident while drunk last week, and was charged with a DUI.  Wilson is well known in his community for being harsh on drunk drivers, and even goes so far as to conduct court cases in schools so students can see drunk drivers get prosecuted.
Each year, Wilson moves his court room to New Lexington High School specifically for drunk driving cases, to set an example for the children.
Late last Sunday night, Wilson was driving home and crashed his Mercedez-Benz into a bus, and continued to drive away from the scene.  He engaged in a high speed chase with police, which eventually ended with a police helicopter following him and tracking his vehicle down.
"It wasn't like he sideswiped it. It was like he hit directly into it. It was hard, like boom. And he just backed up and ran off. And we couldn't believe it. We was just stunned for a minute. The bus driver said, 'Did somebody just hit me?' and we're all like, 'Yeah, and he just ran off," Mark Williams, a passenger on the bus told reporters.
When Williams was told that the suspect was a judge, he responded by saying, "Oh wow! That's incredible. That's amazing. I would never believe that!"
When they attempted to question Wilson, the only thing he had to say was "I understand you've got a job to do. And I appreciate that, but I have no comment. Any questions can be directed to my attorney."
The judge is facing misdemeanor charges punishable by a maximum of one year in jail total.  For refusing a breathalyzer Wilson's license was immediately revoked.
---
John Vibes is an author, researcher and investigative journalist who takes a special interest in the counter culture and the drug war. In addition to his writing and activist work he is also the owner of a successful music promotion company. In 2013, he became one of the organizers of the Free Your Mind Conference, which features top caliber speakers and whistle-blowers from all over the world. You can contact him and stay connected to his work at his Facebook page. You can find his 65 chapter Book entitled "Alchemy of the Timeless Renaissance" at bookpatch.com.
DASH cryptocurrency and The Free Thought Project have formed a partnership that will continue to spread the ideas of peace and freedom while simultaneously teaching people how to operate outside of the establishment systems of control like using cryptocurrency instead of dollars. Winning this battle is as simple as choosing to abstain from the violent corrupt old system and participating in the new and peaceful system that hands the power back to the people. DASH is this system.
DASH digital cash takes the control the banking elite has over money and gives it back to the people. It is the ultimate weapon in the battle against the money changers and information controllers.
If you'd like to start your own DASH wallet and be a part of this change and battle for peace and freedom, you can start right here. DASH is already accepted by vendors all across the world so you can begin using it immediately.