St. Paul, MN — On the night of June 24, 2016, Frank Baker 'fit the description' of a 'black man' in the area and he was attacked by police and their K9. For several minutes, Baker was beaten, tasered, and viciously mauled by their K9 — he was entirely innocent.
Baker's legs were so severely injured during the attack that he spent weeks in the hospital recovering. He also suffered several broken ribs and collapsed lungs.
According to his attorney Robert Bennett, the dog tore "hunks of flesh" as its teeth bit "down to the bone" of Baker's legs.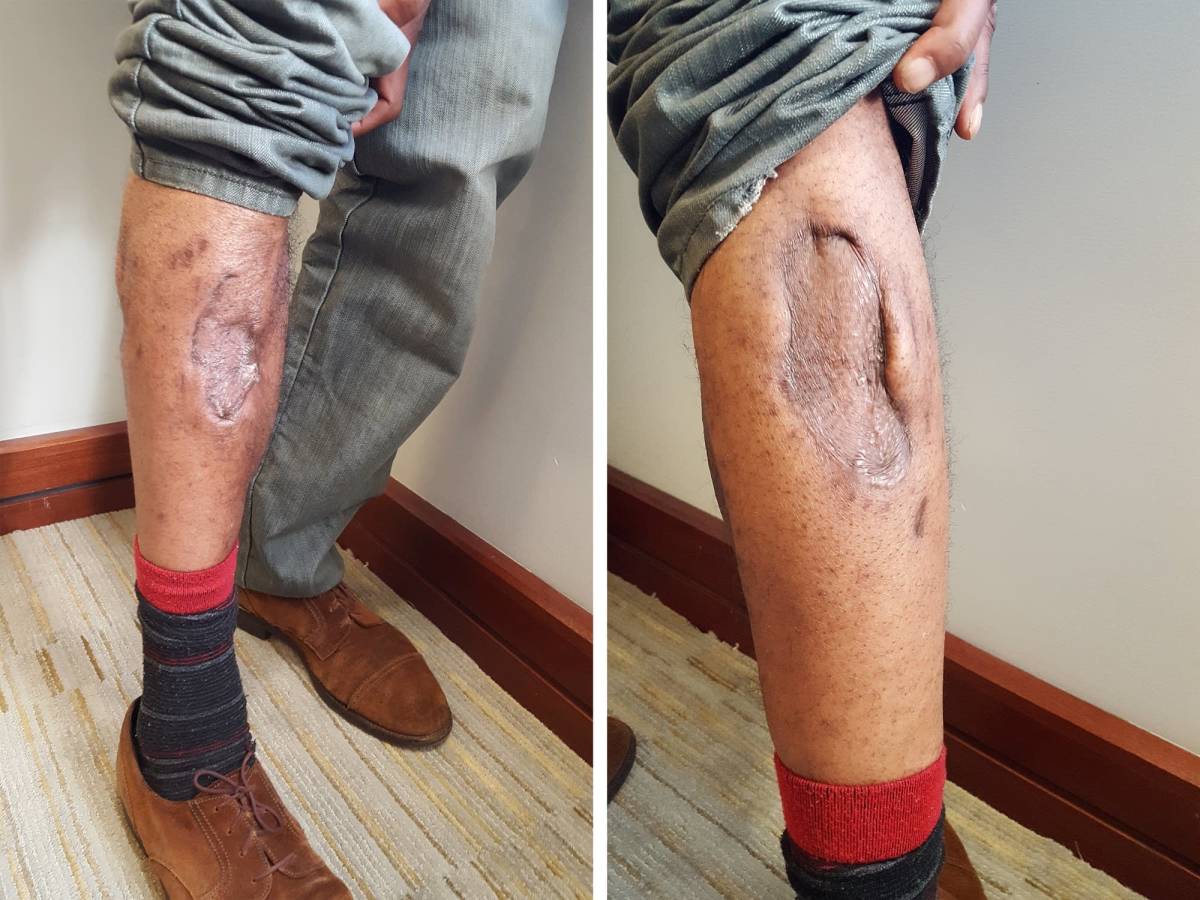 For over 4 months, police kept the dashcam of the incident secret, in an obvious attempt to cover their heinous attack. However, it was quietly released by the department over the weekend.
According to police, they were responding to a fight in the area, a fight that Baker had no part in. However, the fact that Baker was innocent did not prevent officers from siccing their K9 on him.
Because police said Baker was slow to respond when showing his hands, officer Brian Ficcandenti let loose the K9 'Falco.'
While having his flesh literally torn from his body, police are heard encouraging the dog. "Get him, buddy. Good," said the officer. "Get him."
The dashcam, running in the recently fired officer Brett Palkowitsch's cruiser, captured the following beat down — after Baker had been mauled. When Palkowitsch exited the vehicle, he ran over to the innocent man and began kicking and stomping Baker's ribs.
Baker was then handcuffed and rushed to Regions Hospital where he was in critical condition and spent two weeks recovering.
In a Facebook message Friday morning, Police Chief Todd Axtell said he is "disappointed and upset" by what the video shows and actually apologized.
"When I became chief, I promised to do everything possible to ensure that the people we serve have faith in their police department," Axtell said in his statement. "I want you all to know that the video does not reflect the way we strive to do our jobs — day in, day out. This is not the Saint Paul way."
"When the wrong thing happens, we are absolutely committed to being the best police department possible," Axtell assured. "I apologized and I believe truly in my heart that he appreciated that apology."
"I accepted his apology because he was genuine about it. He's a good guy, and we just want things to be peaceful," Baker explained.
For needlessly kicking Baker in the ribs causing his lungs to collapse, officer Palkowitsch has been relieved of his duty as a police officer with the St. Paul Police Department, according to a statement from Axtell on Monday.
As for the officer who senseless and viciously let his K9 tear an innocent man to pieces, he was given a 30-day suspension. This suspension was in spite of the civilian review commission only recommending 10 days.
DASH cryptocurrency and The Free Thought Project have formed a partnership that will continue to spread the ideas of peace and freedom while simultaneously teaching people how to operate outside of the establishment systems of control like using cryptocurrency instead of dollars. Winning this battle is as simple as choosing to abstain from the violent corrupt old system and participating in the new and peaceful system that hands the power back to the people. DASH is this system.
DASH digital cash takes the control the banking elite has over money and gives it back to the people. It is the ultimate weapon in the battle against the money changers and information controllers.
If you'd like to start your own DASH wallet and be a part of this change and battle for peace and freedom, you can start right here. DASH is already accepted by vendors all across the world so you can begin using it immediately.