The autopsy ruled the death a homicide.
East Point Police Department in Georgia has a very clear policy against tasers being used to "escort or prod" suspects or being used on handcuffed suspects, and this case is a very clear example of why.
A lawsuit has been filed on behalf of the family, including the 7 month old son, of 24 year old Gregory Towns, who died after being tased 13 times in 29 minutes. Two officers repeatedly shocked this man's body for a total of 47 seconds… while unarmed and handcuffed.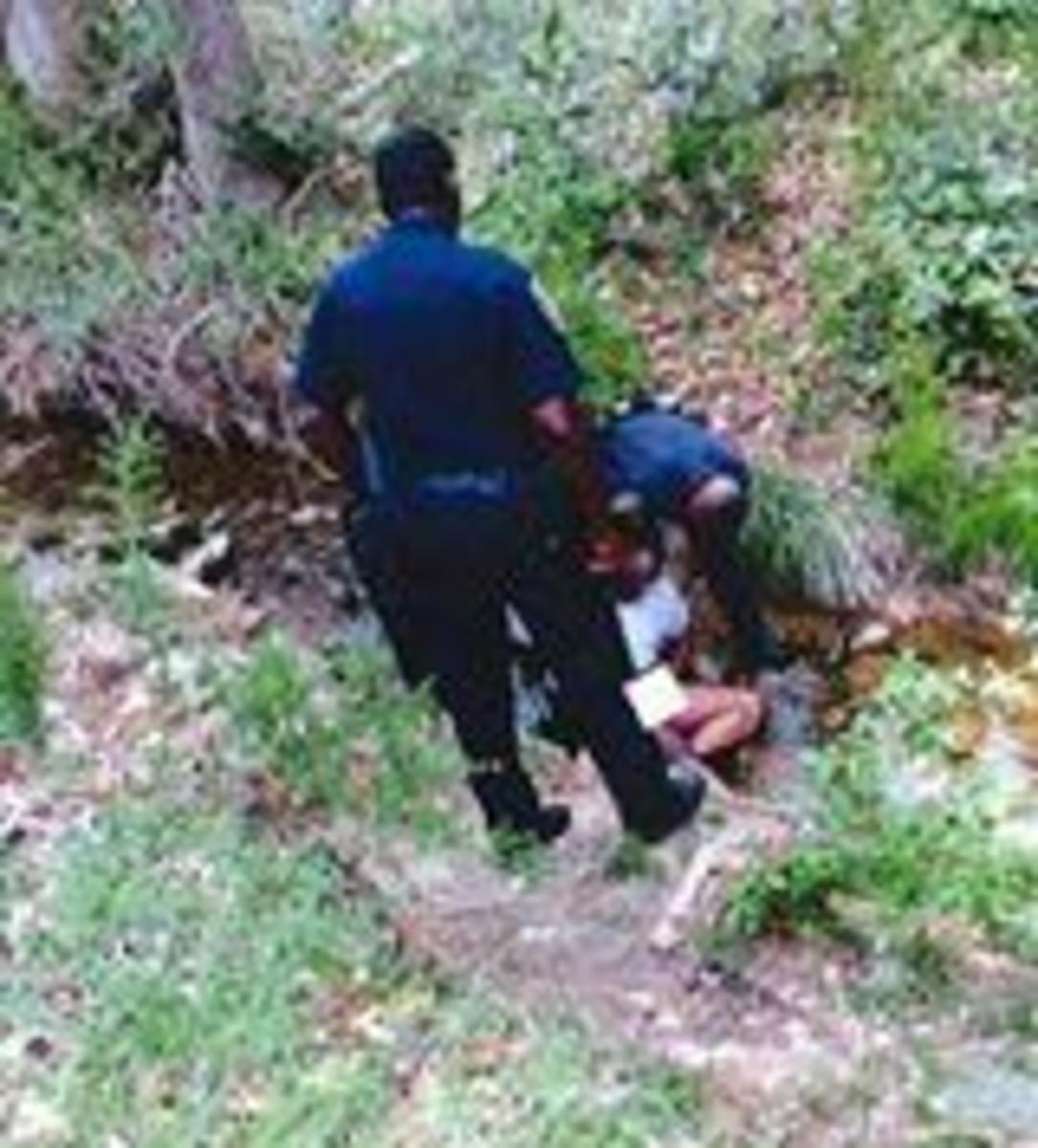 Police found Towns sitting down and out of breath after a short foot chase. He asked officers at least ten times to be allowed to rest before going with them, according to AJC.  The cops then decided to use their weapons as a cattle prod to force the weak man to walk, instead of just letting him catch his breath.
The autopsy ruled the death a homicide, as Towns died in a shallow creek where several of the shocks took place.
Officer Eberhart has been terminated while Weems resigned to avoid it.
Lawyers for the family say police are trying to cover up how many times they used their tasers. Only six taser shocks were logged on their police reports despite taser logs which indicate that Sgt. Marcus Eberhart fired his Taser 10 times, and officer Howard Weems fired three times.
The Police Benevolent Association, who recently gave a reprehensible press conference supporting officers involved in Eric Garner's chokehold murder are, of course, representing one of the officers.
According to Amnesty International, between 2001 and 2008, 351 people in the United States died from being shocked by police tasers. Electronic Villiage has documented another 212 taser-related deaths in the United States from 2009-2014. That means there have been at least 563 documented taser-related deaths in America since 2001.  You can view the list here.
While we often ask "why didn't that cop use a taser instead of his gun?", it is important to remember that while a person is less likely to die from a taser shock than a gun shot, they are still a weapon, and still often unnecessary and lethal.
DASH cryptocurrency and The Free Thought Project have formed a partnership that will continue to spread the ideas of peace and freedom while simultaneously teaching people how to operate outside of the establishment systems of control like using cryptocurrency instead of dollars. Winning this battle is as simple as choosing to abstain from the violent corrupt old system and participating in the new and peaceful system that hands the power back to the people. DASH is this system.
DASH digital cash takes the control the banking elite has over money and gives it back to the people. It is the ultimate weapon in the battle against the money changers and information controllers.
If you'd like to start your own DASH wallet and be a part of this change and battle for peace and freedom, you can start right here. DASH is already accepted by vendors all across the world so you can begin using it immediately.