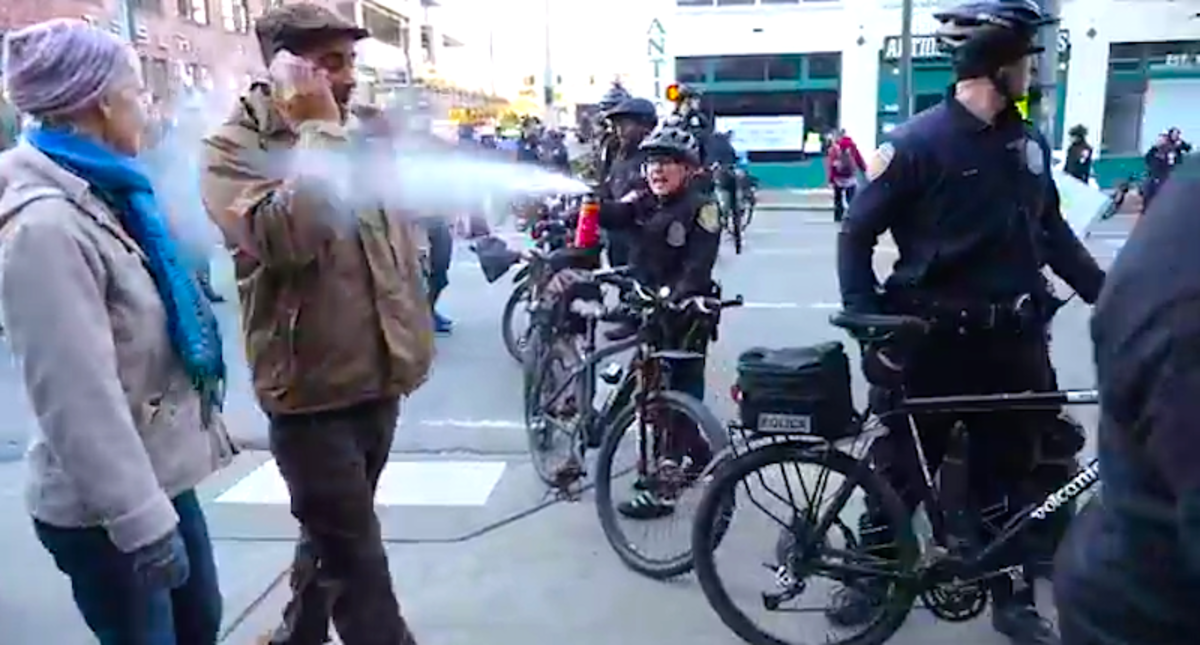 "The pain that shot through my face only lasted so long, but the painful memory is something that I don't know when will leave me or my family."
Seattle, Wash. – The city of Seattle is being sued by Jesse Hagopian after he was pepper sprayed by police while leaving a peaceful Martin Luther King Jr. Day rally and march on Jan. 19.
The suit claims that police lacked cause to douse him with pepper spray shortly after giving a speech at the rally discussing how "black lives matter," and seeks $500,000 in damages.
According to the Seattle Times,
Jesse Hagopian, a history teacher who gave a speech during the event, says in the claim that as he began to head home in the afternoon to celebrate his 2-year-old son's birthday, he was walking on the sidewalk in the South Lake Union area talking to his mother on the phone when the officer sprayed him.

During the press conference, Hagopian's attorney, James Bible, said Hagopian was pepper-sprayed "irrationally" with "No provocation and no reason," Bible said, characterizing the officer's assault on innocent citizens as a challenge to free speech.
The video of the incident shows a few officers, including the one that sprayed Hagopian, standing at a police barricade barking orders at the few peaceful demonstrators.
Officers had set up a bicycle barricade to block the march, but some people walked through the blockade, Hagopian did not.
The video clearly shows Hagopian come walking along calmly, minding his own business and talking on his cell phone, as you hear the officer, in typical jackboot thug fashion shout, "Stand back! Stand back!"
Out of nowhere the officer blasts Hagopian with the pepper spray, hitting him in the face.
"I felt the piercing pain shoot through my eye, my eardrum and my nostril, all over my cheek and face," said Hagopian, according to Komo News. "I yelled out. My mom was in distress as she heard me yell."
Seattle Police Chief Kathleen O'Toole said Wednesday she couldn't comment on Hagopian's claim because it is a legal matter.
"(Jesse) was pepper sprayed irrationally by a police officer – no provocation and no reason," said Bible. "We view this as a challenge to free speech."
Seattle Mayor Ed Murray weighed in, in an emailed statement stating,
"We have worked to create and implement a comprehensive and transparent police accountability system that will be the most robust in the nation. Under the accountability system that we've set up, the uses of force that occurred during the MLK protests are currently under review and being investigated."
As the old adage goes, a picture is truly worth a thousand words. The utter contempt some cops show for citizens was on full display for the world to see in this still shot of the heinous assault by officer.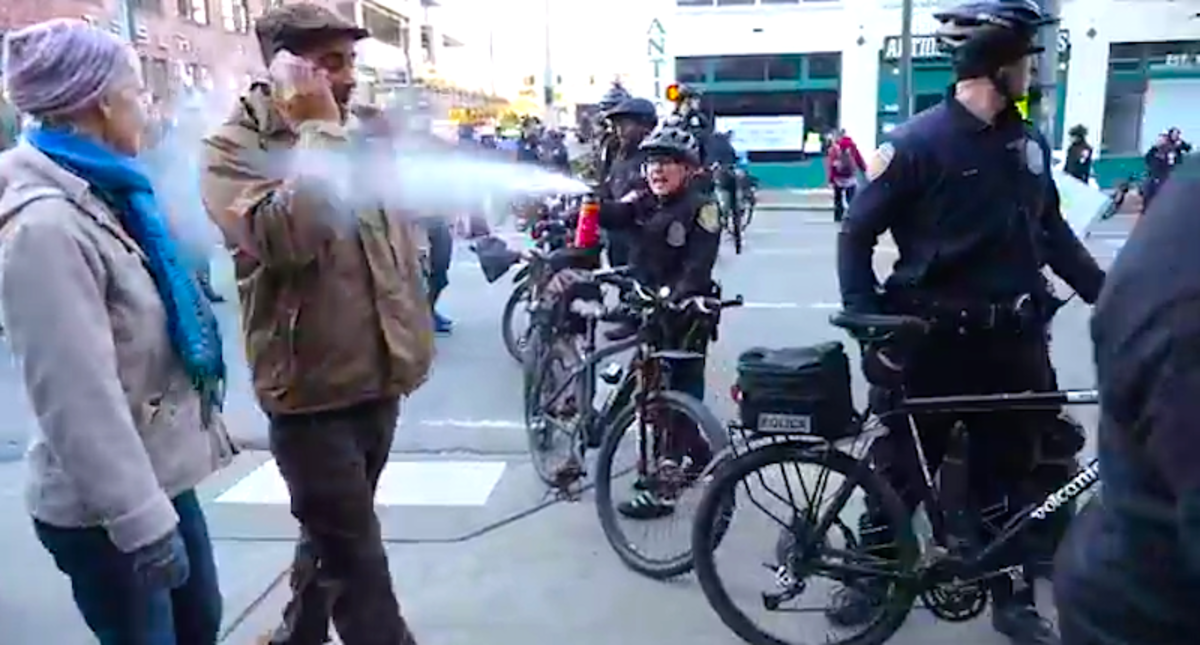 According to Hagopian, the most difficult part isn't the physical pain that was inflicted upon him:
"The pain that shot through my face only lasted so long, but the painful memory is something that I don't know when will leave me or my family."
The incident was captured on video and uploaded to YouTube Wednesday, the same day Hagopian's attorney filed a claim against the city.
---
Jay Syrmopoulos is an investigative journalist, freethinker, researcher, and ardent opponent of authoritarianism. He is currently a graduate student at University of Denver pursuing a masters in Global Affairs. Jay's work has previously been published on BenSwann.com and WeAreChange.org. You can follow him on Twitter @sirmetropolis, on Facebook at Sir Metropolis and now on tsu.
DASH cryptocurrency and The Free Thought Project have formed a partnership that will continue to spread the ideas of peace and freedom while simultaneously teaching people how to operate outside of the establishment systems of control like using cryptocurrency instead of dollars. Winning this battle is as simple as choosing to abstain from the violent corrupt old system and participating in the new and peaceful system that hands the power back to the people. DASH is this system.
DASH digital cash takes the control the banking elite has over money and gives it back to the people. It is the ultimate weapon in the battle against the money changers and information controllers.
If you'd like to start your own DASH wallet and be a part of this change and battle for peace and freedom, you can start right here. DASH is already accepted by vendors all across the world so you can begin using it immediately.