San Diego, Calif. – In a telling display of law enforcement's lack of common sense, Joey Canales, 31, had his transit pass seized by a transit cop prior to boarding the trolley. The cop's reason for seizing Canales' transit pass was that the man, who's been disabled since he was born, did not have written proof that he was truly disabled. Apparently, the fact that Canales was in a wheelchair was not convincing enough.
A stunned Canales recorded the encounter as the officer confiscated his bus pass and proceeded to write him a citation. He can be heard on video incredulously saying,
"It's his job to confiscate my card because I don't have sufficient proof I'm disabled. Obviously I am. I've been disabled since I was three days old."
What is most disheartening is that Canales uses the transit system to get to work and without his pass will be left with no mean of getting to work.
Also, during this ridiculous display, the officer wrongly tells Canales that he cannot film him. However, Canales remains diligent in asserting his first amendment right.
Does it really make sense to put this man's ability to earn a living in jeopardy for not having documentation of a disability as he sits in a wheelchair?
"I have an obvious disability. I'm not trying to scam you. My disability is not hidden," Canales can be heard saying on the recording.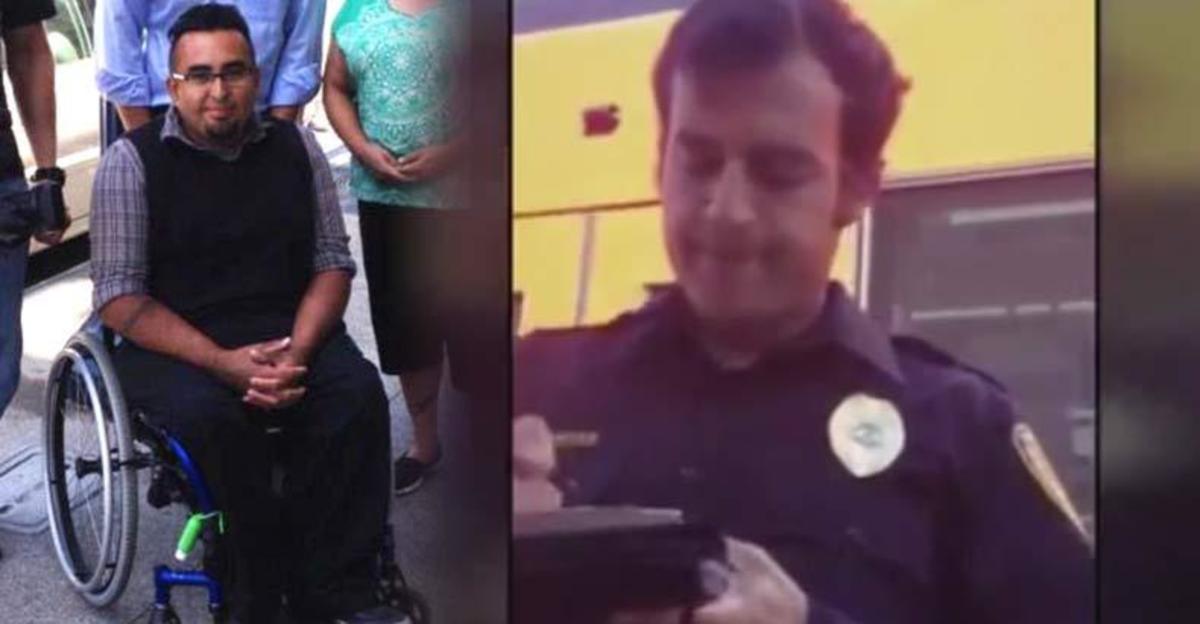 After attention was drawn to this incident, due to the video going viral on social media, Metropolitan Transit System (MTS) spokesman Robb Schupp made a statement to NBC San Diego. He stated that MTS requires "all people with discounted fares to carry proof of eligibility."
Proper documentation is a Medicare card. Disabled placard receipts can also be used as proof of disability, according to MTS.
Canales believes that this is a matter of principle and not just about himself, but about all people with disabilities.
"It's not just about me it's about other people with disabilities in the community. I don't feel that anybody with an obvious disability should have to prove that they are in need of such special passes," Canales said.
While the refrain from police apologists will be that the officer was "just doing his job;" should we not have an expectation of law enforcement using common sense in the carrying out of their duties rather than simply blindly following "policy?"
---
Jay Syrmopoulos is an investigative journalist, freethinker, researcher, and ardent opponent of authoritarianism. He is currently a graduate student at University of Denver pursuing a masters in Global Affairs. Jay's work has previously been published on BenSwann.com and WeAreChange.org. You can follow him on Twitter @sirmetropolis, on Facebook at Sir Metropolis and now on tsu.
Sponsored Content:
Or, if you would like to help us by subscribing to our sponsor, Legalshield — and have an attorney in your pocket 24 hours a day for just $24.99 a month — you
can click here for details.