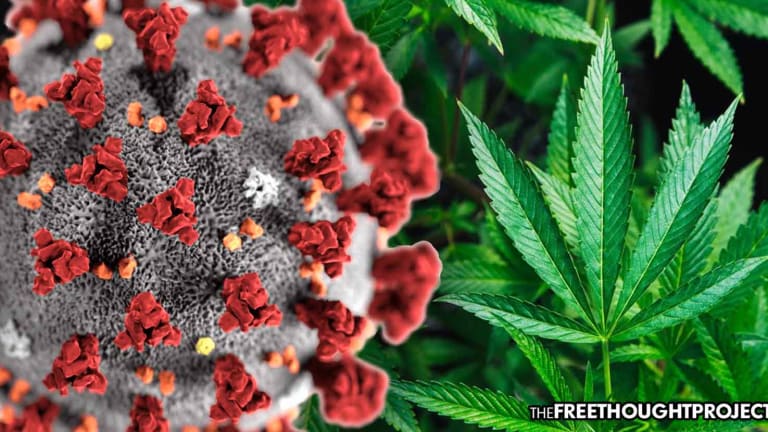 Researchers Say Cannabis Based Drug May Provide Resistance to SARS-CoV-2
Researchers at the University of Lethbridge in Alberta, Canada have concluded a study they say shows cannabis may provide resistance to SARS-CoV-2.
Researchers at the University of Lethbridge in Alberta, Canada have concluded a study they say shows cannabis may provide resistance to SARS-CoV-2. Their preliminary findings came up during broader research into the use of cannabis to treat cancer.
It is important to point out that this study has not yet been peer reviewed. However, if their findings are correct, researchers say that cannabis works in a similar way to nicotine.
In a study out of the Institut Pasteur in France, researchers led by Jean-Pierre Changeux, a neurobiologist at the university, found the potential of nicotine patches in preventing infections from SARS-CoV-2.
The French study assumes that nicotine can protect against the new coronavirus based on the hypothesis "that nicotine attaches to cell receptors (ACE2) used by the coronavirus, thereby preventing the virus from attaching," explains Changeux.
And, now, preliminary research is emerging out of Canada that certain strains of cannabis may also increase resistance to the coronavirus.
"The results on COVID-19 came from our studies on arthritis, Crohn's disease, cancer and others," says Dr. Igor Kovalchuck, a professor of Biological Sciences at the University of Lethbridge, in an email to DW.
As DW reports:
As with the research into nicotine's effect on the coronavirus, it is thought that some strains of cannabis reduce the virus' ability to enter the lungs, where it takes hold, reproduces and spreads.

In a paper on preprints.org, where scientists can publish non-peer-reviewed results, Kovalchuck and colleagues write that their specially developed strains of cannabis effectively stop the virus from entering the human body.

The study is one of many papers globally that have been shared on preprint websites, including preprints.org, in a bid to disseminate preliminary findings into potential COVID-19 treatments that have yet to undergo rigorous peer review.

The coronavirus needs a "receptor" to enter a human host. That receptor is known as an "angiotensin-converting enzyme II," or ACE2.

ACE2 is found in lung tissue, in oral and nasal mucus, in the kidneys, testes, and gastrointestinal tracts, they write.

And the theory is that by modulating ACE2 levels in those "gateways" to the human host, it may be possible to lower our susceptibility, or vulnerability, to the virus. It could basically reduce our risk of infection.
"If there's no ACE2 on tissues, the virus will not enter," says Kovalchuck.
Researchers warn that not all cannabis is created equal and that they only found 13 out of 800 new Cannabis sativa variants researchers developed they say modulate ACE2 levels in those humans gateways.
"Researchers have to be particularly careful when disseminating their results given the socio-political volatility of medicinal cannabis use," says Chris Albertyn, a Research Portfolio Lead at King's College London, and an expert on cannabinoids and dementia.
"In this instance, the current research from Canada has just unveiled a potential therapeutic 'mechanism of action' but that would need to be validated and tested in well-designed, robust clinical trials before any meaningful clinical conclusions can be drawn," he says.
Sadly, in the land of the free, this research is limited by the cannabis plant's schedule 1 classification by the federal government. As cops continue to kidnap and cage people for cannabis, this plant's life-saving potential is hindered. This seems especially egregious knowing the plant's promise for alleviating the horrific opioid epidemic we are currently facing.
As TFTP previously reported, in a study published in a peer-reviewed journal, Melvin D. Livingston, Tracey E. Barnett, Chris Delcher, and Alexander C. Wagenaar, set out to see if any association existed between Colorado's legalization of marijuana and opioid-related deaths in the state.
The researchers looked at all of the available data from the year 2000 to the year 2015. What they discovered may come as a shock to many. While the rest of the nation struggles with a burgeoning fatal opioid and heroin overdose crisis, the State of Colorado saw opioid deaths reduced while its population exploded.
It has long been stated that cannabis is a "gateway" drug, which leads users to experiment with other drugs, leading up to the most deadly, such as heroin. But the researchers in the study published in the American Journal of Public Health found that the availability of safe and legal cannabis actually reduced opiate deaths:
"Colorado's legalization of recreational cannabis sales and use resulted in a 0.7 deaths per month...reduction in opioid-related deaths. This reduction represents a reversal of the upward trend in opioid-related deaths in Colorado."
The researchers concluded, "Legalization of cannabis in Colorado was associated with short-term reductions in opioid-related deaths."
Those who continue denying the evidence, while continuing to lock people in cages for a plant, will ultimately be judged by history. They will not be the heroes they claim to be now. They will be remembered as the ones responsible for mass incarceration, fostering the police state, and dealing a near-death blow to freedom.