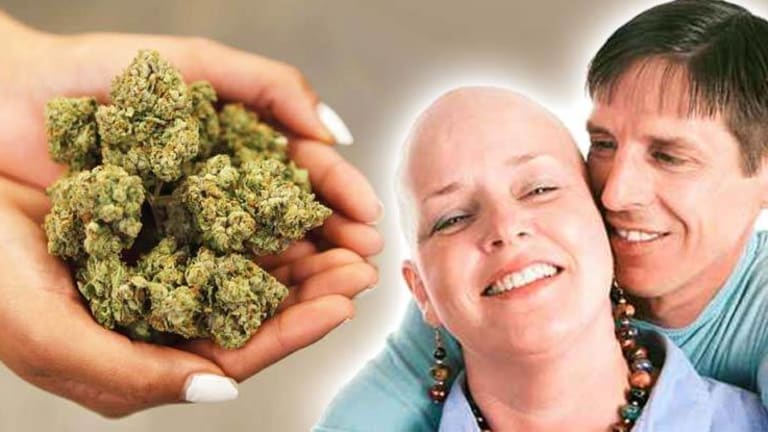 Since Buying Pot Will Land You in Jail, Alaskan Charity Group Gives it Away to Vets and Severely Ill
While the government is doing everything in its power to make sure patients cannot obtain medical marijuana, the Alaska Green Angels are doing everything they can to make sure they can.
Despite Alaska being on the forefront of cannabis decriminalization—legalizing its medical use in 1998 and legalizing its recreational use in 2014—there is still no state-sanctioned way for medical patients to buy cannabis products.
In fact, three businesses that attempted to solicit "donations" for cannabis are now facing felony charges. Until the state allows dispensaries to open, Alaskans seeking medical cannabis must either grow their own plants or find someone who can give them cannabis.
That's where Alaska Green Angels comes in. Recognizing that there are many patients in need who don't have a cannabis-growing friend and don't want to rely on the black market, the group has been giving away free cannabis for the past year. Their focus is on veterans and the severely ill.
Cannabis is known to effectively treat Post-Traumatic Stress Disorder (PTSD), which affects many veterans returning from overseas war zones. Cannabis is also known to effectively treat pain, especially that resulting from inflammation. Some people suffering from Crohn's disease find that cannabis is their only way of leading a normal life.
What started as a Facebook page last winter has ballooned into a thriving community, with members communicating independently of the founders. Dakota Davis is one such member who found relief through Alaska Green Angels.
"Davis, 26, said that he had avoided marijuana after being honorably discharged from the Navy due to Crohn's disease. He had never really used cannabis and didn't like the idea of getting marijuana from "this black market thing."

Through the advice of a business professor, he got connected with the Alaska Green Angels. "These guys have been helping me out tremendously," Davis said.

He says he uses cannabis to alleviate nausea brought on by chemotherapy he undergoes for Crohn's. He also uses it in place of opiates, which he said negatively affect his mood.

"It's not a cure-all," Davis said, but "it really improves my quality of life.""
The Alaska Green Angels have about ten people growing cannabis for contributions to the group, with others providing equipment or raw materials for edibles. However, the charitable endeavor is draining their resources as the group goes larger.
Other groups provide free cannabis products to those with a medical need, such as The Alaska Veterans Cannabis Relief Organization. This group branched off from the national Weed for Warriors Project, which focuses on promoting alternatives to prescription opiate drugs.
According to Keenan Williams, the group's president, the Veterans Administration (VA) views opioids as "the answer to everything." The U.S. is known for being addicted to prescription pills—thanks in part to a pharmaceutical industry that has commandeered government to push its products on the populace—and this addiction has led to an overdose epidemic.
As we reported earlier this year, deaths from opioid painkillers plummet in states with legal cannabis. Given this reality and the proven efficacy of cannabis to treat PTSD and other ailments, it should be a no-brainer to promote cannabis as a treatment for veterans. However, Congress denied veterans this option with the recent spending bill when it stripped a provision that would have allowed VA doctors to prescribe cannabis.
The first commercial cannabis stores in Alaska are set to open by autumn 2016, which will finally provide access for all medical patients. The state is not differentiating between medical use and recreational use in its business model, which means that everyone will be subject to the steep $50-per-ounce tax. However, there is talk of tax breaks for medical patients, but that could not happen until 2017.
Alaska Green Angels plans to continue providing free cannabis to veterans and those with severe illnesses, and would like to become a non-profit organization.
If you are in the area and can donate plants to their cause, you can find them on Facebook, here.