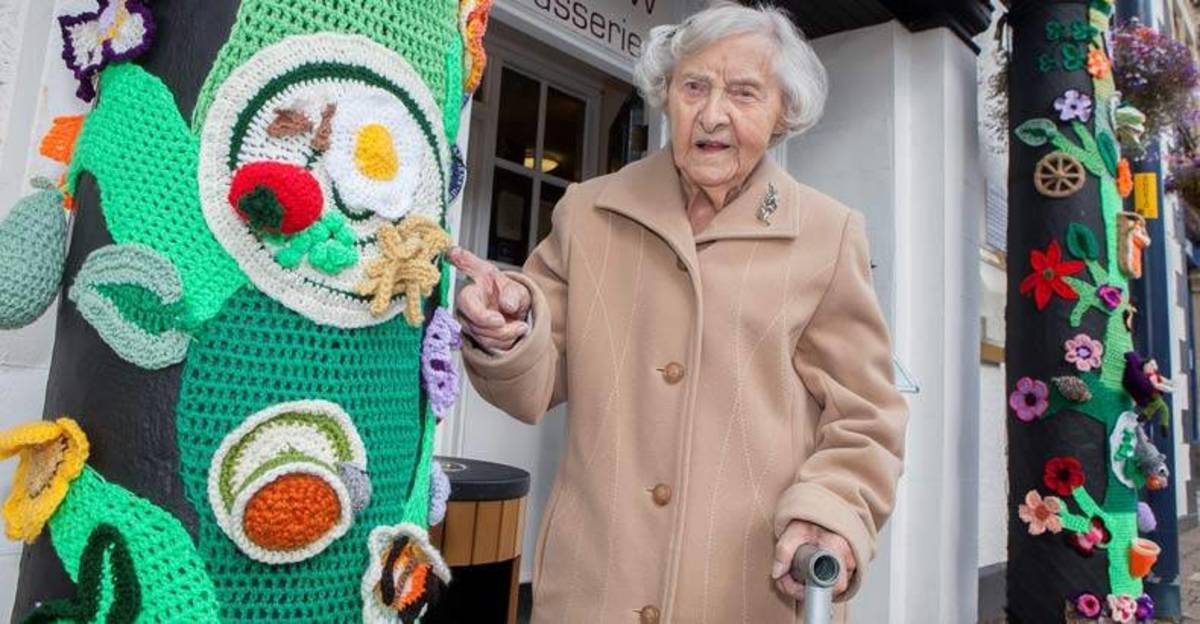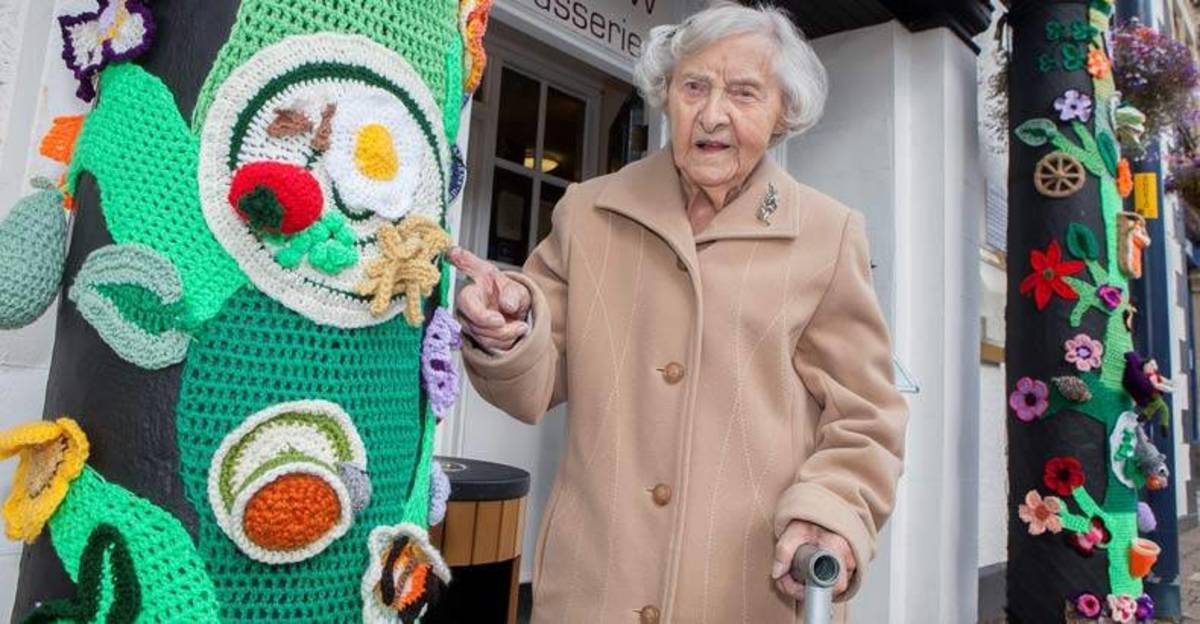 Scotland – Great grandmother Grace Brett could perhaps be the oldest living street artist in the world. The 104-year-old grandmother is part of a group of "guerilla knitters" known as the Souter Stormers.
The group yarn-bombed the towns of Selkirk, Ettrickbridge, and Yarrow in Scotland, as part of the towns' festivals.
The "Stormers" covered fences, benches, and lamp poles all across the towns in intricate knitted art. They decorated a statue of Sir Walter Scott, as well as an iconic red phone box. There were also knitted animals, colorful houses and tiny yarn families.
Nearly a year went into planning the secretive project, with one textile shop owner reporting a number of the group saying "the words 'I could tell you but I'd have to kill you' passed the lips of the knitters several times."
Brett has six grandchildren and 14 great-grandchildren whom she enjoys spending her time with when not out being a street artist.
"She thinks it is funny to be called a street artist," Brett's daughter, Daphne, 74, told the Daily Record.
One of the tasks Brett focused on during the project was creating knitted balls, which were then hung outside shop windows.
"I liked seeing my work showing with everyone else and thought the town looked lovely," Brett said.
Brett was born in London in 1910, and worked as a telephone operator, before moving to Scotland in 1978, according to the Daily Record.
"How wonderful it has been to have a lady who must be Britain's oldest guerrilla knitter on board," Souter Stormers spokeswoman Kay Ross told the Daily Record.
Showing her humble and kind nature, in a video interview, Brett tells her interviewer,
"It's very nice of you to take any notice of it."
The Free Thought Project just wants to let you know that we notice and think that it's people like you, Grace Brett, that make this world just a little bit of a kinder, gentler of a world to live in.
DASH cryptocurrency and The Free Thought Project have formed a partnership that will continue to spread the ideas of peace and freedom while simultaneously teaching people how to operate outside of the establishment systems of control like using cryptocurrency instead of dollars. Winning this battle is as simple as choosing to abstain from the violent corrupt old system and participating in the new and peaceful system that hands the power back to the people. DASH is this system.
DASH digital cash takes the control the banking elite has over money and gives it back to the people. It is the ultimate weapon in the battle against the money changers and information controllers.
If you'd like to start your own DASH wallet and be a part of this change and battle for peace and freedom, you can start right here. DASH is already accepted by vendors all across the world so you can begin using it immediately.