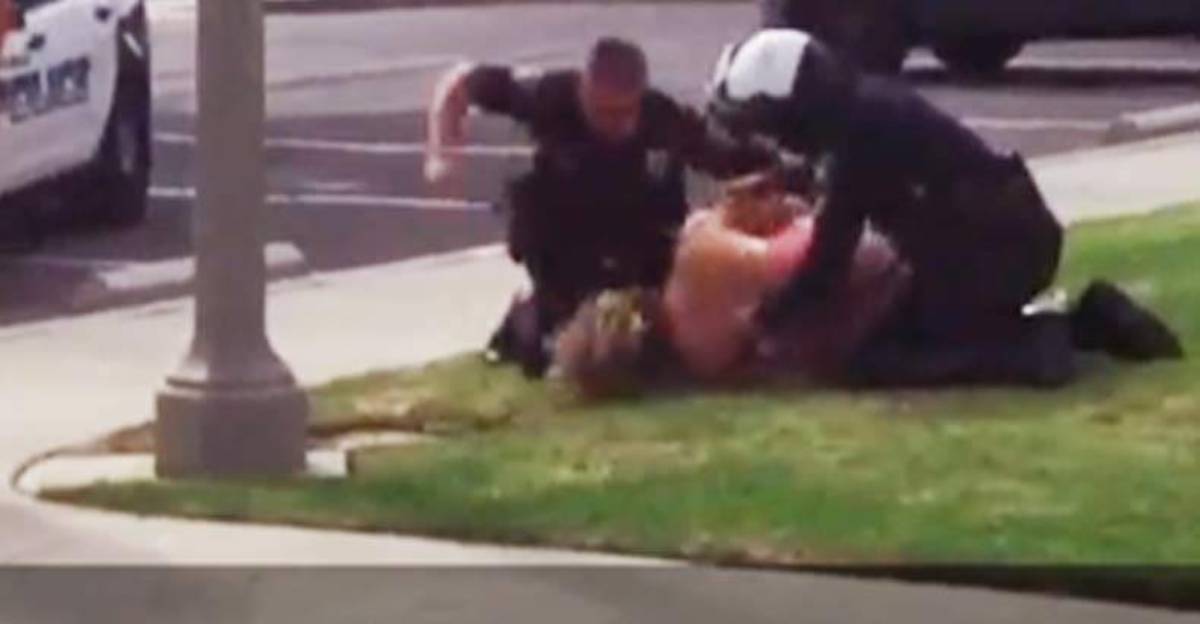 Carlsbad, CA — A shocking video captured the brutal beating of a mother in front of her two children after she merely asked an officer a question.
Cindy Hahn and her children were on their way home when they stopped to use the restroom. During their stop, Hahn asked a Carlsbad police officer a question.
According to Hahn, the officer responded by telling her to mind her own business. Shocked that the officer would address her in such a manner, Hahn called the department to complain. Minutes later, the cop who she reported for being rude pulls her over.
For an alleged seat belt violation, the Carlsbad officer demands that she exit her vehicle. At this point, she is thrown to the ground while two more officers arrive as backup to help assault this dangerous mother of two.
Bystanders plead with the cops to stop their assault, but it is to no avail. One woman is thrown back as she attempts to physically stop the attack.
As the two officers pile on top of Hahn, one of them punches her in the face as he yells out the standard "stop resisting" line.
Hahn was then cuffed and booked on charges of resisting arrest and battery. Apparently the officers did not know that their attack was captured on video when they claimed that Hahn battered them.
This entire incident looks like it was nothing short of a retaliatory beating for a woman filing a complaint against the officer.
After Hahn's attorney had shown the DA the video of the attack, the charges were immediately dropped.
Hahn has since filed a lawsuit asking for a jury trial and unspecified damages.
"If this goes on with an unarmed mother of two, God forbid what happens when there is somebody who's perceived to be a threat," said Mark Geragos, Hahn's attorney.
As of yet, none of the officers involved in beating this innocent mother have been disciplined.
DASH cryptocurrency and The Free Thought Project have formed a partnership that will continue to spread the ideas of peace and freedom while simultaneously teaching people how to operate outside of the establishment systems of control like using cryptocurrency instead of dollars. Winning this battle is as simple as choosing to abstain from the violent corrupt old system and participating in the new and peaceful system that hands the power back to the people. DASH is this system.
DASH digital cash takes the control the banking elite has over money and gives it back to the people. It is the ultimate weapon in the battle against the money changers and information controllers.
If you'd like to start your own DASH wallet and be a part of this change and battle for peace and freedom, you can start right here. DASH is already accepted by vendors all across the world so you can begin using it immediately.