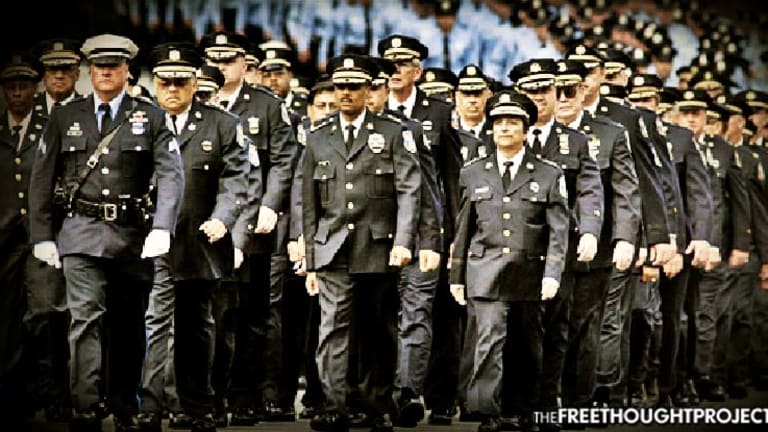 A Few Bad Apples? 16 Cops in 1 Dept Resign to Avoid Criminal Charges
A massive quota scheme has lead to the ousting of at least 16 cops who were all allowed to resign to avoid criminal prosecution.
Arlington, TX — All too often, people will use the term 'bad apple' to discount the heavy-handed tactics and widespread corruption throughout America's police departments. This term makes the rampant brutality and law breaking committed by cops on a daily basis easily dismissable, and little critical thought is ever applied to the problem of police misconduct. However, the term 'bad apple' is not applicable in the following case out of the Arlington police department — as it involves at least 16 cops.
Last year, it was discovered that Arlington police officers were reporting fake stops. During that time, an investigation was launched which led to the indictment of five officers. Those five officers each faced multiple charges, including more than a dozen felony charges. However, according to court records, this week, all five of those cops had their charges dismissed and were allowed to resign.
Eleven other officers also escaped the grand jury in exchange for their resignations as well.
It is a common tactic among police departments to allow officers accused of crimes to quit so they can escape accountability. However, the Free Thought Project has never reported on a case in which so many cops were allowed to pull this stunt at the same time.
"They will never be able to be peace officers in Texas again," said Sam Jordan, spokeswoman for the Tarrant County district attorney's office.
The indicted cops who had their cases dismissed this week were Dace Warren, 46, Brandon Christopher Jones, 33, Christopher Michael McCright, 47, Christopher John Dockery, 32 and Dane Alan Peterson, 33.
Since the other 11 were only charged and not indicted, their names were not released.
According to the indictments, the officers falsely reported traffic stops from February to May of last year.
According to the Star-Telegram, Fort Worth attorney Randy Moore, who represented Warren and Peterson, said he was surprised by the number of counts returned in the indictments. Warren faced 15 counts, while Peterson faced 10. Jones and McCright each faced five counts.
"With that many counts, even though they were misdemeanors, it was too much of a risk for the officers to go fight it in criminal court," Moore said. "I wanted to see my guys fight it out, but I understand the risk."
It appears that there is more to this case than just the 16 cops who escaped charges too.
As the Free Thought Project reported last year, this department has been known for many years to force cops to make traffic stops or face repercussions.
Department spokesperson Lt. Christopher Cook has denied that there is an explicit quota program at the department.
In a 2014 report after the allegations were initially made, Cook said, "It's actually a very common misconception that we make our officers meet a ticket quota. But in fact, state law makes it illegal for any department to issue mandatory quotas to its officers."
However, while there is technically no "official" quota program on the books since it is illegal in the state of Texas for police to establish quotas, there are obviously unofficial quota programs being enforced off the books.
Included in the evidence of quotas at Arlington are emails from 2010 which showed the department's sergeant emailing officers in his district on a weekly basis, listing the number of citations that each officer wrote, and congratulating those with the most citations issued. Also, the sergeant would offer encouragements to officers who scored lower than the others.
"I will say that when the shift performs at, let's say, average of 8 per person per week, you should be right there," the sergeant wrote in another e-mail. "Let me sum up: please issue citations, whenever you can, and with those numbers….please just be average," he said in one email.
In another email, one officer was told he would not be allowed to take time off work if his "work performance regarding traffic enforcement and self-initiated activity (did) not improve."
Withholding paid work time from officers who did not meet their quotas has been documented at the Arlington Police Department since 2009 when two officers had their part-time work suspended as a result of "low stats."
Moore, the attorney for Warren and Peterson, has said his clients maintained that they were pressured to make stops and write citations because of an alleged department traffic ticket quota, according to the Telegram. 
"I don't think two wrongs make a right," Moore said. "But if we're going to indict police officers, then we need to indict the chain of command for what they allowed to happen. If there is a problem, there needs to be accountability up the chain of command."
Sadly, cops across America are allowed to kill people on video and return to their jobs. However, if you are caught faking a traffic stop to avoid punishment for an illegal quota system — you are gone.
The irony here is that these 16 cops — while ousted as the 'bad apples' — have exposed everyone who remains employed at the Arlington police department as corrupt as well because they are continuing the illegal system.
[author title="" image="https://tftpstagingstg.wpengine.com/wp-content/uploads/2016/03/magorist-e1456948757204.jpg"]Matt Agorist is an honorably discharged veteran of the USMC and former intelligence operator directly tasked by the NSA. This prior experience gives him unique insight into the world of government corruption and the American police state. Agorist has been an independent journalist for over a decade and has been featured on mainstream networks around the world. Agorist is also the Editor at Large at the Free Thought Project. Follow @MattAgorist on Twitter, Steemit, and now on Facebook.[/author]