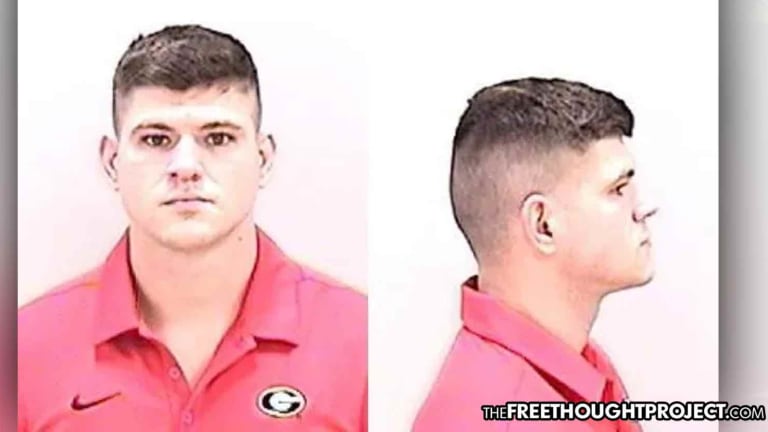 Cop Arrested After He Started Masturbating Next to People at the Gym
Gym members were in awe when they noticed a man -- who turned out to be a cop -- exposing himself and masturbating.
Augusta, GA -- An officer with the Richmond County Sheriff's Office was arrested after he was caught masturbating at a local Gold's Gym. The staff received complaints that Deputy Lamar Andrews was exposing himself in the presence of other customers at a Gold's Gym location in Augusta, Georgia. Staff called police to the location on July 6th and told them that a man was caught masturbating in the sauna, but they did not realize that he was a police officer at the time.
The staff described the man as a white male, who was 25-30 years of age, between 5'06-5'10, and weighing 160-180lbs, with brown hair.
According to a public indecency report, a 43-year-old gym member told police that "he observed a white male with black hair masturbating next to him while inside of the sauna room."
The victim immediately went and notified the staff, who found Andrews exposing himelf. Andrews rushed to cover himself up with a towel when they found him and then hurried out of the gym before he could be confronted. He left the gym and then walked towards a Wal-Mart store and then staff called 911 to report the incident.
Andrews was identified as a suspect very quickly, and was subsequently fired and arrested.
"Andrews has been terminated from the Sheriff's Office effective this date. Andrews has been committed to the Charles B. Webster Detention Center," sheriff's Sgt. William McCarty said in a press release.
Once the gym was able to identify who the man was, they immediately canceled his membership
General manager Brooks Reames told The Jail Report that they have a zero-tolerance policy for this type of behavior.
"Here are at Gold's Gym, we take matters like this very seriously. We have taken immediate action in regards to this issue and are allowing law enforcement to handle the criminal matter," Reames said.
Andrews has been an officer with the Field Operations Division in the South Precinct of the Richmond County Sheriff's Office for about two years now.
While this incident may seem strange, this type of thing happens all the time.
Last year, The Free Thought Project reported on the story of Massachusetts State Police trooper was arrested after he was caught masturbating in someone else's seat at a country music concert, and then later assaulting the person that the seat belonged to.
Andrew Patterson, 32, was brought to Wrentham District Court last year to face charges of lewd, wanton and lascivious conduct for the alleged act. According to police, Patterson exposed himself and began performing the lewd act on himself during a Luke Bryan concert at Gillette Stadium in Foxboro on June 21.
As we reported in 2017, police investigators were perplexed after a series of Peeping Tom incidents occurred in their town. On at least three occasions, a man would go up to someone's home, shine his cell phone light into the window of the home, and when someone eventually noticed the stranger standing in their yard, the man would then turn the light onto himself, spotlighting his exposed genitals.
Two years later police finally caught the perpetrator, and it was one of their own, Detective Robert Francis, who was found masturbating while peering through a child's window. Francis was arrested on charges of public lewdness and endangering the welfare of a child.