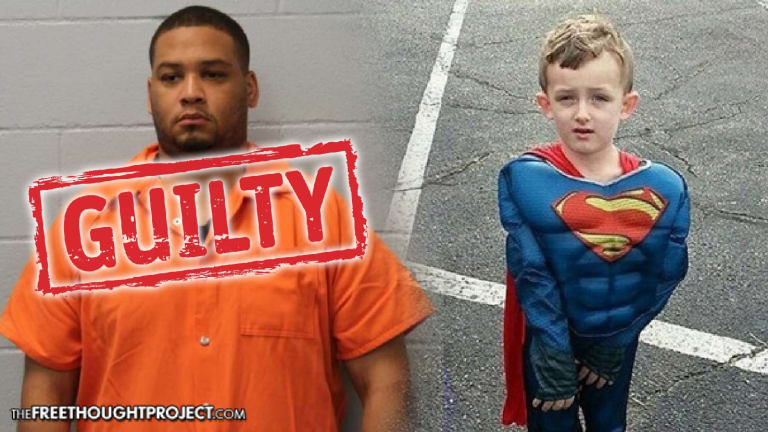 GUILTY! Cop Convicted in Gruesome Killing of 6-Year-Old Jeremy Mardis
In a rare case of justice, a Louisiana police officer has been convicted in the killing of 6-year-old Jeremy Mardis, who had autism.
Marksville, LA — In one of the rarest moves against law enforcement excessive force, former Louisiana police Officer Derrick Stafford has been found guilty of manslaughter and attempted manslaughter in the horrific fatal shooting of a six-year-old with autism on November 3, 2015.
Stafford had been charged with murder and second-degree murder.
Captured on police dash and body cameras, the grisly incident stunned the nation for a second time when video was eventually released evincing Stafford and a second officer, Norris Greenhouse, shooting irresponsibly into the vehicle driven by Christopher Few following a brief pursuit — even though the father raised his arms in compliance with the cops' orders.
Without being fired upon, the pair of sadistic cops inexplicably fired 18 rounds into the car.
Four bullets tore through the flesh of Few's son, Jeremy Mardis — any one of which could have been fatal.
Stafford and Greenhouse have fought in court and the theater of public opinion to shirk responsibility for the barbaric attack on an unarmed man and his autistic son — even going so far as to blame the child for having been fatally shot — so Friday's ruling is a welcome gesture of justice for Few and his family.
"I felt I had no choice but to save Norris," Stafford insisted, failing to elaborate on the fact Few had not been armed. "That is the only reason I fired my weapon."
As Avoyelles Todayreports, "Stafford was a passenger in the Marksville City Marshal's unit driven by Jason Brouillette that night. He said they were responding to Norris Greenhouse Jr.'s call for assistance when they saw Few's Kia Sport coming toward them on Preston Street. Brouillette angled his vehicle to block Few, but Few went around the patrol unit. There was no contact between the two vehicles [...]
"Stafford said Few backed up and struck Greenhouse's vehicle while Greenhouse was standing at the front of the car. Few pulled forward, looked back and was backing up again."
Both officers had claimed to 'fear for their lives' — (even saying, contrary to video evidence, the father swerved his car in the cops' direction) — that would typically be law enforcement's blanket excuse and ticket to impunity akin to the game, Monopoly's 'Get Out of Jail Free' card.
Stafford said in court he shot to protect Greenhouse from Few's vehicle, which he believed posed an imminent threat when the father put it in reverse, possibly to flee the scene.
"Then, when he puts up his hands, you shoot him," Assistant Attorney General John Sinquefield said to Stafford in court proceedings.
"I did not see his hands go up," the former cop rebutted.
Stafford added he did not intend to kill Few — much less, the child he claimed not to observe in the front seat — but that he just wanted to "stop a threat."
Mardis could not be seen in the passenger side, Stafford asserted — and he would not have fired had he been aware of the child's presence.
"Never in a million years would I have fired my weapon if I knew a child was in that car. I would have called off the pursuit myself," he stated.
"As we have said all along, our goal in this case was to get justice for Jeremy Mardis, his family, and the people of Louisiana. Today, that happened," Louisiana Attorney General Jeff Landry said in a statement cited by CBS News.
Greenhouse has been charged identically to Stafford, with trial set to begin September 12.
Two other officers on the scene that night, Lt. Jason Brouillette and Sgt., Kenneth Parnell, did not fire their weapons that night, and thus have not been charged.
Stafford and Greenhouse had been moonlighting at the time of the tragic killing.
Derrick Stafford's conviction, while reduced from the more serious charge of second-degree murder, is a rarity for a law enforcement officer, as an epidemic of police violence — evidenced handily in the killing of Jeremy Mardis — seems to continue unabated, leaving most victims without any recourse, much less justice.
">