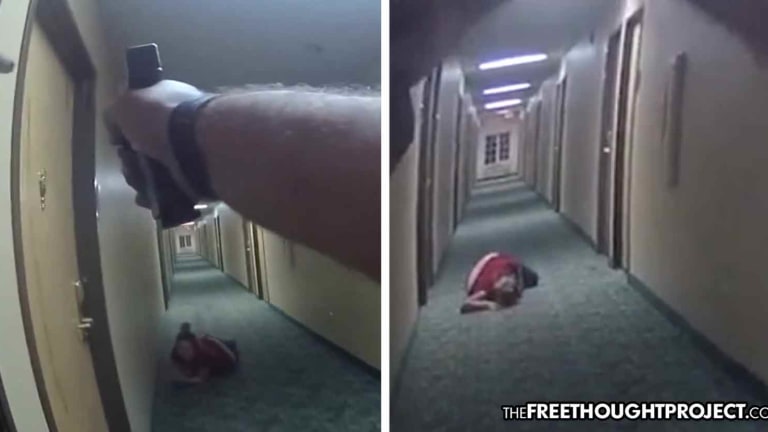 WATCH: Cop Shoots Innocent Unarmed Woman, Forces Her to Crawl to Him as She Bleeds Out
A frightened cop ran past on open door to a hotel room and opened fire on an innocent unarmed woman inside, shooting her in the abdomen.
Delano, CA — Disturbing video was just released as part of a lawsuit this week showing a Tulare County sheriff's deputy shooting an unarmed woman and then forcing her to crawl toward him as she bled out. The woman had committed no crime and police were only there because they had wrongly accused her boyfriend of participating in a drive-by shooting. He did no such thing.
The incident unfolded six months ago in June when Alexis Resendez and her boyfriend, Arturo Galvan were staying in a hotel. The video was just released this week as part of a lawsuit against the city of Tulare.
According to police, Tulare County sheriff's deputies and officers from the Delano police department were at the hotel that night looking for Galvan because he was a suspect in a drive-by shooting the day before. When police responded to the hotel room, for unknown reasons, Galvan attempted to flee by jumping out of the window. We would never know the reason he fled because as he jumped out of the window, officers waiting outside opened fire, killing him in a hail of bullets. He was unarmed.
"Open the door," the deputies yelled from inside the hotel. Then, all of the sudden, they heard gunfire. Not realizing that it was coming from their fellow officers executing the unarmed man outside, the officers backed up and yelled again.
As deputy Rommel Verenzuela ran past the hotel room door, his fear got the best of him and he began shooting for no reason. As he ran past the room and fired a round like a cowboy, he would hit the innocent and unarmed woman inside.
"He doesn't know what he's shooting at," legal analyst Tony Capozzi said. "There's no question about that. But what's in his mind when he does that? Does he believe his life in danger at that point in time?"
"Why'd you guys shoot me?" you could hear Alexis Resendez ask in Verenzuela's body camera video.
"We heard the shots and someone opened the door, ok?" he told her. "We didn't know if it was going to be him coming out."
Those shots were from their fellow cops and Alexis was opening the door to get away from the bullets. Unfortunately, that got her shot.
As the video shows, the cops were so scared of this unarmed woman that they didn't approach her. Instead, they forced her to crawl on her stomach in agonizing pain as she bled out on the carpet.
"Crawl to me! Crawl to me! Crawl to me!" the officer screams at Alexis, as if it is easy to drag your body down a carpet hallway with a bullet lodged in your abdomen. The extremely disturbing scene unfolded for over a minute after the trigger happy cop put a bullet in her.
Alexis was forced to drag herself to the officers who'd just shot her before they rendered any aid. This could have proven to be fatal. Luckily, it was not.
"It sucked," said Steven Resendez, Alexis Resendez' father, before her mother, Anita, took over. "It just brought back a lot of memories of that day because it was one of the most terrifying, emotional days of our lives, not knowing if our daughter was alive."
Alexis was alive, but sadly, the father of her 4-year-old child was not. Arturo Galvan would succumb to the multiple bullet holes in his body put there by cops executing this unarmed man.
"It's just sad and tragic how everything turned out," said Steven Resendez. "But we thank God our daughter is still here with us, that my grandson didn't lose both his parents."
After they killed the unarmed man and shot his innocent unarmed girlfriend, police impounded Alexis' vehicle, claiming it had been used in the drive-by shooting. However, illustrating the entirely unnecessary shooting of two unarmed individuals, Alexis said her car was released back after finding no evidence connecting Galvan to the drive-by because he wasn't involved.
Because police killed Galvan in such a horrifying way as he was unarmed, the city immediately paid the family $2 million before they even got an attorney and filed a lawsuit.
The Tulare County district attorney's office never filed charges against Alexis. On the contrary, however, they told ABC 30 the case is still under review and legal analysts say the police officer could face charges.
Resendez is now suing the county of Tulare.
Below is the disturbing video.
Below is the interview with the family from ABC 30.