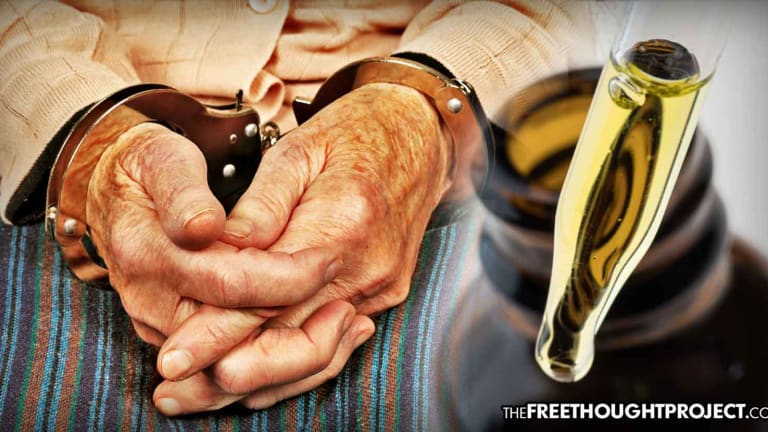 Cops Arrest Great-Grandma at Disney World for Having CBD to Treat Her Arthritis
An innocent great-grandma was kidnapped by police and thrown in a cage because she had CBD in her purse which she used to treat her arthritis.
Orlando, FL — If ever you needed an example of the immoral imbecility of America's war on drugs and the utter lack of critical thought by those who enforce it, the following story of a great-grandma getting kidnapped and caged for completely legal CBD oil is it. As TFTP has consistently reported, the war on drugs and its enforcers care not about the innocent lives they ruin and end in their wake and Hester Jordan Burkhalter, a great-grandmother from North Carolina, and her arrest for CBD oil, proves this notion.
Burkhalter has never gotten so much as a speeding ticket in her life, but this week as she attempted to walk through a checkpoint in Disney World with CBD, all that would change. When an Orange County Deputy found the great-grandma's CBD — which she uses to treat her arthritis — he just knew he had nabbed himself a criminal.
Instead of realizing that you can buy CBD on Amazon and in Wal-Mart and letting this entirely innocent great-grandma go on about her business, this deputy had a job to do—and that job consists of kidnapping and caging an elderly woman for a plant extract that helps her treat her arthritis without dangerous pharmaceuticals.
Burkhalter even had a note from her doctor who recommended the CBD, yet she was arrested anyway and held on a $2,000 bond.
As" target="_blank" rel="noopener noreferrer"> FOX 35 points out, despite the fact that it's sold on store shelves across the state, CBD oil is still technically illegal in the state of Florida (unless the user has a prescription). This has created a confusing situation in the Sunshine State.
Apparently it is so confusing, that the deputy couldn't use his discretion and he kidnapped a great-grandma.
Had Burkhalter had actual marijuana—which contains THC and can get you high—she would have been issued a citation. But because the government lacks any logic and instead relies on brute force and ignorance, this great-grandma was charged with a felony for having CBD.
Jennifer Synnamon, a Florida attorney, told Fox 35, "a little drop of oil, with the CBD, is a felony. Meanwhile, you can have up to 19.9 grams of leaf-marijuana, and it's a first-degree misdemeanor."
Naturally, the Orange County Sheriff's Office told the media that this deputy arrested the innocent woman because "he was just doing his job."
In a statement provided to Fox News, Burkhalter's lawyer Jennifer Synnamon said "I'm very disappointed that the Orange County Sheriff's Office handled the situation the way they did. Why Sheriff Mina would support his deputies using their resources for a CBD oil arrest of a 69-year-old woman, but then won't do anything about the gas stations, health food stores, drug stores, etc. that are selling it to the open public is absolutely beyond my comprehension. The State of Florida finds nothing wrong with collecting the sales tax on illegal products, but they allow prosecution for possession of the same. I want to commend Aramis Ayala's office for reviewing the case and swiftly determining that they would not prosecute."
The good news is that once this story became public, the negative press the sheriff's office received for kidnapping and caging a great-grandma for her CBD oil was enough to have them drop the charges.
The sheriff's office released the following unapologetic statement after the charges against Burkhalter were dropped:
"This was a lawful arrest, as possession of CBD oil is currently a felony under Florida State Statute and Deputies are responsible for enforcing Florida law and Orange County ordinances. Although CBD oil is illegal without a prescription, our top drug enforcement priority and focus at the Orange County Sheriff's Office is to get deadly drugs, like heroin and fentanyl, off the streets of our community."
While cops in South Florida are arresting great-grandmas for treating their arthritis with CBD, hundreds of rapes are being ignored as the rape kits which could find the attacker remain untested on shelves in police departments across the state. We see where the real priorities lie.