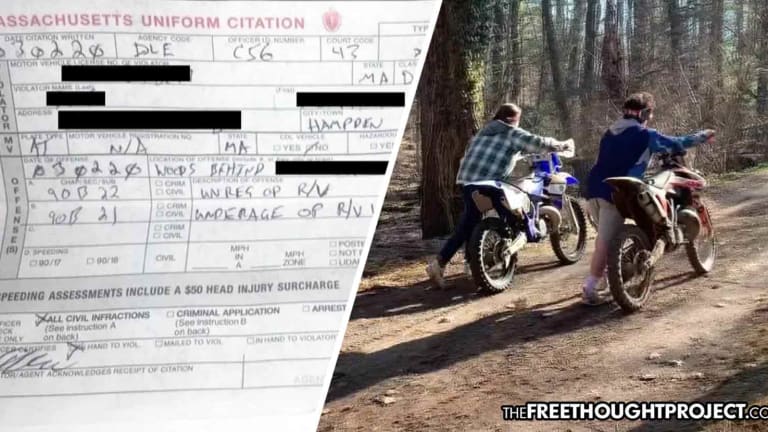 Innocent Teens Detained, Fined $3,000 for Riding Dirt Bikes On Their Own Property
Four MA teens were kidnapped and extorted by "Environmental Police" for not buying the extortion permits before riding their motorcycles on their own property.
Hampden, MA — Four Hampden teenagers got a dose of police state reality when they were both given hundreds of dollars in fines by environmental cops for riding their motorcycles on their own family's property. Yes. That's right, America. Massachusetts has its own police force called "environmental police", AKA Game and Fish wardens in other states. Each one of the four teenagers was hit with $750 in fines for a grand police state total of $3000 for just the one incident.
The teenagers (their families if the truth be known) will have to pay a $250 fine for operating an unregistered recreation vehicle and a $500 for operating recreation vehicles without mandated safety certifications — literally in their own backyard. As TFTP has consistently warned its readers, even though the so-called authorities claim permitting is for "safety" it's simply a money grab by the state.
Unfortunately, most states it seems are adopting each and every regulatory permit they can invent or idea steal from another state, even going so far as permitting pets for example, so they can legally demand more of your hard-earned money when you break their newly invented rules. If the regulations didn't have the name "permit" written into the paperwork, it would otherwise be known as "tax" and we know that taxation is theft.
One of the teens' mothers, Melanie Beck gave permission for the teens to ride on her property. She said making contact with police on her own land has put a bad taste in the mouths of the teens who wanted nothing more than to go riding in the woods.
My son was very upset when he was approached by the officers. All the boys had respect for the officers and after 2 1/2 hours of standing there being questioned, having to show VIN numbers, and writing citations for each kid, that's 2 1/2 hours. They were very upset, they left my house and, honestly, I feel like it's pushing them further away from being kids and hanging out in the woods and having fun riding dirt bikes.
If a gun toting gang off the streets had done the exact same thing to the kids we would call it kidnapping and extortion. And to the teenagers and their families it likely feels the same. People with badges, without warrants, came onto their property, held their children against their will, and are now demanding money be paid because some arbitrary permit fee was not paid first before engaging in the exercise of one's own free will to play in the woods on their own land. It's ludicrous! And the permitting process will continue unless citizens put an end to if first.
As an aside, it's embarrassing really for a state like Massachusetts to have to pay permits to their government to keep them from invading their privacy, kidnapping their kids, and fining the families hundreds of dollars all so teenagers can ride two-wheelers in the woods on their property. After all, the American Revolution had its foundings in the great state and yet now seems to suffer from taxation far worse than the Redcoats demanded. Worth noting is the fact permitting of ATV's is not limited to MA. The permitting of your God-given freedoms is taking place in every state in the Union. And it's pathetic.
Beck claims she didn't even know about the motorcycle permitting regulations and says her son and his friends are very upset about causing their families to incur such an expensive fine. She made an interesting point when she said the family has recently entered competitive races and none of the race officials asked to see their bike registration paperwork.
Just in the last year, my husband and my son participated in two races and not one of those places in Massachusetts asked for the registered vehicle or if my son being 16 had taken the (safety) class.
Unfortunately, the average MA resident will likely read this article and think to themselves, 'that's unfortunate.' They'll do nothing about it. They won't get angry and even if they did would not likely have the courage to confront the egregious extortion practices. Beck, however, if feeling not only anger but experiencing dismay as well.
I think it's outrageous that these people have been riding on there own properties for, I don't even know how long, and they have no problems. EPA can just show up on your property and ticket you $750. It's kind of ridiculous.
Go ahead. Try and think of any of your daily freedoms with which you don't need a permit from the oppressors to enjoy. Oh yeah, and just as a reminder, don't forget to get your "real ID" by October or you won't be able to fly the friendly skies. Enjoy that freedom Murica, you earned it!
Hampden teenagers fined $750 each for riding dirt bikes on their property

Last Monday, four kids were fined $750 each for riding dirt bikes on their property without proper registrations and certifications. Do you think the teenagers should have received a warning or tickets? https://www.wwlp.com/news/local-news/hampden-county/hampden-teenagers-fined-for-riding-dirt-bikes-on-their-property/

Posted by WWLP-22News on Sunday, March 8, 2020