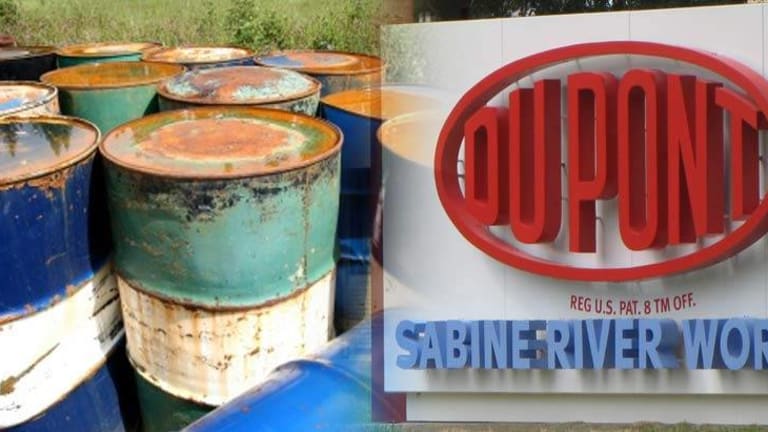 DuPont Caught Covering Up Deadly Risks of Chemical that's in Nearly Everything & Everyone
Thousands now suing DuPont for cancer, birth defects and deaths. This popular chemical is found to be in 99.7% of all Americans.
Thousands of people have filed lawsuits against DuPont for poisoning them with a chemical that causes birth defects, multiple types of cancer, and death. According to internal DuPont documents and emails, the company knew about the health risks to their employees and local communities but covered up the data in order to increase their profit margin. After decades of dumping this toxic chemical into the ocean, rivers, landfills, and the air, DuPont has contaminated the bloodstream of nearly every American with this non-biodegradable chemical.
In 1946, Teflon was introduced with an essential ingredient known as perfluorooctanoic acid (PFOA) or C8. For several decades, DuPont and seven other corporations contaminated the U.S. by using C8 in hundreds of products, including Gore-Tex and other waterproof clothing; coatings for eyeglasses and tennis rackets; stain-proof coatings for carpets and furniture; bicycle lubricants; communications cables; fast food wrappers; fire-fighting foam; microwave popcorn bags; pizza boxes, ski wax; non-stick cookware; and satellite components.
According to internal DuPont documents, an employee named R.A. Dickison noted in 1954 receiving an inquiry into the possible toxicity of C8. Seven years later, a group of in-house researchers discovered that C8 was toxic and should be handled with extreme care. However, DuPont decided not to disclose this information to its own employees. Over the years, DuPont scientists have conducted experiments exposing dogs, rats, rabbits, monkeys, and humans to varying doses of C8, which killed many of the lab animals.
During the first trimester of her pregnancy, former DuPont employee Sue Bailey was transferred to the Teflon division at the Parkersburg plant in 1980. Her son, Bucky, was born with tear duct deformities, only one nostril, an eyelid that started down by his nose, and a condition known as keyhole pupil. According to a recent article in The Intercept, at least one of eight babies born to women who worked in the Teflon division had birth defects.
While on maternity leave, Bailey received a phone call from a DuPont doctor asking if her baby had any birth defects. Before Bailey returned to work, she learned that DuPont decided to remove all female employees from the Teflon division. When Bailey returned to work and visited the plant doctor, Dr. Younger Lovelace Power told her that Bucky's birth defects were not caused by C8 and also told Bailey that the company had no record of her working in the Teflon division.
When the female employees were removed from the Teflon division at the Parkersburg plant, Ken Wamsley began working in Teflon after his supervisor assured him that C8 only affects some pregnant women. After years of exposure to C8, Wamsley was diagnosed with rectal cancer and underwent surgery in 2002 to treat it.
Due to the fact that C8 is so chemically stable, scientists have determined it will never break down and expect C8 to remain on the planet long after humans have gone extinct. During the early 1960s, DuPont buried approximately 200 drums of C8 on the banks of the Ohio River. An internal DuPont document from 1975 revealed that the company had also been packing the toxic chemical into drums loaded with stones and dumping them into the ocean.
As DuPont eventually ceased dumping C8 into the ocean, they began disposing the chemical in unlined landfills and ponds. DuPont also contaminated the air by releasing the chemical through smokestacks and pouring waste directly into the Ohio River. According to a 2007 analysis from the Centers for Disease Control (CDC), C8 is in the blood of 99.7% of Americans. C8 has also been found in arctic birds, bald eagles, bottlenose dolphins, caribou, harbor seals, lions, tigers, polar bears, walruses, and sea turtles.
A study by Dennis Paustenbach published in the Journal of Toxicology and Environmental Health found that the DuPont plant in West Virginia spread nearly 2.5 million pounds of C8 into the area surrounding Parkersburg between 1951 and 2003. Roughly 80,000 residents filed a class-action lawsuit against DuPont in 2001. After reaching a settlement in 2005, DuPont agreed to pay $343 million for residents' medical tests, the removal of as much C8 from the area's water supply as possible, and a science panel's study into the toxic effects of C8 on humans.
After seven years, the science panel found that C8 was "more likely than not" linked to ulcerative colitis, high cholesterol, pregnancy-induced hypertension, thyroid disease, testicular cancer, and kidney cancer. The scientists also found that even extremely low levels of exposure were associated with health problems.
Next month, the first of approximately 3,500 personal injury claims is set for trial. Among the lawsuits is a wrongful death claim filed by Virginia Morrison of Parkersburg, West Virginia. Morrison is accusing DuPont of causing the death of her husband in 2008 from injuries related to kidney cancer.
Marred with a history of deceit and negligence, DuPont has repeatedly violated state and federal laws while causing the deaths of numerous employees. The production of leaded gasoline at its New Jersey plant caused madness and several violent deaths of employees. During the 1930s, employees were diagnosed with bladder cancer after exposure to certain dye chemicals. In 1989, DuPont employees at the Parkersburg plant experienced an elevated number of leukemia deaths and an unexpectedly high number of kidney cancers among male workers.
On November 15, 2014, a gas leak resulted in the deaths of four DuPont employees at the La Porte plant. On January 23, 2010, a phosgene gas leak killed a DuPont employee at the Belle plant. And on November 11, 2010, two contractors were welding when sparks ignited flammable vapors and caused an explosion at the DuPont facility outside Buffalo, New York. The explosion killed one contractor and left the other seriously injured.
DuPont has denied any wrongdoing or breaking any laws even though the EPA, OSHA, and other agencies have repeatedly cited the company for serious safety violations. Instead of taking responsibility for causing multiple types of cancer and birth defects, DuPont claims that the plaintiffs' injuries were "caused by acts of God" over which DuPont had no control.
In 2006, DuPont and seven other companies signed on with the EPA's 2010/2015 PFOA Stewardship Program and agreed to reduce C8 emissions and cease producing the toxic chemical by 2015.