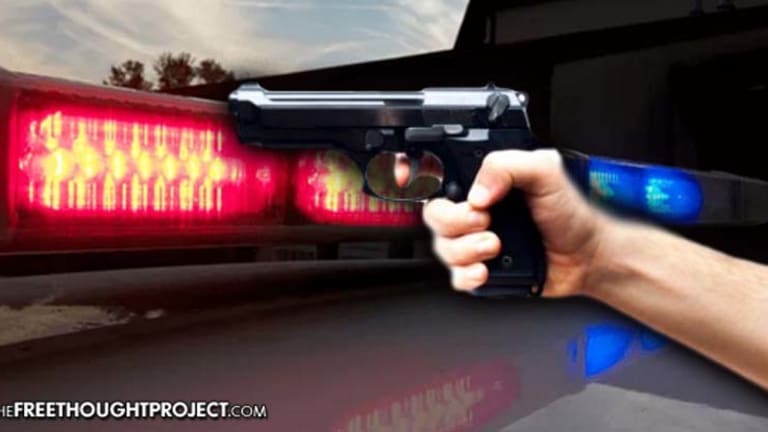 Cop Mistakes Innocent Trucker for Kidnapper, Assaults Him, and Fires a Round "Inches" From His Head
An innocent trucker was dragged from his vehicle, thrown to the grown and nearly shot in the head after being mistaken for a kidnapper.
Troutville, VA -- On Monday, an innocent trucker was yanked from his truck, thrown to the ground, and a bullet nearly shot into his head by a cop who mistook him for a kidnapper.
John Leisenring, 54, told the Roanoke Times that the Trooper's bullet hit the sidewalk "inches from his head" as the trooper twisted the trucker's arm behind his back.
One shot was fired, and no one was hurt, state police spokeswoman Corinne Geller said Tuesday, as reported by the Times. The agency is conducting an internal administrative review into the incident, she said. She did not say where the bullet struck.
The potentially deadly incident unfolded after police spotted who they thought was a missing person in the cab of Leisenring's 18-wheeler as he pulled into a weigh station.
Leisenring had not done anything wrong as his passenger, Ramona Huffman, was definitely not kidnapped. However, Huffman's daughter was apparently upset that she could not find her mother and immediately called police to report she was missing.
"She just didn't know exactly where I was and was trying to figure out where I was," Huffman said.
In a statement, Leisenring explained, "Had they done due diligence in their job, they would have known she was as free as a barnyard cat."
Huffman explained that when she heard the gun go off, she thought police had killed her friend.
"I had seen him get up and open the door and heard officers yelling at him. The next thing I knew, I heard a gun go off," she said.
According to Huffman, police showed the couple a photo that had been taken of them at a truck stop about 60 miles from the rest area. Police noted that they had been monitoring them for some time.
Ironically enough, Huffman and Leisenring were both laughing in the photo -- a clear indication that nobody was under the stress of being kidnapped.
"I was probably laughing at something he said because I was looking at him and smiling," Huffman said.
To add insult to near murder, the troopers confiscated the pair's cellphones and have yet to give them back. This was in spite of police concluding their investigation at the scene.
"If the investigation was completed at the weigh station, why did they take our cellphones?" Leisenring said.
Police have refused to identify the trooper who fired the round or disclose his level of training. When the state police released a statement, the conveniently left out the part about almost shooting an innocent man in the head.
[author title="" image="https://tftpstagingstg.wpengine.com/wp-content/uploads/2016/03/magorist-e1456948757204.jpg"]Matt Agorist is an honorably discharged veteran of the USMC and former intelligence operator directly tasked by the NSA. This prior experience gives him unique insight into the world of government corruption and the American police state. Agorist has been an independent journalist for over a decade and has been featured on mainstream networks around the world. Follow @MattAgorist on Twitter and now on Steemit[/author]
UPDATE:1:31 pm -- This article originally stated that the incident happened in Troutville, Michigan. However, it has been corrected to reflect that it happened in Troutville, Virginia.