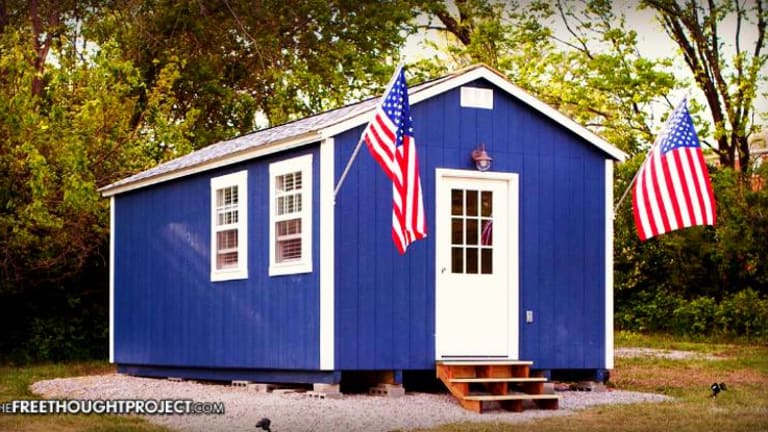 By Vets, For Vets — Tiny Home Village Offers Homeless Vets Free Homes & Medical Care
Homelessness among military veterans continues to be the shame of the U.S. government, as countless former service members fall through the cracks and lose everything; so a volunteer group stepped up to the plate — constructing an entire village of tiny homes specifically for vets — and they don't have to pay a dime.
Even better, an outreach center providing medical and social services is located on site — providing "mentoring, case management, counseling, and linkage to other programs and services" — and a recreational and social center will be constructed soon.
Veterans Village, the brainchild of the Veterans Community Project, now has 50 tiny homes on four acres outside Kansas City — each home comes with a bedroom, bathroom, kitchen, and living area.
"Each Veteran will have the opportunity to customize many of the items in the home. We believe this increases an individual's sense of pride and ownership. When a Veteran is ready to transition out of Veterans Village they will be permitted to take everything from inside the home with them," VCF explains.
"Remarkably," GOOD reports, "each prefabricated home cost only $10,000 — a pittance compared to the costs of prolonged hospitalization and/or temporary housing for homeless citizens."
Veterans are thus able to focus on themselves — enjoying the company of individuals who've had similar experiences, learning skills, and getting the medical and psychiatric care they need — rather than trying to find the next meal or figure out where to sleep.
As vets, themselves, the Veterans Community Project's website states,
"We are a mission, not an idea. We are a story, not a sales pitch. We are ready to march into battle for our brothers and sisters, armed with community support and strength. [...]
"VCP believes that providing onsite mentoring, case management, professional counseling, and linkage to existing programs will lead to successful housing outcomes. The goal of Veterans Village is to place Veterans in situations that best meet their needs, while treating the issues that have created their housing barriers."
About the tiny home project, the group explains,
"Through contributions and partnerships, we are creating Veterans Village; a specialized community of tiny-homes and onsite services that will provide housing stability and treat the underlying cause of the Veteran's homelessness. The combination of housing stability and onsite services will lead to more successful permanent housing outcomes. Once ready, the Veteran will transition to other, existing programs. Veteran's Village will provide the Veteran with a sense of community support as they transition back into society.
"At the heart of Veterans Community Project is a belief in community. Through the power of community, VCP will provide Veterans the tools necessary to achieve a stable and prosperous civilian life. Housing and services are provided at no cost to the Veteran, therefore the success of Veterans Community project is contingent on the generosity of the community."
VCP hopes the low cost of the houses and dynamic layout of Veterans Village will be copyable by groups in other locations around the country.
With veterans comprising around 11 percent of the adult population in the United States, projects like the tiny home village have the potential to help thousands who served. In fact, Veterans Village serves as an inspiring blueprint for solving the problem of homelessness, in general — at a far lower cost to taxpayers than habitual jailings and hospitalizations frequently resulting from the issue.
">