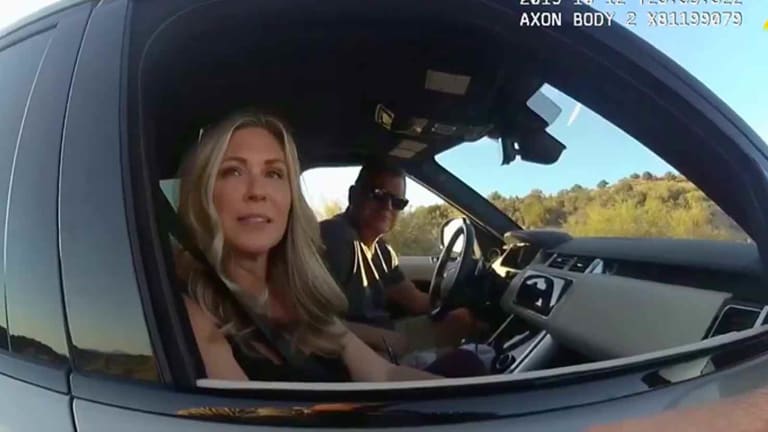 'I Might Speed Again': Top Cop Proves He's Above the Law As Police Let Him Go for Criminal Speeding
Arizona's top cop gets pulled over, flashes a badge, and walks away after getting caught speeding at over 90mph — a jailable offense for the rest of us.
Yavapai County, AZ — The director of Arizona's Department of Public Safety broke at least three traffic laws with speeds in excess of 90mph and was given a warning when pulled over by a Yavapai County Sheriff's Office (YCSO) deputy.
Arizona has some of the strictest laws in the country and speeding over 85mph can and often does result in drivers being arrested and taken to jail under AZ's "criminal speeding" law. Colonel Frank Milstead surpassed this limit and was driving his 2019 Land Rover, speeding over 90 mph when pulled over by YCSO Deputy Cody Winton.
Winton notified Milstead why he pulled over the criminal speeder on 10/12/19. The entire encounter was captured on body camera footage. Winton stated:
The reason why I stopped you is you guys are going about, over 90 miles an hour, weaving through traffic, not using your guys' turn signals.
Each infraction carries hefty fines and speeding over 90mph often results in sending a motorist to jail, having one's car towed, bail/bond, and having to promise to appear in court. The maximum penalty for criminal speeding is 30 days in jail and a $500 fine.
At first it seems Milstead appealed to Winton's devotion to the thin blue line by claiming he and his fiancé, Angela Harrolle, the CEO of the 100 Club, were going to attend a memorial for Harrolle's late husband, also an officer who died in the line of duty. When that didn't work Milstead flashed his badge.
Instead of being arrested, as Marc LeBeau was in 2016 for criminal speeding by an AZ DPS Trooper, Milstead was allowed to drive away with just a warning for the three rather serious driving infractions he committed. Milstead told Winton as he presented his badge:
I don't know if that will help at all.
"Oh, well, pleasure to meet you," Winton said after seeing the badge and realizing who he pulled over. Still unsure whether or not he was being ticketed, Milstead started name dropping, mentioning Winton's boss as being someone he knew.
Milstead told Winton YCSO sheriff, Scott Mascher, is one of his "favorite guys" adding Mascher would "bust my balls" for speeding. Milstead was released without even a warning ticket and was free to go on his way.
It wasn't until the video became public and the traffic stop came to light, that Milstead responded in a statement saying:
Unquestionably, I was speeding and the deputy's decision to stop me was valid...I recognize the seriousness of the speeding violation for which I was stopped, and I am deeply regretful.
In other words, the boss got busted doing what cops with squad cars and lights have routinely been doing, breaking the speed limit. Instead of getting arrested, the top cop was allowed to go on his way, unscathed by the legal troubles everyone else has to endure.
Rest assured that if a poor black man would have been doing the same thing, he would've likely been kidnapped and caged, or at the very least, hit with hundreds of dollars in fines.
Even Yavapai County, the same county whose district attorney wanted to jail cannabis users who legally used wax concentrate purchased through the state's MMJ program, appeared to downplay the traffic stop saying most motorists are given warnings and not tickets. They issued a statement addressing the controversial stop.
Yavapai County Sheriff's Office spokesperson Dwight Develyn reportedly told the Phoenix New Times in an email that, "deputies warn drivers far more than they cite."
Milstead underscored this point in his own statement, saying "warnings take place on at least a third of all traffic stops conducted by various agencies." We would like to see how many people get warning for such serious infractions.
Adding to the unscrupulous nature of this incident, after it began to garner national attention, Milstead took to the local media and doubled down on his above the law privilege.
"I am baffled by as much attention this has received," Milstead said. "I have sped before and I might speed again."
As 12 News reports, the stunning admission comes after years of Milstead making public pronouncements that condemn speeding on Arizona's highways. In 2017, Milstead said speed was the number one cause of deaths. Last year, there were more than 1,000 traffic fatalities in Arizona, according to ADOT.
During the radio interview, Milstead was asked if driving over 85 mph is a criminal offense.
"No … It's not even a misdemeanor crime. It's just a civil traffic infraction. There's no criminal activity involved," Milstead said — completely lying through his teeth. Only after he was called out did he correct himself.