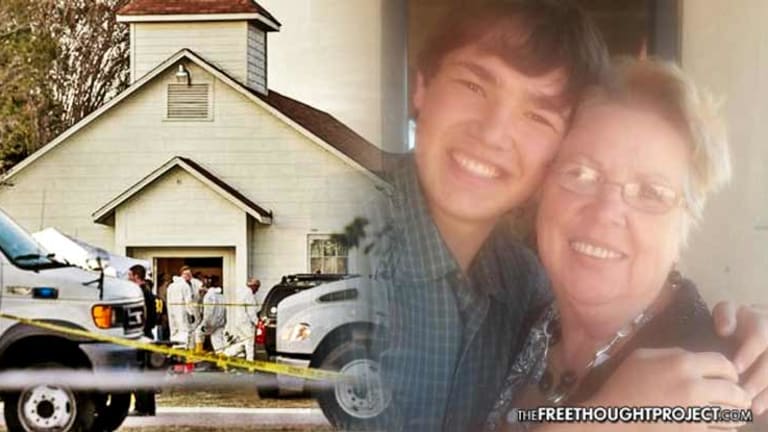 BREAKING: Police Reveal Shooter's Mother-in-law Was a Victim, Cite 'Domestic' Issue As Possible Motive
Contrary to both sides of the political spectrum's claims, it appears the attack was most likely motivated by domestic trouble, not religion or race.
Sutherland Springs, TX — (RT) The suspect who opened fire inside a Texas church, killing 26 people and injuring 20 more did not have a license to carry a gun but had bought four firearms, authorities said. The attack was most likely motivated by domestic trouble, not religion or race.
"There was a domestic situation going on within the family and the in-laws," Freeman Martin of the Texas Department of Public Safety told reporters on Monday. The shooter, identified as Devin Patrick Kelley, sent "threatening text messages" to his mother-in-law, Martin said.
Kelley's in-laws attended the First Baptist Church in Sutherland Springs, Texas "from time to time," but were not there at the time of the shooting, Wilson County Sheriff Joe Tackitt.
The attack does not appear to be motivated by race or religious beliefs, Tackitt said.
Other officials filled in the details about the attack itself. Kelley wore a mask and a ballistic vest with armor on the front, but not on the back, according to Martin.
Three firearms were recovered in total, said ATF official Fred Milanowski. A Ruger .556 rifle was found inside the church, while a 9mm Glock handgun and a .22 Ruger were found inside the suspect's car.
"In general, if an individual has a dishonorable discharge from the military, they would be prohibited from purchasing firearms," Milanowski said.
Kelley was dishonorably discharged from the US Air Force in 2012, after a court-martial over assaulting his first wife and child. He remarried in 2014, although the current status of that marriage is unclear.
Despite domestic violence on his record, Kelly was able to purchase four weapons, two in Colorado and two in Texas, between 2014 and 2017, Martin said.
The youngest victim in the church was 18 months old, and the oldest was 77. Ten of the injured are still in critical condition, officials said.
According to the authorities, Kelley's rampage was stopped by an armed neighbor, identified as Stephen Willeford, who shot and wounded the suspect. As Kelley fled in his Ford Expedition, Willefort jumped into the pickup truck driven by witness Johnnie Langendorff and the duo gave pursuit, exchanging gunfire. Eventually Kelley lost control of his vehicle and crashed in a ditch.
During the chase, Kelley called his father to tell him he wasn't going to make it, Martin said.
"At this time we believe that he had a self-inflicted gunshot wound, after he wrecked out," Tackitt told CBS News on Monday morning. He later said the autopsy will make the final determination on that.
Kelley lived in New Braunfels, about 35 miles (56 km) north of Sutherland Springs. This past summer, he reportedly worked at the Schlitterbahn Waterpark and Resort as a security guard. He began working as a guard at the Summit Vacation and RV Resort in New Braunfels six weeks ago, AP reported.
Resort manager Claudia Varjabedian said Kelley worked as an unarmed guard during daytime hours. She described him as "a nice guy" and said she had "no complaints" about him.