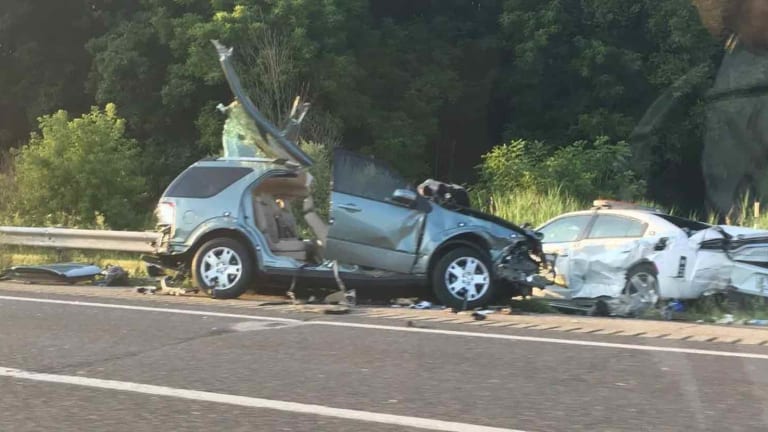 Husband and Wife Killed by State Trooper Recklessly Speeding Down the Highway
A husband and wife were killed this week as a state trooper lost control of his vehicle and smashed into them on the highway.
Mishawaka, IN — A tragedy unfolded in Mishawaka on Tuesday as an Indiana State Police trooper rear-ended a couple, killing them both. The trooper was on the way to another crash scene, not a crime scene, when he lost control of his vehicle and struck the couple.
According to police, the crash happened on the Indiana Toll Road around 4 p.m. on Tuesday. As FOX 59 reports, according to ISP Sergeant Andy Smith, two troopers in marked ISP cruisers activated their lights and sirens and headed west to respond to a crash in LaGrange County.
One of the troopers tried to make an "evasive maneuver" to avoid slowing traffic. He swerved toward the right lane and rear-ended a white 2006 Ford Freestyle Limited SUV driven by 76-year-old Terry Lynn Wentworth of Mishawaka. Wentworth's wife, 74-year-old Gloria Jean Wentworth, was the front seat passenger.

The impact of the crash cause both vehicles to leave the roadway, and they collided with a guardrail.
Terry and Gloria Wentworth both died at the scene. According to police, the trooper was treated at a nearby hospital for non-life threatening injuries. State police say they have since launched an investigation into the crash.
The death of the Wentworths is incredibly tragic. However, its tragic nature will likely be amplified by the way police handle the investigation. All too often, police officers driving recklessly will kill or maim innocent people and face no consequences. In some cases, the innocent victim is even portrayed as the guilty party — even when the entire scene was captured on video.
As TFTP reported earlier this month, Carlos Martinez was driving home around 9:15 p.m., when two undercover Michigan State Troopers in an unmarked SUV plowed through a stop sign. Martinez did not have a stop sign and was lawfully continuing through the intersection when the two cars collided. When Martinez' red Honda collided with the unmarked Jeep, the Jeep spun out and the impact injured Martinez.
Despite the fact that they had just run a stop sign, and despite the fact that their negligence and unlawful behavior just injured an innocent man, the two troopers jumped out of the car and pointed weapons at Martinez, ordering him to get down on the ground.
Not knowing what was happening, Martinez complied. That's when the troopers moved in to handcuff and arrest him. He had done absolutely nothing wrong.
While the death of the Wentworths is shocking, as TFTP previously reported, on average, one person every day is killed by a police officer driving a car.
To put this into perspective, that's larger than the number of people killed by floods, tornadoes, lightning, and hurricanes -- combined.
Contrary to popular thinking, high-speed chases aren't only dangerous for those involved. Innocent bystanders, like the Wentworths, are all too often the victims of these reckless pursuits and careless driving as evidenced above.
According to the report, more than 5,000 bystanders and passengers have been killed in police car chases since 1979. Tens of thousands more were injured as officers repeatedly pursued drivers at high speeds and in hazardous conditions.
Aside from the 5,000 completely innocent lives lost, an additional 6,300 fleeing 'suspects' were also killed, bringing the total to 11,506 dead since 1979.
What's more, as Martinez's case illustrates, to alleviate their liability, police will often times charge the victims with the crime—even when they did nothing wrong.
Joan Raye, 78, is lucky to be alive after a Franklin County Sheriff's made the dangerous decision to speed over 80 mph through a neighborhood and plowed into her vehicle. In spite of the fact that the deputy hit her, however, just like Martinez, this poor elderly woman was charged with a crime for his negligence.
According to the sheriff's department, Raye failed to yield to the deputy who was traveling well above the posted speed limit on his way to an officer in distress call. The deputy's concern for his fellow brother in blue appeared to clearly outweigh the safety of the countless families and bystanders he put at risk driving at such a high rate of speed through the residential area.
Because the deputy was traveling at such a high rate of speed, the elderly woman did not see or hear his lights and sirens and when she saw the chance to take a left turn onto her street, she did.
"It got clear. I could go. Then he hit me in the side," Raye said. "It's a wonder I wasn't killed."
Police crashes are so common that there is an advocacy group who is trying to fix this problem.
A national non-profit group aptly named Pursuit Safety is successfully advocating for policy changes that prevent officers from recklessly engaging in high-speed pursuits over virtual non-crimes.
The market is also responding to the crisis and has brought forth the star chase system. Instead of haphazardly launching into a chase with an individual, police can tag their car by firing a compressed air 'tag' which allows them to immediately track a fleeing vehicle. Of course, there are 4th Amendment issues if these tags were put to use by corrupt cops, but it's a start.
Even the police themselves have been forced to bring their dangerous driving records into question. Sadly, however, as the Wentworth's deaths highlight, there is still a long way to go.