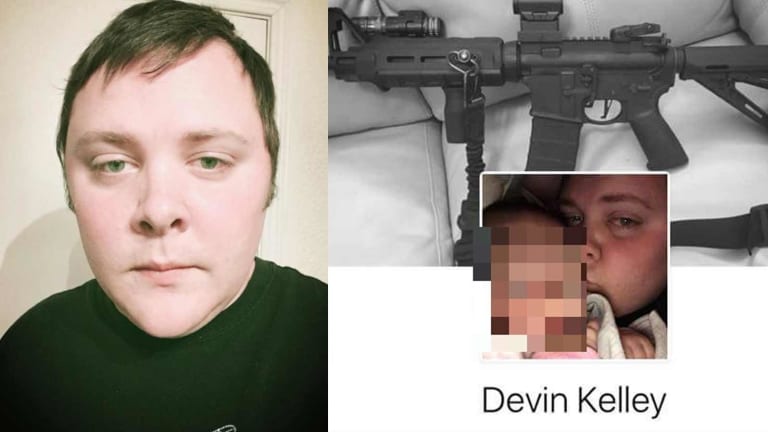 Five Telling Facts About Devin Kelly Who Murdered 26 People in a Texas Church
Devin Kelly was not allowed to buy a gun. He was court-martialed in the US Airforce. Under Texas state law he is considered a terrorist.
Sutherland Springs, TX — Sunday morning, as the people of Sutherland Springs, Texas gathered for their weekly worship, a deranged terrorist walked into the Sutherland Springs Baptist Church and began indiscriminately murdering men, women, and children. This terrorist's name was Devin Kelly, according to authorities.
"I think nearly everyone had some type of injury," the sheriff of the small town just east of San Antonio said. The victims ranged in age from 5 to 72, authorities said. "This will be a long-suffering mourning for those in pain," said Governor Greg Abbott, confirming that 26 people had died.
Among those who were killed was the daughter of the church's pastor—she was 14-years-old.
So, what made this psychopath terrorist walk into a church and murder 26 innocent people? While there has not been any clear motive released by the police, there have been some telling revelations about who he was.
According to Texas state law, Devin Kelly was a terrorist.
Those who refuse to call this person a terrorist would do well to read the Texas Penal Code - PENAL § 22.07 on Terroristic Threats.
A terrorist in Texas is, according to the code, a person who commits an offense or threatens to commit any offense involving violence to any person or property with intent to:
cause a reaction of any type to his threat by an official or volunteer agency organized to deal with emergencies;
place any person in fear of imminent serious bodily injury;
place the public or a substantial group of the public in fear of serious bodily injury;
Devin Kelly was discharged from the US Airforce under less than honorable conditions and it was illegal for him to buy a gun.
As CBS reported, Kelly is former "US Air Force E1 (2010-2014). He received a dishonorable discharge. He was court martialed in May 2014." The network also wrote, "Kelley is a former U.S. Air Force member who served from 2010 to 2014. He was dishonorably discharged and court martialed in May 2014."
Air Force service records indicate that Kelley served in the Air Force until he was discharged for allegedly assaulting his wife and child, the Associated Press reports. Kelley served in Logistics Readiness at Holloman Air Force Base in Otero County, New Mexico from 2010 until a 2012 court martial, according to Air Force spokesperson Ann Stefanek.
According to American Military News, "Under U.S. Code, dishonorably discharged military personnel are not allowed to legally purchase a firearm and this is documented on the ATF's website. However, the conditions of the dishonorable discharge have yet to be released." According to The Los Angeles Times, "Federal law prohibits a person who has been dishonorably discharged from buying a firearm. Whether Kelley's discharge would trigger the law was not immediately clear."
While there are conflicting reports as to whether or not Kelly received a bad conduct discharge or a dishonorable discharge, the Texas governor confirmed on Monday to CNN that Kelley was denied a gun permit by the state. "So how was it that he was able to get a gun? By all the facts that we seem to know, he was not supposed to have access to a gun,"the governor asked.
Kelly's Facebook page contained telling information before being taken down by authorities
At the very top of the killer's Facebook page, Kelly posted a quote from Mark Twain, noting that he did not fear death. "I do not fear death," it read. "I had been dead for billions and billions of years before I was born, and had not suffered the slightest inconvenience from it."
In spite of the governor claiming he was not allowed to purchase a weapon, Kelly displayed a Ruger AR assault rifle on his page. He posted a picture of it on October 29 with the caption, "She's a bad bitch."
CNN reported that "Devin Kelley purchased the Ruger-AR556 rifle in April 2016 from an Academy Sports & Outdoors in San Antonio. Officials say Kelley checked box to indicate he didn't have any disqualifying criminal history on background paperwork."
According to his Facebook page, Kelly liked GLOCK, German Shepards, Body Armor Megastore, Fuck it, and several atheism pages.
Kelly's wife reportedly attended and once taught at the church, yet he openly preached about atheism.
The San Antonio Express-News reported, "Kelley wasn't believed to be a member of First Baptist Church, but had ties to the church through family members." UK Daily Mail reported that Danielle "was previously a teacher at the First Baptist Church." The sheriff revealed on November 6 that Danielle's parents, despite their ties to the church, were not there when the shooting unfolded.
As Heavy reports, Devin Kelley's LinkedIn page says that he was a VBS "teacher aid (sic)" for "VBS AT KINGSVILLE FBC" and notes, "Dates volunteered Jun 2013 – Jun 2013. Volunteer duration 1 mo. Cause Children. Teaching children ages 4-6 at vocational bible schools helping their minds grow and prosper." However, multiple children are reportedly among those shot in the church. Furthermore, VBS stands for Vacation Bible School, not vocational as Kelley wrote.
Despite once teaching religion, acquaintances of the killer told ABC News that he "hated religious people."
According to UK Daily Mail, "Former classmates described him as 'creepy', 'crazy' and an 'outcast' who had recently started preaching about atheism and picking fights on social media."
Another former classmate, Nina Rose Nava, wrote on her Facebook page: "…in complete shock! I legit just deleted him off my fb cause I couldn't stand his post. He was always talking about how people who believe in God we're stupid and trying to preach his atheism. Smh." It's not clear why the killer would say he briefly taught Bible classes if he was fixated on atheism. She also wrote, "Me and my friend say him a month back at dennys and we were talking about how weird he was!!!"
Kelly was stopped by brave citizens—who were armed—but no one has reported who shot him.
As Heavy reported, Summer Caddel said her boyfriend, Johnnie Langendorff, "called her moments after the shooting at First Baptist Church and told her that he saw a gunfight between the shooter and a neighbor, who was returning fire," according to KSAT-TV. "Langendorff then told Caddel the suspect — identified as Devin Patrick Kelley — then got into an SUV and drove away, and the two gave chase." She said that the car then crashed.
Langendorff said he and another "member of the community" gave chase to Kelly after the shooting. After a short chase, Kelly crashed his car. The two men then reportedly held Kelly at gunpoint while they had police on the phone. Langendorff said it took about five to seven minutes for police to arrive.
Langendorff, despite claiming he was only a "few feet" from Kelly, noted that he could not tell whether or not Kelly was moving. When police arrived on the scene, Langendorff says they took over and he and the other citizen left.