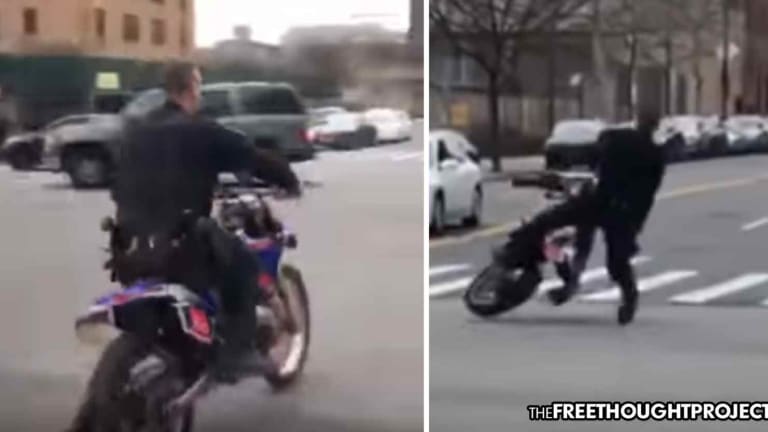 WATCH: Cop Tries to Seize a Dirt Bike and Wipes Out in an Epic Fail
Instead of simply walking the bike away, the officer jumped on the dirt bike, tried to do a wheelie and then lost control sending the cop flying off the bike.
(RT) The thin blue line was left red-cheeked after an NYPD officer attempting to take a seized dirt bike back to the local precinct narrowly avoided disaster in a cringeworthy crash-and-burn at a busy intersection.
The embarrassing incident took place at roughly 6pm local time Sunday at the corner of Lenox Avenue and 135th Street in Harlem. Police had responded to reports of a man riding a dirt bike recklessly through traffic. The officer tasked with retrieving the suspect's abandoned motorbike inadvertently outdid the wanted man, it seems.
The NYPD-turned-MotoGP racer was forced to veer out of the way of an oncoming car that pulled into the intersection right after the officer lost control of the bike. He then slams into the pavement as the bike narrowly avoids damaging several cars stopped at a red light at the intersection.
The cop suffered a leg injury and was taken to hospital for treatment following his wipe-out and the incident is reportedly"under internal review."
The video of the incident has received over 35,000 upvotes since it was posted to Reddit on Sunday evening. Police are still searching for the suspect.