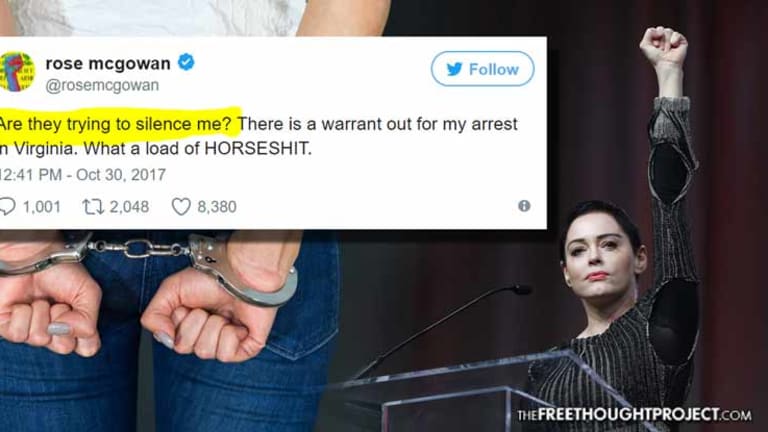 Rose McGowan Says Arrest Warrant Issued to 'Silence' Her for Refusing Sex Abuse Hush Money
First Corey Feldman was arrested after planning to expose Hollywood sexual predators, now Rose McGowan is on that list and she's crying foul.
Last week, as TFTP reported, Corey Feldman—after announcing that he had a plan to take down Hollywood pedophiles—was arrested and charged with possession of drugs. This week, Rose McGowan — who has also been vocal in exposing Hollywood's sexual predators— had a warrant issued for her arrest as well.
McGowan has been at the center of the Harvey Weinstein scandal which set off a chain reaction of exposing predators in Hollywood. As the movement to expose Hollywood's dark secret gains traction, more of the elite are being ousted. This week, Kevin Spacey was called out and subsequently apologized for allegedly sexually assaulting Anthony Rapp when he was only 14-years-old.
As the light starts to shine into the dark corners of Hollywood, the predators are running like cockroaches. Could they be so scared that they would use their power and influence to have police go after those who'd dare to call them out? Rose McGowan thinks so.
According to the Associated Press, McGowan is being sought to appear in a Loudoun County, Virginia, court for an incident at Washington's Dulles International Airport on Jan. 20.
Police are claiming that McGowan left behind personal belongings on a plane that contain 'traces of narcotics'. The Metropolitan Washington Airports Authority Police Department just entered the warrant into the national law-enforcement database despite it reportedly being issued in February.
Reacting to the warrant, McGowan took to Twitter calling it a "load of horseshit" and alluded to the notion that they may be trying to "silence" her.
Later Monday night, McGowan doubled down on Twitter to dispell any rumors that she actually committed a crime and noted that the arrest warrant was likely issued as a response for refusing a million dollars in hush money for her silence on the sexual abuse scandal. "FACT," she tweeted in response to a tweet of an article about her arrest noting that "If @rosemcgowan would have taken that million dollars in hush money I'm quite sure this wouldn't even be a headline..." As TFTP reported, McGowan went on a Twitter tirade earlier this month calling Amazon CEO Jeff Bezos out for ignoring her reported rape while working with his company. Her accusations quickly put her in the spotlight.

"I forcefully begged studio head to do the right thing. I was ignored. Deal was done. Amazon won a dirty Oscar."
Now, she has been entered into the national database for arrest warrants. While it could likely be a coincidence, the idea of police helping to cover up Hollywood's pedophilia and sexual abuse problem is not at all far-fetched.
As TFTP reported, in 1993, Feldman went to the police and named his abusers. He told the police he was molested. He told them who molested him and they did nothing. These names were recorded on audio during an interview between Feldman and the Santa Barbara police department and nothing was ever done. Shortly after these admissions, Feldman's career nose-dived.
He alluded to this interview recently after a fan on Twitter asked him why he did not report the men to authorities.
"All names were given to police before statute had run out but they did zero," he answered.
The sadistic powers that be care not about police. One need only look at Weinstein's case and how he's yet to be charged with a crime— in spite of the dozens of women saying he sexually harassed or assaulted them.
Pedophilia among the elite is rampant. It is also rampant throughout law enforcement. As TFTP has noted, cops are caught sexually abusing children in this country on a near-daily basis. Despite admitting to or being convicted of these crimes against children, they often face little to no consequences.
So, while it may be convenient for Rose McGowan to simply say this warrant is due to the fact that she refused to take hush money, it could also be entirely true.