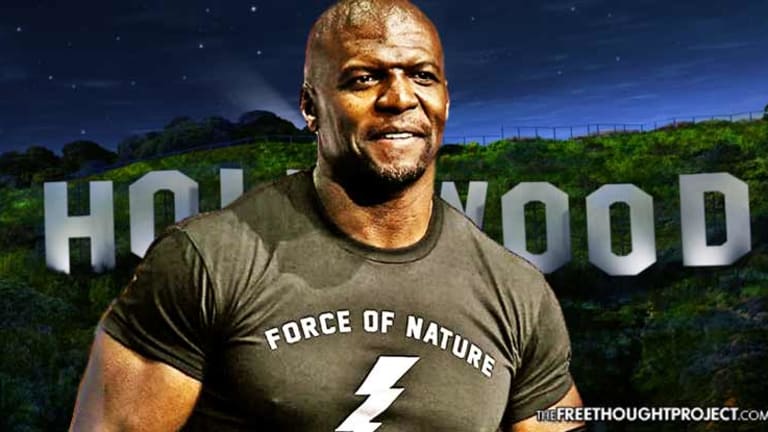 Not Just Women & Kids, 250 lb Linebacker, Terry Crews Files Hollywood Sex Assault Case with LAPD
You know the sexual assault scene in Hollywood is brutal when a 250 lb former linebacker, Terry Crews goes to the police over alleged abuse in Tinseltown.
As the Hollywood sexual misconduct scandal continues to deepen, more high profile victims are coming forward with their stories, shedding more light on the type of predatory behavior that goes on behind closed doors in the entertainment industry. Many of these stories have fit the same profile of men in powerful positions preying on women and small children, but according to recent reports, even former NFL linebackers are not safe from the culture of sexual assault in Hollywood.
This week the beloved comedy actor and former NFL linebacker Terry Crews filed a sexual assault claim with the LAPD against a "high-level Hollywood executive" for groping him at an industry party last year. His wife Rebecca has made a statement that she was with Terry during the time of the assault and witnessed the whole thing. While Crews has not named his attacker in public, The Hollywood Reporter revealed in an investigation that Adam Venit, the head of WME's motion picture group, a talent agency, was placed on leave from the organization after he was somehow identified as the suspect of the assault.
Crews revealed the details of this assault through Twitter last month in response to the Harvey Weinstein revelations, saying that:
"This whole thing with Harvey Weinstein is giving me PTSD. Why? Because this kind of thing happened to ME. My wife n I were at a Hollywood function last year n a high level Hollywood executive came over 2 me and groped my privates. Jumping back I said What are you doing?! My wife saw everything n we looked at him like he was crazy. He just grinned like a jerk. I was going to kick his ass right then— but I thought twice about how the whole thing would appear. "240 lbs. Black Man stomps out Hollywood Honcho" would be the headline the next day. Only I probably wouldn't have been able to read it because I WOULD HAVE BEEN IN JAIL. So we left. That night and the next day I talked to everyone I knew that worked with him about what happened. He called me the next day with an apology but never really explained why he did what he did. He called me the next day with an apology but never really explained why he did what he did. I let it go. And I understand why many women who this happens to let it go. Who's going 2 believe you? ( few) What r the repercussions?(many) Do u want 2 work again? (Yes) R you prepared 2b ostracized?(No). I love what I do. But it's a shame and the height of disappointment when someone tries to takes advantage of that. He knows who he is. But sumtimes Uhav2 wait & compare notes w/ others who've been victimized in order 2gain a position of strength."
Terry's statement answers many questions posed by skeptics who question the victims' stories in these instances. These individuals fear for their careers, they fear for their reputation, and they fear that these powerful predators will be able to avoid punishment while inflicting harm in return.
While Venit does not represent Crews as an agent, he does act as an agent for people like Adam Sandler, Diane Keaton, Eddie Murphy, Kevin James, Rob Lowe, Russell Brand, Shawn Levy, Steve Martin, Sylvester Stallone and Vince Vaughn. He also represents Brett Ratner and Dustin Hoffman, who are also currently facing sexual assault allegations.
In the month since since making his initial statement on Twitter, Crews has become a voice for victims of sexual assault, commenting daily about things like "pimp culture" and how people in positions of power use that power for the sake of sexual domination.
Yesterday TMZ published the video below which shows Crews leaving the LAPD station after filing his report. When asked why he was pressing charges, Crews said, "People need to be held accountable."