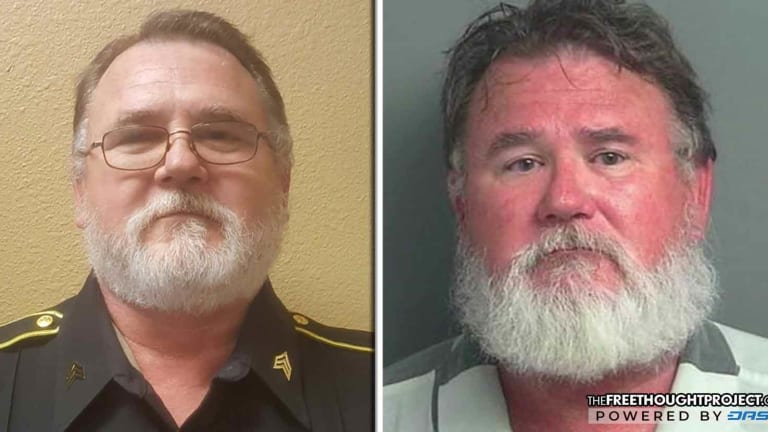 Texas Cop Arrested for Murder After Shooting and Killing His Own Brother, Who's Also a Cop
A police officer has been arrested on murder charges after he shot and killed his own brother who is also a police officer.
Stagecoach, TX — A tragic scene unfolded in a small Texas town Friday evening in which a Texas police officer shot and killed his own brother inside his home. His brother was also a cop. Although there were initially no arrests, after an investigation, the killer cop was arrested and charged with murder.
According to police, they were responding to the home of Stagecoach police officer, Robert Lee, a 35-year law enforcement veteran, on a potential breaking and entering call. The call came in around 5:18 pm.
As the Chronicle reported, an off-duty Stagecoach Police officer allegedly shot and killed a Harris County sheriff's deputy who he said broke into his home near Magnolia Friday evening, authorities said.
However, when police arrived and found Deputy Rocky Lee, 57, a 26-year veteran of the Harris County Sheriff's Office, dead on the bathroom floor of Robert's home, the story changed.
"The exact circumstances surrounding the shooting are under investigation," said Lt. Scott Spencer of the Montgomery County Sheriff's Office Friday night. "We don't believe there was a burglary at the residence."
Highlighting the difference between what happens when a police officer is killed by a civilian and what happens when it's one of their own the suspect was not immediately arrested. Police did admit rather quickly, however, that Rocky Lee was killed by his brother and that the initial version of the story involving a burglary was inaccurate.

"This evening, was a tragic situation especially when you are talking about circumstances involving two brothers," Harris County Sheriff Ed Gonzalez said.
Although the investigation is currently ongoing, Robert Lee was booked into the Montgomery County Jail late last night and charged with murder.
According to police, after he killed his brother, Robert Lee had a medical episode and experienced blood pressure problems for which he had to be treated.
"At this point we're still trying to gather more information as to the circumstances surrounding the shooting, but our thoughts and prayers are with the family at this time," David Cuevas, president of the Harris County Deputies Organization said. "Any loss to the Harris County Sheriff's Office family is a loss to all of us."
According to police, the Montgomery County District Attorney's Office and the Texas Rangers are also conducting their own investigation.
Sadly, police officers shooting and killing their own family members, even their own children is a reality. Police officers are still susceptible to the same rage and domestic battles as everyone else and often times, this can manifest into tragic scenarios like this one.
All too often, however, when police officers do kill their own family members, they are given special privileges and even let off.
As TFTP previously reported, a Palm Beach Sheriff's deputy shot and killed his own son, who was also aspiring to be a police officer. He was not arrested and merely given paid leave.
In spite of the fact that his son was unarmed at the time of the shooting, authorities ruled that deputy Shatara K. Shatara was justified when he killed his son Khamis Shatara, 21, during a domestic dispute early Christmas Eve morning.
In 2016, TFTP reported on cop in Philadelphia who shot and nearly killed his own son. In spite of shooting his son in the back—twice—police immediately called the shooting accidental and no arrests were made.
However, that officer was eventually arrested months later because the official 'accidental discharge' cover up story began to unravel.