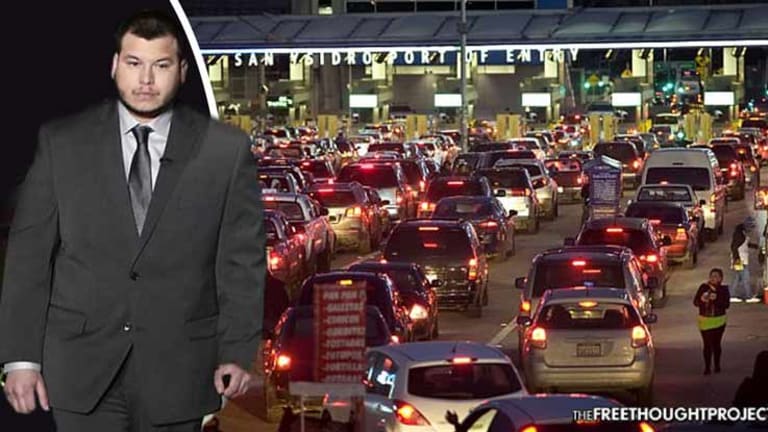 Key Witness to Vegas Massacre Left the Country Days After Shooting, Had No Security Guard License
Records show the key witness to the largest mass shooting in modern US history, Jesus Campos was allowed to leave the country, just days after the shooting.
As most of the mainstream media moves on to report on bigger and better things like what silly thing Donald Trump tweeted today, some folks are still attempting to answer questions about what happened in Las Vegas. Apparently, the "nothing to see here" sentiment being pushed by both police and the media is enough to deter most from asking questions. However, some folks refuse to accept the narrative which has dramatically shifted multiple times since that fateful day on October 1.
Two important revelations have come out this week in regards to the alleged hero security guard, Jesus Campos. The first revelation is the fact that Campos—the key witness in the largest mass shooting in modern US history—was allowed to leave the country just days after he was shot. 
According to Border Patrol documents obtained by Fox News, Campos was allowed to leave the country. His entry back into the United States from Mexico was recorded at the San Ysidro border crossing in California — one week after the mass shooting.
Exactly how long Campos was gone for is unclear as there is no record of him leaving, only coming back.
According to reports, Campos made this same trip in January.
As Tucker Carlson pointed out on FNC, Campos entered the U.S. at the same crossing in January of this year. At that time he was driving his own vehicle with Nevada plates. And yet, in this document from a little over two weeks ago, Campos was driving what appears to be a rental car with California plates.
This information raises a number of questions about the Las Vegas investigation and the crime itself. Jesus Campos is the only eye witness to the biggest mass shooting in modern American history. At the time he was in Mexico, the press was reporting that investigators thought Paddock, Stephen Paddock may have had an accomplice in these killings. Why did authorities allow Campos to leave the country just days after the shooting, while the investigation was still chaotic and of course ongoing? How did Campos who reportedly had a gunshot wound to the leg, from a high-powered rifle round, manage to travel to Mexico? Did he fly? Did he drive? Was his employer aware that he left the country? Were investigators aware? Did they facilitate the trip? What day did Campos get to Mexico? How was he able to drive back for hundreds of miles from the San Diego border back to Las Vegas? Why did he take a rental car instead of his own car?
According to the union that represents Campos, they claim the visit was planned prior to the shooting. However, the fact that a key witness was allowed to leave the country—only days or even hours after the shooting—raises serious questions.
As Carlson noted, ABC spoke to Campos on October 4th -- Was he in Mexico when they talked to him? Did they know where he was when they talked to him? What do we actually know about Jesus Campos?
In another major revelation, Carlson's producers called Nevada's private investigator's licensing board to inquire about the status of Campos' license to be a security guard. As it turns out, Campos is not registered to work as a security guard.
In order to work as a security guard in the state of Nevada, you must first obtain your registration card from the State of Nevada's Private Investigators Licensing Board — Campos never did this.
According to Security Guard Training HQ, no training is required before you apply for your registration card, however, there is an exam that you must take and submit with your application. All of the training you will receive will be directly from the private security company or other establishment that you get hired to work for, once again, after you obtain your registration card.
How was Campos working as a security guard when he wasn't legally able to do so?
As Carlson noted:
Confused by this, we called the Clarke County Sheriff to find out what license is required to be a security guard at a Las Vegas casino. The sheriff's office refused to tell us this. "Jesus Campos is a victim," the spokesman said, "We don't speak about victims." Naturally we repeated the question. He became angry and started yelling and ultimately hung up on us, which raises the question, we won't authorities answer basic questions about Jesus campos?
These are the hard questions that need answering. Sadly, however, the establishment praising media is already moving to ridicule and shame those who ask these questions.
Late Wednesday night, Media Matters put out the false narrative that Carlson is fueling a "wild conspiracy theory that Jesus Campos, victim of Mandalay Bay shooting, was an accomplice to Las Vegas shooter."
He never said Campos was an accomplice, he only asked questions—exactly what the media is supposed to do.
It wasn't just Media Matters either, Salon jumped on the bandwagon to bash those who ask questions and attempted to paint Carlson as a racist for being inquisitive.
"The whole segment Wednesday was rank of paranoia and further demonstrated Carlson's ability to target a person of color in a story about the evils of old white men. This was just par for the course for Carlson, who has been called a pundit who has 'white nationalist leanings,'" reported Salon.
It is not racist nor is it a conspiracy theory to question things. Those who would attempt to claim otherwise have no business calling themselves journalists as their actions do a disservice to seeking the truth — the very fabric of journalism.