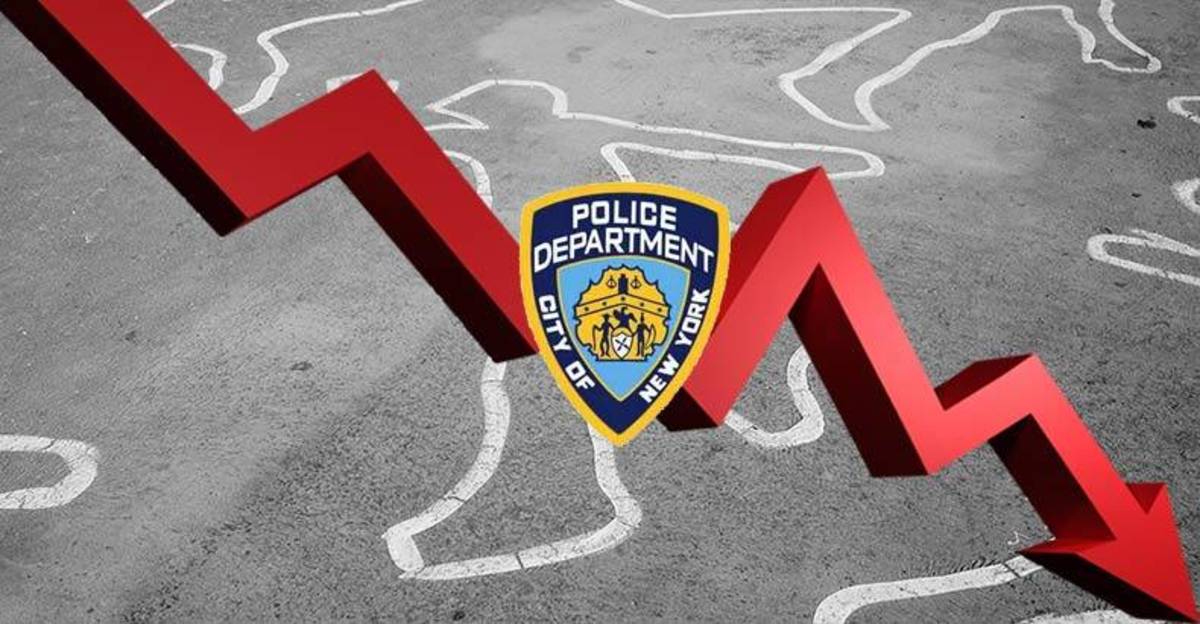 New York, NY — The NYPD hasn't had to call on its homicide team in 11 days — this is the longest stretch ever in the history of the department.
The irony here is that the NYPD has been involved in a work stoppage since the end of December.
Early numbers obtained by the New York Post showed certain arrest levels to be staggeringly low:
Citations for traffic violations fell by 94 percent, from 10,069 to 587, during that time frame.

Summonses for low-level offenses like public drinking and urination also plunged 94 percent — from 4,831 to 300.

Even parking violations are way down, dropping by 92 percent, from 14,699 to 1,241.

Drug arrests by cops assigned to the NYPD's Organized Crime Control Bureau — which are part of the overall number — dropped by 84 percent, from 382 to 63.
A report put out by the Citizens Budget Commission last month showed a drastic decline in the amount of traffic tickets written.
The CBC's report made evident that the main purpose of police is revenue generation. The report showed that last month the stoppage proved to cost the city $10 million a week in lost revenue from petty traffic citations alone. Despite the lack of revenue collection, the city failed to collapse into chaos.
This stoppage has helped to show the people of the United States that most of the "policing" done in the US, is little more than revenue generation.
Drug offenses, parking violations, and traffic citations are not so much crimes, as they are streams of revenue for the city. They are also the reason for the majority of police harassment within particular communities; harassment that is being proven entirely unnecessary.
Imagine a police force that acted more like firefighters or EMTs. Firefighters don't have to go door to door looking for fires, in order to be effective. EMTs, just like firefighters wait for a call before reacting and their services are oft proven invaluable contrary to that of police work.
Police Commissioner Bill Bratton, ostensibly unaware of the work stoppage, anticipated that it would end last month. However, we have yet to see the numbers confirming this claim.
It would be irresponsible to assume a 100 percent correlation between the work stoppage of the NYPD and the murder rate. Often, factors such as cold and snow can play a large role in reducing the levels of crime in an area.
However, this record, coupled with a reduction in the amount of people being shaken down by the NYPD, is certainly noteworthy.
Noteworthy, but apparently not MSM worthy.
Mayor Bill de Blasio certainly didn't miss his chance to try to cozy back up to the thin blue line in his statement on Thursday.
"This extraordinary streak of safety over the past several days is testament to the hard work of the men and women of the NYPD, and further evidence that New York City is the safest big city in America," Mayor de Blasio said. "It's also proof we can bring police and the community closer together and keep crime down in our neighborhoods."
Prior to this 11-day streak, there was already a drop in murders through February 8 as compared to the same period last year. The last reported homicide happened on the night of Super Bowl Sunday.
Whatever the cause or causes, humans not murdering other humans is truly an inspiring thing. Hopefully, this streak continues for #AllLives.
---
Sponsored Content:
Or, if you would like to help us by subscribing to our sponsor, Legalshield — and have an attorney in your pocket 24 hours a day for just $24.99 a month — you
can click here for details.