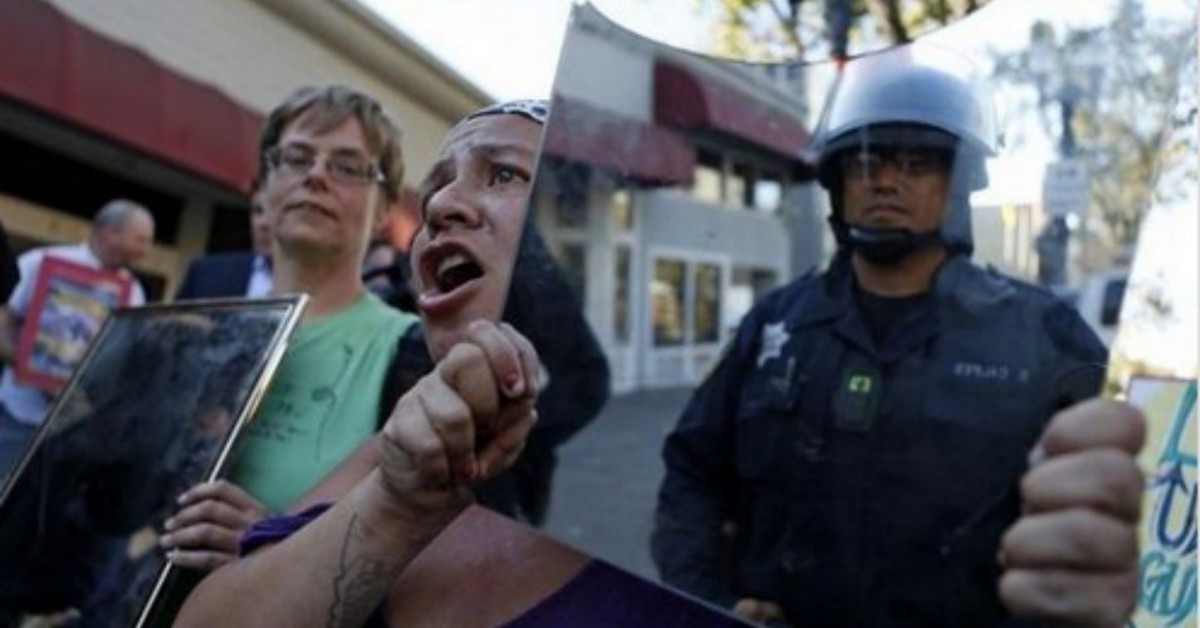 Demonstrators in Oakland, California marching in solidarity with Ferguson, Missouri on Wednesday held up mirrors in the faces of police officers as a creative protest tactic.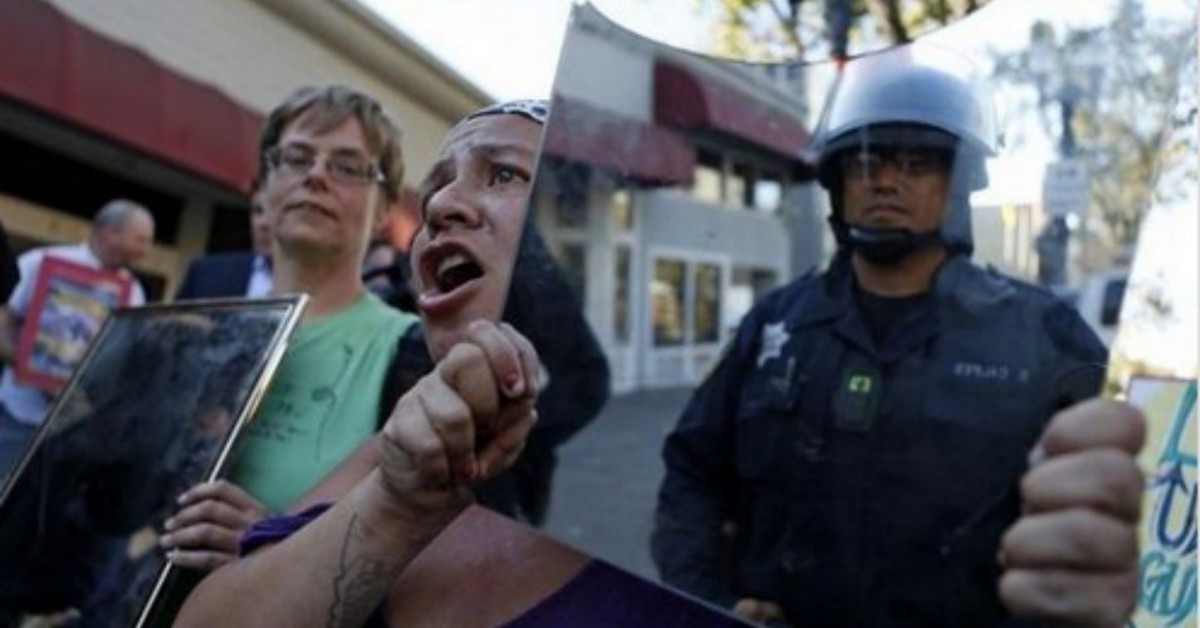 "I was holding up the mirror because I wanted the police to just look at themselves," one protester, Nichola Torbett, told KPIX 5. "Especially if they were about to take some kind of action just so they had to acknowledge what they were doing."
Demarco Robinson, who also took part in the demonstration, said, "We want that person to look at themselves so that they can realize they're not a badge. They don't have to follow the system that they don't agree with."
Peace soldier in Oakland supports #nonviolence & #Ferguson by holding a mirror in front of an #overdressed officer.
* pic.twitter.com/pqkhTSBbwD

— Ferguson News (@Ferguson_News) August 21, 2014
Imagine if a cop pointed a gun at you and you held up a mirror, what would happen? https://t.co/vomytIvara pic.twitter.com/fbVT1sD8fK

— Jorge Rivas (@thisisjorge) August 21, 2014
In addition to showing solidarity with Ferguson, where 18-year-old Michael Brown was shot to death by Officer Darren Wilson earlier this month, the protests in Oakland were also a demonstration against police brutality in California, which recently saw the shooting deaths of Ezell Ford, Oscar Grant, and Alan Blueford, among other high-profile cases. About 500 people from four separate marches converged at downtown Oakland's Ogawa Plaza around 5:40pm, the Oakland Tribune reported.
Demonstrations took place around the country this week to show support for Ferguson. Protesters took to the streets in Los Angeles, New York City, Washington, D.C., and other cities, holding placards emblazoned with some of the slogans that have become representative of the movement in Ferguson: "Hands Up, Don't Shoot," "Black Lives Matter," "#MikeBrown." Additional marches are planned for the weekend.
In Ferguson, protesters laid down roses on the street where Brown was killed.
A line of roses lines the street where Michael Brown was shot. #Ferguson pic.twitter.com/ngLDWhNPvT

— Jason Kravarik (@jasonkCNN) August 22, 2014
The march in Oakland was reminiscent of those held in in 2009 and 2010 in honor of Oscar Grant, a 22-year-old black man who was killed by a Bay Area Rapid Transportation (BART) officer on New Year's Day in 2009. Grant's family recently traveled to Ferguson to meet Brown's family, where they also protested.
Reports from the ground in Ferguson last night described a calmer atmosphere than in recent days as the National Guard began to withdraw. Missouri Governor Jay Nixon ordered troops to leave the city as police crackdowns have waned.
Republished with permission from Commondreams.org
DASH cryptocurrency and The Free Thought Project have formed a partnership that will continue to spread the ideas of peace and freedom while simultaneously teaching people how to operate outside of the establishment systems of control like using cryptocurrency instead of dollars. Winning this battle is as simple as choosing to abstain from the violent corrupt old system and participating in the new and peaceful system that hands the power back to the people. DASH is this system.
DASH digital cash takes the control the banking elite has over money and gives it back to the people. It is the ultimate weapon in the battle against the money changers and information controllers.
If you'd like to start your own DASH wallet and be a part of this change and battle for peace and freedom, you can start right here. DASH is already accepted by vendors all across the world so you can begin using it immediately.