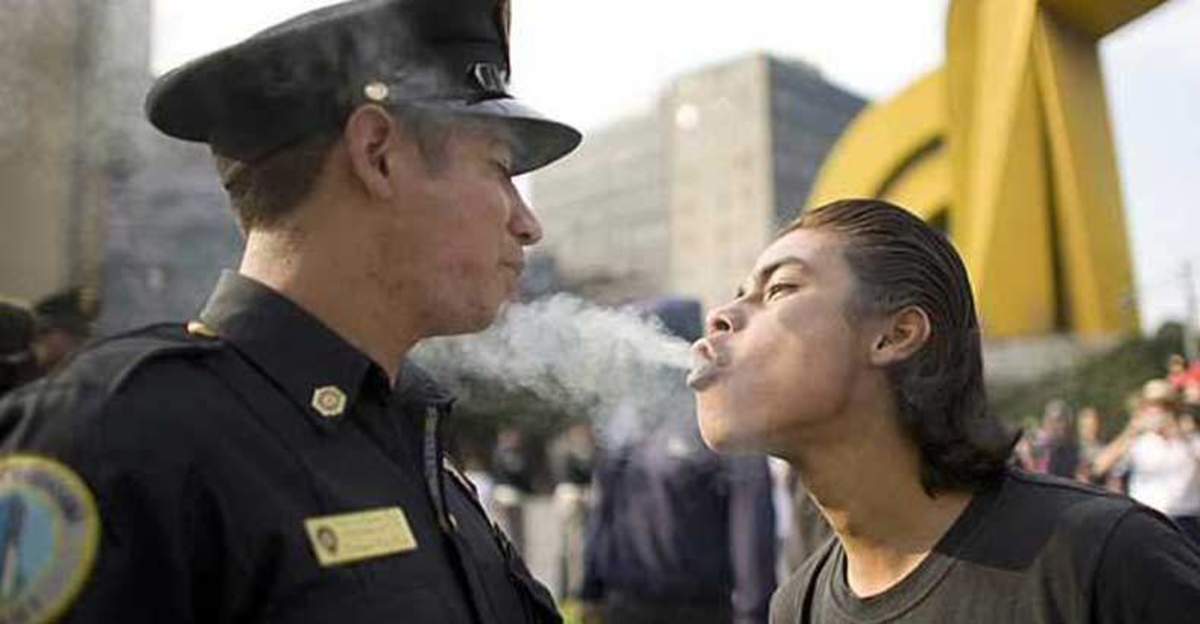 On Wednesday, the Oregon Court of Appeals ruled that the smell of cannabis is not something that is inherently offensive. The court compared the smell of marijuana to that of perfume, with the three-judge panel writing that cannabis could potentially be considered offensive if there were a "very intense and persistent" odor.
In it's ruling, the court stated, "We are not prepared to declare that the odor of marijuana smoke is equivalent to the odor of garbage. Indeed, some people undoubtedly find the scent pleasing."
Charges were thrown out against Jared Lang, who had been originally convicted of criminal activity. The arresting officer claimed in a search warrant that Lang was creating a "physically offensive" smell, which the court ruled was not the case.
According to a report by Oregon Live:
The appeals court considered the case of Jared William Lang. He was 34 in November 2012 when a Philomath police officer visited his apartment after neighbors on both sides reported the smell of marijuana coming from his unit. One person told the officer "that the smell was especially difficult for him because he was currently attending rehabilitation for drug abuse and the smell of marijuana was a 'trigger' for him," according to the appeals court summary of the case.

Another neighbor said that he'd lived in his unit for eight years and that "the neighbors in the middle rental (had) gotten worse and worse," according to the summary. Two more neighbors said they smelled pot coming from Lang's unit two to three times per a week.

The officer noted that he could smell burnt marijuana upon arrival at Lang's apartment. The officer asked a Benton County judge for a search warrant of Lang's unit — on the grounds that Lang might have committed second-degree disorderly conduct by creating a "physically offensive" smell.

The judge granted the warrant and the officer found evidence of a completely unrelated crime — aerosol paint cans and stencils that indicated Lang had been spraying graffiti on street signs, walls, fences and other property in Philomath.

Lang was found guilty of three counts of misdemeanor second-degree criminal mischief after a trial in the vandalism case. He was fined $440 and sentenced to several months in jail.
Lang, feeling that his rights had been violated and his home searched illegally, filed an appeal. In it's ruling, the appellate court found that the simple smell of cannabis burning is not inherently offensive in nature.
In this particular case, the court found that since the officer didn't specify in his warrant application how bad the smell, there was no way for the court to determine if the smell was "physically offensive."
#Cannabis #smell deemed non-offensive by #Oregon #court. D'uh. #smellslikefreedom #mmmgood https://t.co/OyYu4YZu7d

— Canna Crusaders (@CannaCrusaders) August 21, 2015
The court further stated that such determinations are extremely subjective and dependent upon numerous factors, including strength of smell, frequency of the odor and how long the smell lasts.
In Oregon recreational use of cannabis has been legalized, although there is no legal means to purchase the drug. With the recent appeals court ruling, hopefully recreational users will now have an added layer of protection from illicit actions on the part of law enforcement attempting to criminalize legal marijuana users.
The reality is that the officer, even though knowing cannabis is legal in the state, thought he could use the smell of burning pot as an excuse to violate the constitutional rights of Lang. While this ruling is a great start, unfortunately, police have now been given a blueprint, as to the legal standard they must meet to be able to claim that an individual is causing a "physically offensive" smell.
This case can be likened to having neighbors call the police on you for smoking cigarettes and having an officer then attempt to get a search warrant for your home by claiming that the smell of cigarette smoke is "physically offensive."
The fact that the search warrant was initially granted in this case is gravely concerning. The legal basis for denying the warrant seems extremely clear, unless the judges and the cops are all part of the same racket, in which case it makes perfect sense.
---
Jay Syrmopoulos is an investigative journalist, free thinker, researcher, and ardent opponent of authoritarianism. He is currently a graduate student at University of Denver pursuing a masters in Global Affairs. Jay's work has been published on BenSwann's Truth in Media, Chris Hedges's Truth-Out, AlterNet, InfoWars, MintPress News and many other sites. You can follow him on Twitter @sirmetropolis, on Facebook at Sir Metropolis and now on tsu.
Sponsored Content:
Or, if you would like to help us by subscribing to our sponsor, Legalshield — and have an attorney in your pocket 24 hours a day for just $24.99 a month — you
can click here for details.