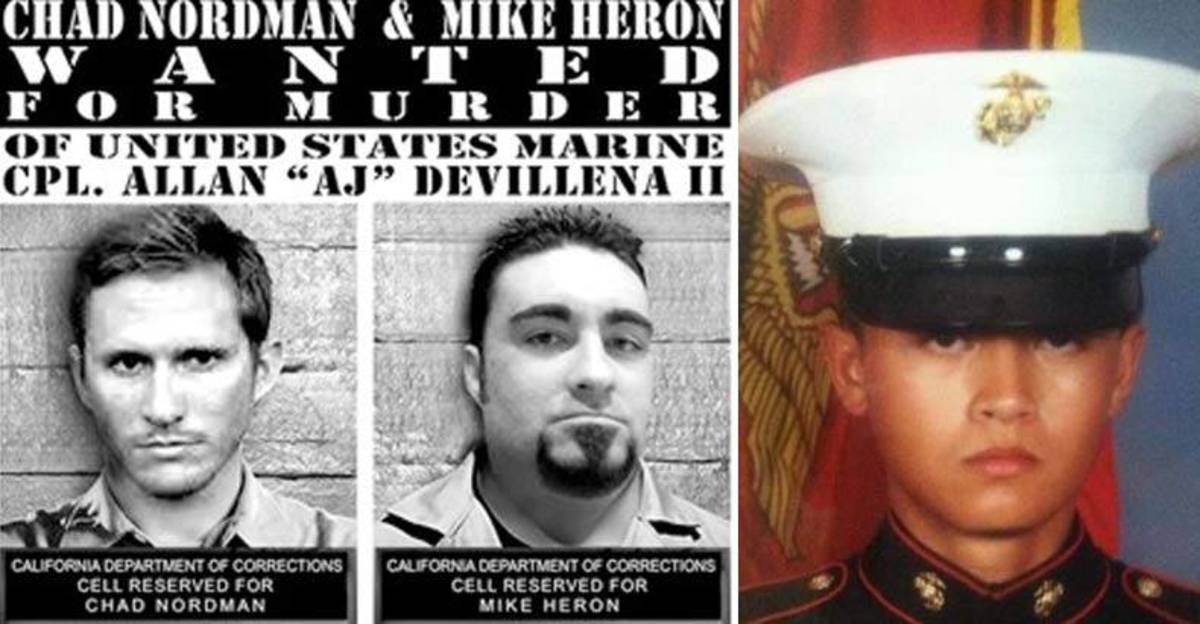 Palm Springs, CA– New documents have surfaced nearly two years after police in Palm Springs shot and killed unarmed Allan 'AJ' DeVillena II, a High Desert Marine. The documents explain that his death was absolutely the fault of reckless and trigger-happy police, even though they were cleared of any criminal wrong doing.
The 22-year-old DeVillena was a veteran of the Afghanistan War – Operation Enduring Freedom, who had received a medal for his good conduct.  The young man was out celebrating Veteran's Day when his life was sickeningly taken by the militarized police here at home.  The veteran was just a couple months shy of starting a new chapter of his life and beginning college.
On the morning of November 10, 2012, two bicycle officers, Mike Heron and Chad Nordman encountered DeVillena shortly after 1 am outside of a bar. DeVillena was with Pfc. Clinton Harris, also a Marine, and both reportedly seemed to be intoxicated.  It was Veteran's Day weekend and the Marine Corps birthday and the pair was out letting loose.
After being approached, Harris allegedly began cursing at the officers, while DeVillena was polite and did not give the officers any trouble. Eventually, the officers let the duo go.
Tragically, they ended up running into them again later that evening.
The second encounter ended after officers fired six bullets into Corporal DeVillena inside a parking structure.  For several hours Cpl. DeVillena was left handcuffed, dead, with his upper body slumped to the left and his head tilted backwards, The AJ DeVillena Foundation reported.
The newly released documents explain how, and more importantly why, the situation escalated to the point of public execution. The documents explain why even the officer believes this was the fault of the police, despite the officers being cleared of any criminal wrongdoing by the Riverside County District Attorney's Office last year.
Confronted by the same officers a second time, DeVillena reportedly ignored commands to stop, and attempted to flee.  Both officers pulled their guns as Harris hopped into the passenger seat and DeVillena attempted to drive out of the garage.
In a quote eerily reminiscent of Darren Wilson's description of Michael Brown, Heron stated "It just looked like a demon took over his face," and claims DeVillena struck him in the leg with the vehicle.
Lesley Lynn Diggins, 42, who was leaving a bachelorette party and witnessed the shooting, testified in a federal court deposition that the officers lied and DeVillena never struck an officer with his car, nor was he driving at an officer when police opened fire.
After seeing the entire incident, the woman screamed at the police that they were murderers, and still stood by that claim in an interview with The Desert Sun last June.
"I just believe it was malicious," Diggins said. "There was no need for self-defense. There was nothing they needed to defend themselves from."
The confrontation became fatal after Nordman attempted to stop the Marine's car by actually jumping through the passenger-side window.  Nordman landed across Harris' lap, with his gun poking DeVillena in the face as the incompetent and reckless officer's feet dangled out the window, The Desert Sun reported.
Heron allegedly did not see his partner jump into the vehicle and incorrectly assumed Nordman had been pulled into the car against his will.  Believing the officer was in danger, Heron opened fire. This is a dangerous move that is currently being widely debated in Denver– where police have been shooting drivers of vehicles at an alarming rate.
Heron had fired as many as four rounds, which prompted Nordman to shoot DeVillena at least twice, both at point blank range- for good measure.
After being shot at six times, the man crashed into a concrete column, with a passenger and the killer cop in tow.  Not the smartest thing to do while someone is driving.
Heron stated that because of his partner's reckless action, he "had no choice" but to fire his weapon.
When Nordman was asked why he jumped into the vehicle, he stated it was because he was not being taken seriously enough.  Basically, this officer needed to satisfy his tough guy ego.
Diggins, who witnessed the execution called the officer's actions criminal in her testimony.
Attorney: "And you thought it was the right thing to do to stay?"

Diggins: "Yes."

Attorney: "Why?"

Diggins: "Why did I think it was right to stay? Because we had just witnessed a crime."

Attorney: "And what crime was that?"

Diggins: "There was a shooting."

Attorney: "And who committed that crime?"

Diggins: "The police officers."
The DeVillena family is now suing the officers and the Police Department in federal court.  This will be at least the third time that Nordman has cost the tax payers money.
The first was a $52,000 discrimination lawsuit resulting from the 2009 Warm Sands sex sting. Nordman went undercover to bait gay men into exposing themselves in public, a sting many believe was an attempt to drive gay men out of the community. Taxpayers also had to shell out $125,000 to Benjamin Meza, a man who was accidentally shot after Nordman and two other officers opened fire on another fleeing suspect in January 2013, The Desert Sun recalled.
This is another example of why it is imperative that we fight for professional liability insurance for police.  Doctors, who are required to carry it, become uninsurable if a company has to shell out too many settlements, thus becoming unemployable.  This needs to happen with police.  If officer's were responsible for their own actions, instead of taxpayers footing the bills, this officer would have been long gone and DeVillena would likely still be with us.