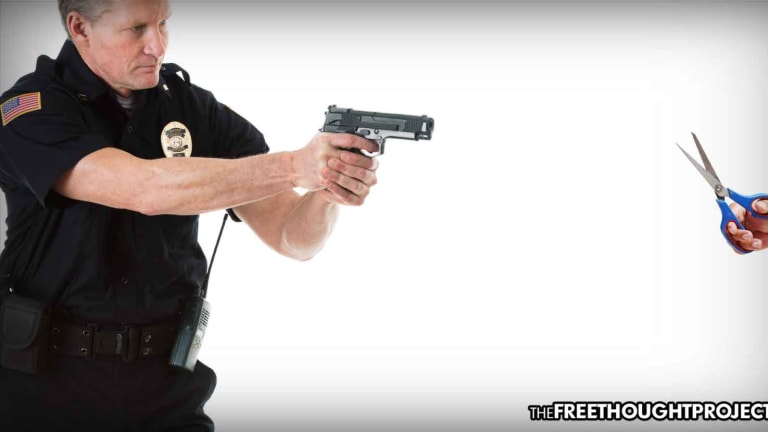 Cop Refuses All Non-Lethal Options, Shoots and Kills Mentally Ill Woman for Waving Scissors
A Lousiana woman with a history of addiction and mental illness was executed by a Bossier police officer for brandishing a pair of scissors.
Bossier, LA — A woman was shot and killed by police over the weekend after they found her waiving a pair of scissors inside the lobby of the hotel in which she was staying. Forty-five-year-old Shannon Rupert, of Shreveport had a mental breakdown and because of that, she is now dead.
Rupert was reportedly struggling with drug addiction and may have been suffering a break from reality when officers were called to the La Quinta Inn Friday night.
Bossier police released the following statement about the incident:
The officer gave multiple verbal commands to Rupert to put down the weapon. Rupert then aggressively approached the officer with scissors in hand. The officer fired two rounds from his department-issued handgun, striking Rupert in the upper torso.
The victim's cousin, Melinda Peterson questioned why police had to shoot and ultimately kill her. She told reporters, "what I am disputing is why they could not have used a Taser instead or the dummy bullets because those dummy bullets will knock you down."
We agree. When an officer in a bullet proof vest and several means of non-lethal force at their disposal chooses deadly force from the start, something is seriously wrong.
Peterson, unlike the police officer who pumped her body full of two high-powered handgun rounds, said she was trying to help her cousin get back on her feet.
"I knew she had been into drugs really bad. I tried helping her. I tried talking to her to see if maybe we could get her some help, a recourse. Getting her into rehab or anything like that. She was just out of it," she said.
Unfortunately, Rupert will not have any future opportunities to get clean now that she's dead. Hopefully, her death will spark a larger debate about the failed War on Drugs or police officers in American being utterly inept when dealing with mentally ill people.
Not only is the government not able to slow down access to illegal drugs but it is completely incapable of stopping the subsequent overdose death epidemic which now sees more Americans killed per year than died in the entire Vietnam War. What's more, mentally ill people have a 1,600% higher chance of being killed by police than anyone else.
The Bossier City officer, who used the most deadly tool in his arsenal to stop Rupert, remains anonymous. Unfortunately, his bullets hit their mark. Now, Rupert will never have another opportunity to seek help for her addictions.
Instead of attempting to disarm citizens holding scissors, police often resort to one of the deadly weapons in their arsenal, their gun. Apparently, this officer was unable to simply back up, move out of the way, deploy a taser, pepper spray, baton, rubber bullets, or any other actions besides execution.
Sadly, this seems to be par for the course. As TFTP reported in 2016, cops in Winslow, AZ executed a Native American woman who was holding a pair of scissors in her hands. Just as in Rupert's case, Loreal Tsingine's cousin David Villaescusa also claims police did not have to kill his cousin. "
She had a pair of scissors that she used to cut her hair split ends...She stood only five feet tall and weighed less than 100 lbs. Shipley, on the other hand, is over six feet tall and weighs over 200 pounds. I don't think he had to shoot her," he said.
In the day and age where the boys in blue employ empathetic phrases such as their need to "go home to their families at the end of their shift", all too often they're not willing to afford the same liberties to people with which they make contact. It's simply easier to shoot someone with scissors in their hands than it is to employ deescalation techniques, non-lethal weapons, attempt to use a baton and strike a knife-holding hand, or secure the area and wait for backup.