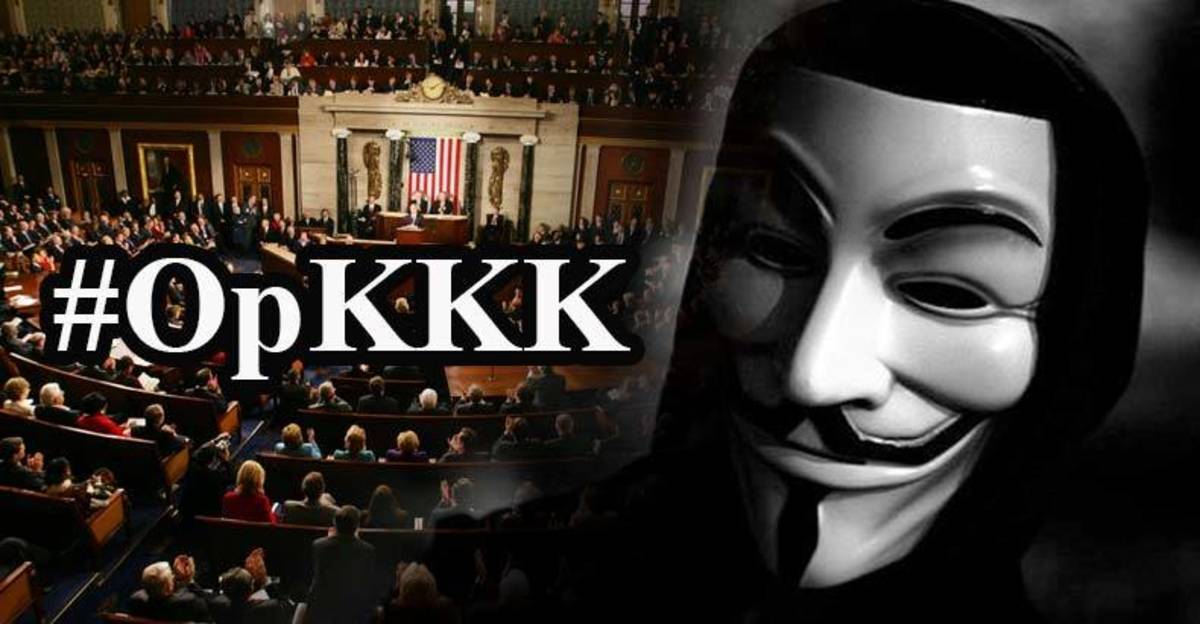 Over the last week, the hacktivist group known as Anonymous has been saying that they will expose some 1,000 United States politicians who have ties to the KKK.
On Monday morning, just past midnight, the hackers made true on their "threat."
In a video posted to the We are Anonymous Facebook page Monday, the group began to release the names of those they claim have ties to the KKK.
In the video, Anonymous states that they are not going to release the home addresses of the politicians in fear of violent retaliation against the accused racists. But the group did release the politicians' full name, the municipalities in which they work, and the addresses of their political offices.
While the video doesn't come close to the promised 1,000 names, Anonymous did release a partial list.
It is rumored that Anonymous plans to release all the names on the 5th of November, also known as Guy Fawkes Night. Anonymous is synonymous with Guy Fawkes as the popular mask is used to shield the faces of its members during their broadcasts and protests.
Below is the partial list released by Anonymous as well as the video in which they were named. The list was posted with the following statement:
These are the officials that have political power in the usa that are associated with either kkk or racist related. addresses will not be released so nobody gets it in their mind to take out their own justice against them.

Brought to you by Amped Attacks: @sgtbilko420

1.United States Senator From North Carolina: Thomas Tillis aka Thom Tillis: Age 55: Wife Susan Tillis, Both living in: Cornelius, North Carolina.Known KKK Affiliated group:United Northern and Southern Knights of the Ku Klux Klan. Thornton.

2.United States Senator From Texas: John Cornyn: Age 63: Wife Sandy Cornyn, Both living in: Austin,Texas: Known KKK Affiliated Group: United White Knights Of The Ku Klux Klan.

3.United States Senator From Georgia: John Hardy Isakson: Age 70: Wife Dianne Davison: Both Living in: Marietta, Georgia.  Known KKK Affiliated Group: Original Knight Riders Of the KKK.

4.United States Senator From Indiana: Dan Coats: age 72: Wife Marsha Coats, Both living in: Fort Wayne,Indiana. Known KKK Affiliated Group:United Northern and Southern Knights of the Ku Klux Klan

_________________________________________________________________________________________________________________________________________

Mayors….

1. Knoxville,Tn Mayor: Madeline Anne Rogero: age 63: last known spouse Gene Monaco: Living in Knoxville,Tn: Known KKK Affiliated Group: KU KLOS KNIGHTS of the Ku Klux Klan.

2. Norfolk,Va Mayor: Paul D. Fraim: age 66: last known spouse elizabeth peer: Living in Norfolk,Va: Known KKK Affiliated Group:Traditionalist American Knights of the Ku Klux Klan:

3.Lexington,Kentucky Mayor: Jim Gray: age 62: no known wife/spouse: Living in Lexington,Kentucky: Known KKK Affiliated Group:United Northern and Southern Knights of the Ku Klux Klan

4.Ocala,Florida Mayor: Kent Guinn: age 60: Wife Sandra Guinn: both living in ocala,florida: Known KKK Affiliated Group: Traditionalist American Knights of the Ku Klux Klan

5.Fort Wayne,Indian Mayor: Tom Henry: age 63: last known spouse Cindy Kocks: lives in Fort Wayne: Known KKK Affiliated group: United Northern and Southern Knights of the Ku Klux Klan

…. as i have said the reason i do not list the addresses of these people i do not want anybody to easily see this and take criminal action against these racist scum… #Exposed #YouMadBro
Current Politicians In The KKK – Addresses & Numbershttps://pastebin.com/Yh2muT9rIf you have not already liked us please do here > We Are AnonymousThank You!

Posted by We Are Anonymous on Sunday, November 1, 2015