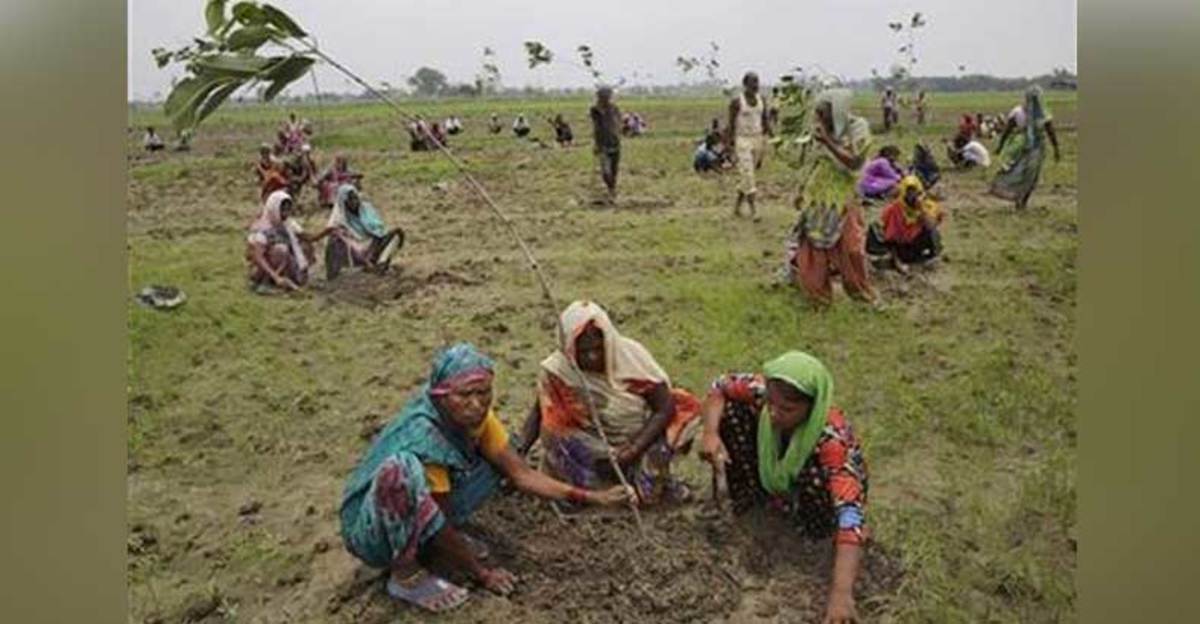 Uttar Pradesh, India — In an attempt to smash the world record Monday, over three-quarters of a million people gathered in Uttar Pradesh, India — the nation's most populous state — to plant 50 million trees in just 24 hours.
Students, officials, volunteers, and many others — more than 800,00 people, according to the Associated Press — gathered along highways, roads, forested land, and rail lines in a grand effort to break the previous Guinness Book of World Records single-day tree-planting of 847,275 set by Pakistan in 2013.
"I've read in a book that this tree releases maximum oxygen," the AP quoted eighth-grader Shashwat Rai discussing his choice to plant a Ficus religiosa, known as a "peepal," in Lucknow's Kukrail Reserve Forest. "There is so much pollution in the cities, we need trees that produce oxygen."
Rai's desire to counter excessive pollution was echoed by Chief Minister Akhilesh Yadav, the top elected official in Uttar Pradesh, who hoped the effort would increase awareness for environmental conservation and 'afforestation.' As he told volunteers:
"The world has realized that serious efforts are needed to reduce carbon emissions to mitigate the effects of global climate change. Uttar Pradesh has made a beginning in this regard."
To ensure his peepal's survival, Rai planned he would check back frequently, saying, "I don't want this plant to die."
As part of its commitment made in the climate summit in Paris last year, the government of India will urge all 29 states to plan their own tree-planting drives — projects for which officials have earmarked $6.2 billion in funding to help accomplish.
India pledged to increase its forests to cover 95 million hectares (235 million acres) by 2030 — and mass tree-plantings will be a powerful part of the push.
According to senior forest official Sanjeev Saran, only around 60 percent of saplings usually survive, as many become diseased or die due to lack of water. Planted in planned tracts, the saplings will be monitored through a series of aerial photographs to keep track of survival rates.
Long-term survival of such mass-plantings remains a concern for officials, the AP said.
As the planting continues, anonymous Guinness World Records auditors will be keeping tabs on the drive to accurately record numbers.
"We are trying to maintain full transparency," Saran said of the auditors' supervision.
"They are out in the field and are supervising the plantation drive. We do not know who they are or where they are at this point in time. They are working incognito, and that suits us."
As enormous as this tree-planting drive might be, Uttar Pradesh isn't unfamiliar with setting world records.
Last year, the state landed in the Guinness record book for the 'largest distribution of saplings' — it donated more than 1 million saplings which were then planted in ten locations.
Another state in India holds a different tree-planting Guinness record. On October 30 last year, 5,928 participants in Mansa, Punjab, planted 208,751 trees simultaneously.
DASH cryptocurrency and The Free Thought Project have formed a partnership that will continue to spread the ideas of peace and freedom while simultaneously teaching people how to operate outside of the establishment systems of control like using cryptocurrency instead of dollars. Winning this battle is as simple as choosing to abstain from the violent corrupt old system and participating in the new and peaceful system that hands the power back to the people. DASH is this system.
DASH digital cash takes the control the banking elite has over money and gives it back to the people. It is the ultimate weapon in the battle against the money changers and information controllers.
If you'd like to start your own DASH wallet and be a part of this change and battle for peace and freedom, you can start right here. DASH is already accepted by vendors all across the world so you can begin using it immediately.