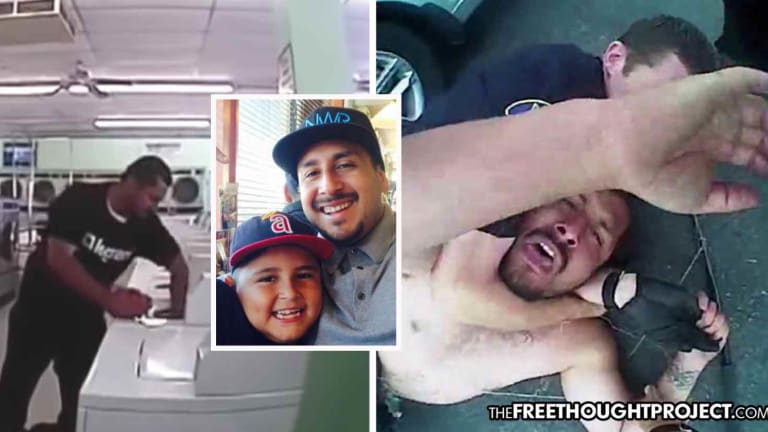 Children Awarded $13 Million After Video Showed Cops Kill Their Dad as He Did Laundry
After police approached their father as he did laundry, they would immediately escalate force which would end up proving fatal.
Santa Ana, CA — In the Land of the Free, you can be approached by police who claim the right to beat, kidnap, and or kill you for having an arbitrary substance in your bloodstream deemed illegal by the state — even while you are simply doing your laundry. Fermin Valenzuela and his family learned the hard way about the bloody path left behind in the state's vicious and brutal war on drugs and the deadly lengths the state will go to enforce it. Now, the taxpayers of Anaheim, Ca. are being held liable, to the massive tune of $13 million, because of the state's brutal war on substances.
The unanimous verdict in a U.S. District Court trial in Los Angeles followed two hours of deliberations and was "the obvious decision from seven days of testimony," said jury foreman Brian Marcus of Los Angeles, according to the LA Times.
Eight jurors "had the task of putting a dollar value on a human being's life, and it was so gut-wrenching," he said. "I would have liked it to be a heck of a lot more for what this family and this poor man endured."
On July 2, 2016, Valenzuela had harmed no one and was merely doing laundry inside a laundromat when he was accosted by two deputies who claimed the right to kidnap him over the suspected use of drugs. After police confronted him, Valenzuela, 32, would die from complications of asphyxia caused by the interaction with the two police officers. Police used a taser and a choke hold to subdue Valenzuela which would prove to be a deadly mix.
It is a matter of fact that Valenzuela did, indeed, have methamphetamine in his system. However, as reported, he had harmed no one and his only "crime" was being under the drug's influence. Likely due to his diminished mental state, Valenzuela did not want to go with police—so force was escalated after officers arrived.
As CBS Los Angeles reported at the time:
After unsuccessfully ordering Valenzuela to comply, officer Woojin Jun of the Anaheim PD is seen using what's known as a "carotid artery restraint" on the ground in officer Daniel Wolfe's body-cam footage. Wolfe then shoots Valenzuela with a stun gun, causing him to yell in pain.

Valenzuela then attempts to leave the laundromat before falling to the ground outside and losing consciousness.

Valenzuela went into cardiac arrest and was put into a coma at the hospital. He was taken off life support and died eight days later.

A coroner's report states Valenzuela was asphyxiated by police during the struggle, despite the D.A.'s subsequent claim that the officers did not use excessive force nor commit any crimes.
Shortly after the incident, the department would clear the officers involved — despite Valenzuela being unarmed.
"The police were performing a necessary duty in investigating what was happening and protecting the public from somebody who was clearly, possibly very dangerous," said D.A. Tony Rackauckas.
"Clearly, possibly very dangerous"? That sounds like "almost definitely," which can also mean "not at all."
Anaheim city spokesman Mike Lyster decried the $13 million settlement, calling it unwarranted.
"Our police have a duty to respond and engage, and their only other option would've been to walk away," he said. "That is not what the community expects of us when they call for help."
However, because police didn't walk away and simply let the man finish doing his laundry, Valenzuela's two children will now grow up without their father who was arguably killed for his personal choices.
"With respect to the video, I know it's hard to watch," Sgt. Luis Correa told reporters at the time. "Sometimes public safety doesn't look pretty, but as the D.A.'s investigative report indicated, […] the officers' actions were reasonable and justified."
The jury disagreed. "They (the officers) seemed like really wonderful people, but my opinion is that they exercised bad judgment," Marcus, the jury foreman, said. "There was very little attempt to deescalate the situation."
The attorney for the family disagreed as well and pointed out the obvious fact that none of the officers involved sustained so much as a scratch.
"Thank God for body cameras, because cameras captured all the wrongdoing of the officers," said Garo Mardirossian, an attorney representing Valenzuela's children. "The bottom line is the officers came up with all sorts of stories of Mr. Valenzuela fighting with them, and yet there was not a single mark on Officer Jun's face, even though he testified that he was struck three times. The body camera does not show Mr. Valenzuela taking a fighter's stance or throwing a punch."
"Police must stop this type of inhumane activity with their subjects," he said. "The rank and file deserve our respect. However, sometimes mistakes can be made."
WARNING: The video below of police attacking, tasing, choking, and killing the man as he did his laundry is disturbing.