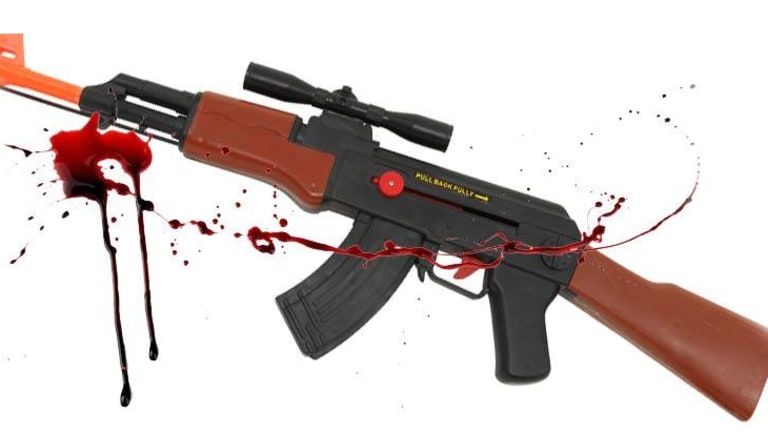 Police Shoot Teenage Boy Because Someone Nearby Had A Toy Gun
A horrible case of police shooting a child with a toy gun comes out of LA this week. Only this time, they missed the boy with the toy gun and shot an innocent bystander.
Los Angeles, California - A police officer accidentally shot a 15-year-old child after he saw someone else pointing a toy gun. The boy that was injured was not the person holding toy gun and was just in the wrong place at the wrong time. The police then detained the group of children that were present, and blamed the entire situation on them.
Speaking to the media this week, Los Angeles Police Department spokesman Cmdr. Andrew Smith denied any responsibility on the part of the police, but instead blamed the children who were just playing with a toy gun.
"It's certainly an unfortunate situation, but because of people bringing replica weapons out like that, it certainly could have been a terrible tragedy," Smith said.
According to the testimony of the police, just before 8AM this Tuesday, two LAPD officers approached a group of children in an alley and saw one of them with what appeared to be a gun. The police say that they yelled at the child to drop the gun multiple times, and then fired when he did not comply. Their bullets did not strike the boy with the toy gun, but instead hit another child who was standing nearby.
The child who did have the gun could face charges for "brandishing a replica weapon in the presence of a police officer." However, nothing has been said as to whether the officer will face any charges.
The names of the officers and the victim have yet to be released to the media.
Police have been extremely aggressive with children playing with guns in the last year. In the high profile case of 12-year-old Tamir Rice in Cleveland, Ohio, he was shot and left for dead, and his sister was put in handcuffs.
Children are being treated like criminals for playing with toys, and police are given a free pass to open fire on people. The chance that a child is going to fire a real gun at a police officer is minuscule compared to the chance that they are playing with a toy gun.
John Vibes is an author, researcher and investigative journalist who takes a special interest in the counter culture and the drug war. In addition to his writing and activist work he is also the owner of a successful music promotion company. In 2013, he became one of the organizers of the Free Your Mind Conference, which features top caliber speakers and whistle-blowers from all over the world. You can contact him and stay connected to his work at his Facebook page. You can find his 65 chapter Book entitled "Alchemy of the Timeless Renaissance" at bookpatch.com.